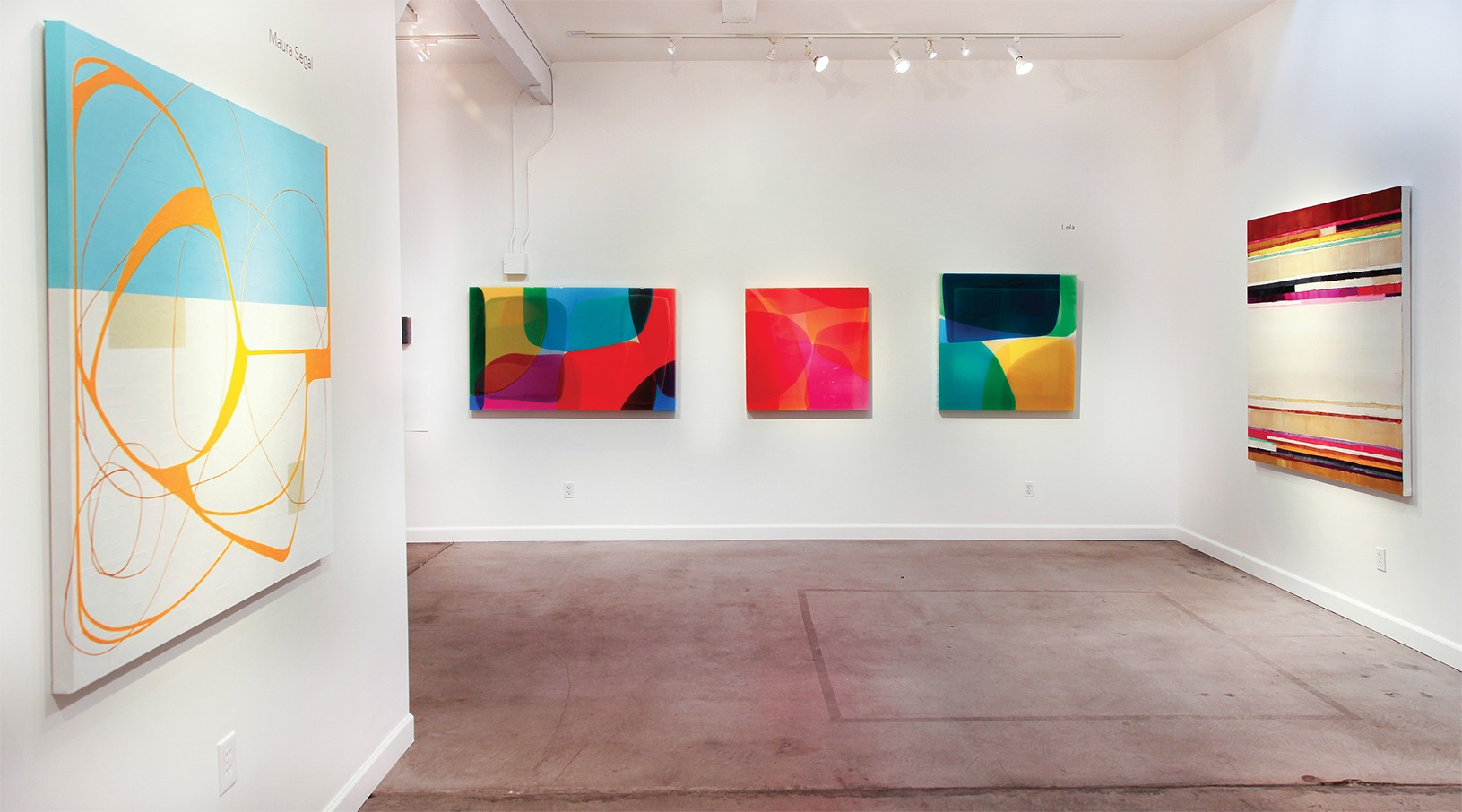 Art Galleries
[email protected]: Eclectic Visions Work by Diana and Larry Coleman. As varied as it is exciting, they take on new subject matter, as well as returning to some old standards. Through Jan. 31, 2018. free. 431 13th St., Oakland.
ArtVale Gallery: Bite-Sized Beauties Bite Sized Beauties is a holiday salon-style exhibition featuring small works by a collection of local artists and artisans. Fri., Dec. 1, 6-9 p.m. free. Facebook.com/events/170090980245397/. 3463 Champion St, Oakland, artvalegallery.com.
Athen B Gallery: Hinterland A solo exhibition by Troy Lovegates. Through Dec. 1. free. 1525 Webster St., Oakland.
Chandra Cerrito Contemporary: Vision and Voice Reflections of Immigrant Artists in California A curated exhibition by Genevieve Hastings featuring work by Guillermo Galindo, Pantea Karimi, Jung Ran Bae, Anna Larina, Takeshi Moro, and Xiaoze Xie. Through Dec. 21. free. 480 23rd St., Oakland, ChandraCerritoContemporary.com.
Classic Cars West: Between the Leaves A multi-sensory installation of Anjelica Colliard's signature "imaginary jungles" that takes the artist's drawings off the page and into space. As an artist primarily working in printed matter, this installation is a refreshing expansion of Colliard's strikingly sensual line work, and a deliberate invitation to the viewer to wander through her invented landscapes. Through Dec. 29, 6-9 p.m. free. oaklandartmurmur.org/events/anjelica-colliard-between-the-leaves/. 411 26th St., Oakland, ClassicCarsWest.com.
Concept Forty-Seven – Oakland: The Art of RoseSharon Oates Rosesharon Oates is an Oakland-based visual artist. Working mainly on wood panels, she burns in detailed lines, etching, and shading with a soldering iron before applying acrylic washes to create powerful visual stories. While her art has been primarily about her relationship with Spirit, she has become increasingly focused on depicting real people, especially women, holding sacred space and maintaining community in the midst of things falling apart. Fri., Dec. 1, 6-9 p.m. free. 4727 Telegraph Ave., Oakland, conceptfortyseven.com.
Creative Growth Art Center: Holiday Show: More Is More An exhibition featuring opulent layers of beads, jewelry, and trinkets in Juan Aguilera's sculptural creations; gratify the desire for more in Paul Field's scenes, where sundry characters fill every inch of his drawn tableaux, or with the densely packed repetition of forms covering Ricardo Gaitan's work; and push the limits of what's naughty and nice with nude punk angels crafted of wood by Casey Byrnes and Kim Clark's drawn celebrations of bawdy celebrity culture. Dec. 1-Jan. 11. 355 24th St., Oakland, CreativeGrowth.org.
Econo Jam Records: The Stories Places Tell New poster series by Nicholas Basta. Two-part studies of neon signs, hand-painted letters, gate patterns and vintage sports graphics. Opening event on First Friday, with special guest performances by Pas Doo, Eighty9s, Ovrkast. Fri., Dec. 1, 7-10 p.m., free, rootsandbranches.org. Econo Jam Records, 2519 Telegraph Ave., Oakland, EconoJamRecords.com.
The Fourth Wall Art Gallery: Never Enough Time One years' worth of work by Jennifer Hynes. Fri., Dec. 1, 6-9 p.m. free. 473 25th St., Oakland.
GearBox Gallery: On the Edge The recent works of Jules Campbell and TaVee McAllister Lee feature ephemera – fragments of paper from newspapers, magazines, and random discarded text and imagery. The fractured pieces are employed in aesthetically formal compositions that imbue them with depth, meaning, and mystery. Through Jan. 6, 2018. free. Small Works Works by Angela Baker, Carol Dalton, Lucia Dill, Jane Fisher, David Fitzgerald, Ann Holsberry, Daniel McClain, and Robert Ray. Through Jan. 6, 2018. free. 770 West Grand Ave, Oakland, GearBoxGallery.com.
Johansson Projects: Partnerlook A solo exhibition by Michelle Blade that transcends the apocalyptic with her lucid landscapes and totemic sculptures. Through Jan. 6, 2018. free. johanssonprojects.com/. 2300 Telegraph Ave., Oakland, JohanssonProjects.com.
Joyce Gordon Gallery: 7th Annual Holiday Art Exhibit A collection of unique and affordable art by new and returning artists, demonstrating an eclectic style work representing the best of the Bay Area. Continues through Dec. 30. free. LUKASA Inspired by the late Mrs. Ozella McDaniel Williams Quilt Code, LUKASA explores the African origins of Underground Railroad coded quilts institutionalized by Prince Hall, founder of the 18th century African Lodge, and used by enslaved Africans to navigate their clandestine and often hazardous voyage to freedom. LUKASA demonstrates how coded quilts preserve personal, familial and community stories and other invaluable cultural concepts unique to the African diaspora. Continues through Dec. 30. free. 406 14th St., Oakland, JoyceGordonGallery.com.
Manna Gallery: Connecting Threads A solo exhibition by Tiffany Schmierer. "The underlying theme of this series is the interconnection that we have with each other and our surrounding world. Along with dialogue, themes of home, dreams, and links to our environment are woven throughout the work." Fridays, Saturdays, 12-5 p.m. Continues through Dec. 16. free. 473 25th St., Oakland, MannaGallery.com.
Naming Gallery: Nadair Asghari, Nick Wilkinson, Frantz Jean-Baptiste Closing Reception Fri., Dec. 1, 6-9 p.m. 335 15th St., Oakland, NamingGallery.com/.
Oakland.Secret: Fast Falls The Eventide Closing A group art exhibition of underground artists with work ranging from metal sculpture, epic paintings, allegorical ink drawings, ceramic sculpture, fruit glass window/mixed media sculpture and installation art, all nestled in the accidental theme: nature and all her arms. Bay Area artists: Charity Romero, Rima Khalek, Shannon Knox, Aiya Jordan. Visiting artists: Jordan Barlow, Beckey Kaye. Live DJs. Fri., Dec. 1, 6-10 p.m. free. 577 5th St, Oakland.
Oakopolis Creativity Center: Elemental "Paintings in this exhibit are mostly mixed-media started and/or finished recently, though Tsunami took years of layering to resolve. Others more playful or whimsical, far less of a struggle. The bronze sculptures date from earlier time periods, though limited editions were just recently cast and still inform my present. Bird-Woman has been cast into bronze for the first time from her ceramic origins." Dec. 1-Jan. 27. free. 447 25th St., Oakland, Oakopolis.org.
Omi Gallery: Catch Them Feels A solo show by Tigre Bailando. First Friday hours: 6:30-10 p.m. Through Feb. 24, 2018. free. 2323 Broadway, Oakland.
Pro Arts Gallery: Invisible Choirs An exhibition examining the automation of artificial intelligence by exploring the pathological ramifications of an increasingly techno-centric society. Comprised of a set of mixed-media, kinetic and sound-based works, the installation's environment takes the form of an interactive "neural network" – one that renders visible the physical and algorithmic automata that seek to shape our daily lives. Through Dec. 1. free. Hybrid Veils A Jsun Adrian McCarty exhibition designed to share with his friends and family the deepest and most esoteric works from the collection of works that he has left in this realm. Dec. 1-8. free. 150 Frank H. Ogawa Plaza, Oakland, ProArtsGallery.org.
Roscoe Ceramic Gallery: Angels in Oakland Through Dec. 16, 2018. free. 473 25th St., Oakland, RoscoeCeramicGallery.com.
SLATE contemporary: An exhibition featuring three SLATE artists, Maya Kabat, Lola, and Maura Segal, examining modernism through playful forms, colors, and lines. Through Jan. 6, 2018. free. slateart.net/exhibition/moderna/. 473 25th St., Oakland, SlateArt.net.
Transmission Gallery: The Object at Hand Gary Knox Bennett presents an exhibition of retro-made furniture, including chairs, desks, clocks, lamps, and more. The showcase will play with traditional craftsmanship and his own creative take on what the "hippie-era" would look like. Dec. 1-Jan. 20, 6-9 p.m. free. 770 West Grand Ave., Oakland, TheTransmissionGallery.com.
Vessel Gallery: This Land We Share A showcase with paintings by Walter James Mansfield and sculptures by Pamela Merory Dernham. Through Dec. 23. free. www.vessel-gallery.com/current-exhibits/#/this-land-we-share/. 471 25th St., Oakland, Vessel-Gallery.com.
Warehouse 416: The Small Art Show Scrivani Productions and Warehouse416 presents the 8th Annual Small Art Show. Featuring the work of more than 30 local artists with over 300 original pieces all priced at or under $200.Visit www.scrivaniproductions.com for more details. Saturdays, 1-5 p.m. First Friday hours: 6-11 p.m. Continues through Dec. 16. free. ScrivaniProductions.com. 416 26th St., Oakland, Warehouse416.com.
Museums
Chabot Space & Science Center: $5 First Friday at Chabot: An exciting and immersive experience for all ages! Join us each month for hands-on activities and live demonstrations that are fun for the whole family. Each month there will be new things to explore! Some activities have limited capacity and are first-come, first-served. Pre-purchase your tickets First Friday of every month. $5. www.chabotspace.org/first-fridays.htm. 10000 Skyline Blvd., Oakland, ChabotSpace.org.
Oakland Museum of California: In honor of the one-year anniversary of the Ghost Ship fire, we're joining in community at the Oakland Museum of California to pay tribute to those whose lives were lost with a moment of silence at 6:30 pm followed by an invitation to gather at the Ghost Ship altar inside Metamorphosis & Migration: Days of the Dead. Friday Nights @ OMCA: Jam to live music, special performances, and dance lessons, get crafty at drop-in art workshops, and join local foodies for a variety of demos and tastings. Indulge in a wealth of curbside cuisine options with over 15 Off the Grid food trucks. Gallery admission is half-price for adults and free for ages 18 and under! Fridays, 5-10 p.m., free. Oakland Museum of California, 1000 Oak St., Oakland, MuseumCA.org.
Attractions
Asian Cultural Center First Fridays: Oakland Asian Cultural Center hosts First Fridays, showcasing Asian and Pacific Islander art, cultural performance, informative workshops and exciting games every first Friday of the month. OACC is located in the Pacific Renaissance Plaza. First Friday of every month, 6-8 p.m., Free. Oakland Asian Cultural Center, 388 9th St. #290, Oakland, OACC.cc.
Saturday Stroll: A weekly component to Art Murmur, but with fewer festivities and more focus on the galleries. Visit OaklandArtMurmur.org for a full list of participating Oakland galleries. Saturdays, 1-5 p.m., free. Uptown District, 19th St. at Telegraph Ave., Oakland.
Social Events
First Fridays at The New Parkway: Come enjoy the First Friday Art Walk at The New Parkway Theater! Happy hour specials: $10 for a pint and appetizer, 6-9pm (with flyer). Artist showcase: All Around Oaktown, by Bayflix (reception from 6-7:45pm in the Mezzanine). Karaoke in the Mezzanine, 8-11pm. Throwback Theater: Love Jones, 9:30pm. First Friday of every month, 6-11 p.m., free. The New Parkway Theater, 474 24th St., Oakland, TheNewParkway.com.
Late Nite Art: Gratitude: Late Nite Art is part pop-up dinner and part social art experience. It's an evening of collaborative art-making, delicious food, curated beats and facilitated conversations. Come meet new friends, feast on Malaysian food, and get your hands dirty exploring evocative questions using art supplies. Buy a ticket to reserve your seat at the table. Fri., Dec. 1, 7:30-11 p.m., $27-$37. Impact Hub Oakland, 2323 Broadway, Oakland, Oakland.ImpactHub.net.
Culinary & Wine
First Fridays Community Potluck: Once a month ArtVale invites the community to come on out and break bread with one another., Bring friends, family and food to share!, Stop by or stay for a small drawing session among new friends and community members., Celebrate Oakland Arts! First Friday of every month, 6-9 p.m., free, oaklandartmurmur.org/events/first-friday-community-potluck-at-artvale-2017-11-03/. ArtVale Gallery, 3463 Champion St, Oakland, artvalegallery.com.
Live Variety
First Friday Follies: Burlesque performances, with MC JUICY D. Light and music by, Elegant Trash First Friday of every month, free. Stork Club, 2330 Telegraph Ave., Oakland, StorkClubOakland.com.
Hoodslam: Monthly underground wrestling event for the 21+ crowd, 9 p.m., $20. Oakland Metro Operahouse, 522 2nd St., Oakland, OaklandMetro.org.
DJ & Dance
First Friday Happy Hour with DJ Bobby Gee: International Freakout A Gogo, Teardrop Sunday, & Where It's At! Always something a little different: soul, funk, cumbia, electro, boogie, street music and whatever else he can fit into his record boxes for the evening., First Friday of every month, 6 p.m., free. The Legionnaire Saloon, 2272 Telegraph Ave., 510-891-8660, LegionnaireSaloon.com.
First Friday with DJ Riktor: World famous DJ Riktor holding down the dance floor in the Legionnaire loft for First Fridays! Come early and be a part of something magical!, First Friday of every month, 8 p.m., free. The Legionnaire Saloon, 2272 Telegraph Ave., 510-891-8660, LegionnaireSaloon.com.