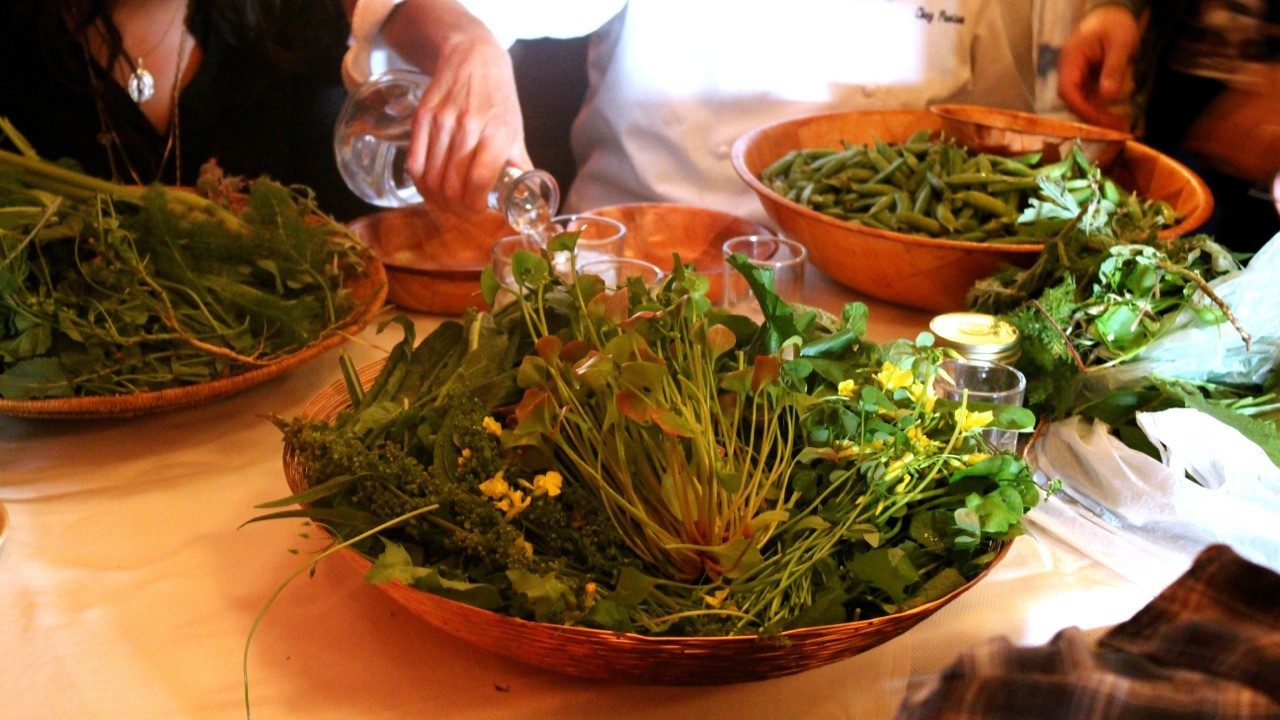 In the Bay Area's low-income urban food deserts, in which no grocery store can be found within a one-mile radius, one untapped resource remains: weeds.
See also:
Fruit Foraging? There's an App for That
[jump]  That's the premise, anyway, of the
Berkeley Open Source Food Project
, a collaborative research project run by a team of academics who are mostly based at UC Berkeley, including Philip Stark (the chair of the university's statistics department) and Kristen Rasmussen, a
nutritionist and lecturer
in the nutritional sciences department. For the past several months, Stark, Rasmussen, and their colleagues have been mapping out the edible wild plants in three East Bay food deserts (in West Oakland, Berkeley, and Richmond), documenting all of the edible plants they find, and testing them to make sure they're safe for consumption.
The idea, Stark said, is that there is this bountiful supply of nutrient-dense food that doesn't need to be watered, and that will thrive whether anyone wants them to or not — often to the chagrin of local farmers. Indeed, according to Stark, 40 percent of the plants that grow on farms are edible weeds that usually just get thrown away. One of the project's findings is that of the top fifteen nuisance plants on farms, eleven are edible — and eight are, in Stark's words, "pretty tasty." The project's first public event seeks to bring these edible weeds into the spotlight.
Wild Food Week
kicks off on Saturday, April 4 at 10 a.m. with a guided wild edible plant walk, followed by a series of collaborations with local farms and prominent Bay Area restaurants, including several in Berkeley — tapas at
Cesar
starting at 2 p.m. on that same Saturday; dinner at
Chez Panisse
on Thursday, April 9; and dinner in the outdoor garden at
Mission Heirloom
on Friday, April 10. (You can see the full schedule of events
here
.)
Stark, whose main academic research has nothing to do with edible plants, explained that he has long had an interest in issues of food sustainability and food equity, and that he has been foraging for edible wild plants for the past eight years. A few of his favorites: sow thistle, which makes a good substitute for lettuce; wild fennel (sweeter and more aromatic than the farmed variety); and wild radish, which Stark likened to an intensely peppery cross between horseradish and mustard leaf.
"It's not starvation food. It's actually really tasty, unusual ingredients," he said.
Stark said he hopes the week's events will help establish a supply chain for these edible weeds, creating a source of extra income for small-scale farmers and a set of interesting ingredients for chefs to play with.
The real revolution, however, won't take place in restaurant pantries — or not exclusively, anyway. According to Stark, if Wild Food Week can bestow a "hipness" factor to these common edible weeds, it might help people get over their initial unease about eating food picked off the street. And, as a result, we may find that part of the answer to our food access problem has been right in front of us all along, in our backyards and sidewalk cracks.