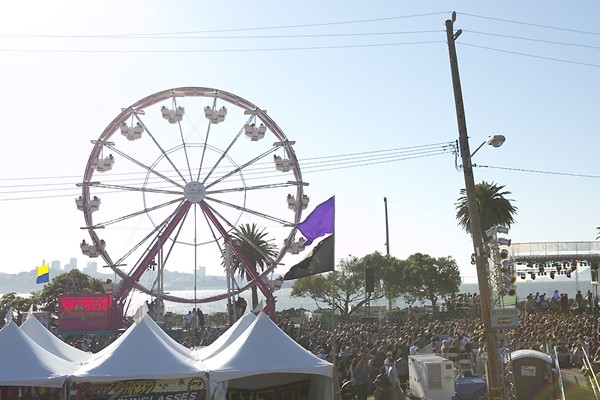 This year,
Treasure Island Music Festival
swapped its view of the San Francisco skyline for a picturesque view of Oakland, moving its festival grounds to the east side of the island. It's the festival's tenth year. And it just so happens that 2016 has one of its best lineups yet, with an eclectic mix of pop, indie, hip-hop, and experimental music. So without further ado, here are our recs for which sets not to miss at the event, which takes place on October 15 and 16.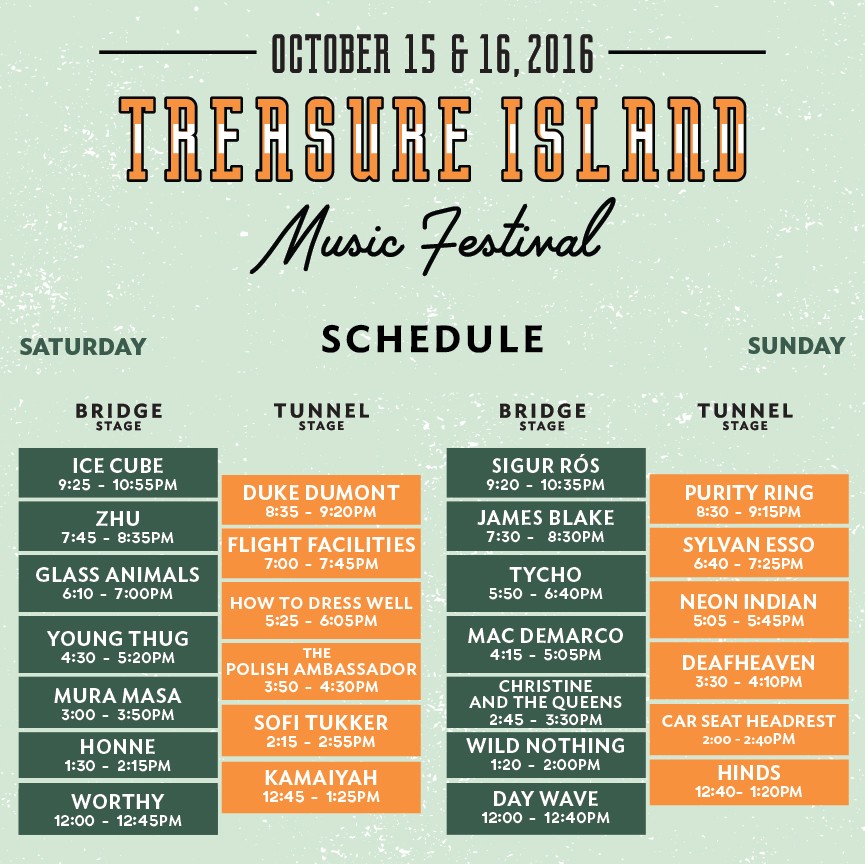 [jump]
1. Kamaiyah. Saturday, 12:45 p.m. 
It's no coincidence the
Express
awarded Kamaiyah the title of the Best Icon for Boss Chicks in our annual Best of the East Bay issue. The rapper has had an astronomical rise this year, going from local mixtape darling to collaborating with Drake and touring with YG. Not only does her music slap, but she advocates for women in hip-hop and is an ambassador of Oakland culture in the mainstream. And with her sexy appearance in YG's "Why You Always Hatin'" video, where two buff dudes give her a foot rub while she raps in a silk robe, she's giving us some major Lil Kim vibes mixed with Missy Elliott swagger.  
[embed-1]
2. Young Thug. Saturday, 4:30 p.m.
Young Thug is an enigma. Traditionalist rappers hate on him for daring to wear gender nonconforming clothing while simultaneously owning his masculinity and unwavering devotion to his fiancee, swimsuit designer Jerrika Karlae. Meanwhile, feminists scratch their heads at the fact that he hasn't labeled himself as any queer identity even though he wears dresses. Simply put, Thugger always just does him and breaks boundaries while doing it. It's been a good year for the rapper with the recent release of his genre-defying new album,
JEFFERY
. We look forward to seeing what a post-
JEFFERY
Young Thug live set will look like, as the album takes many more creative risks than his recent mixtapes. 
[embed-2]
3. How To Dress Well. Saturday, 5:25 p.m. 
You know you've made it when the Google search for "How to Dress Well" shows results for your music project before Yahoo Answers for the sartorially inept. How To Dress Well is the alias of singer-producer Tom Krell, whose R&B-influenced electro-pop caught critics' attention in 2010 with his debut album,
Love Remains
. His latest work,
Care
, drives his sound further away from its lo-fi roots, cultivating something much more dynamic and full-bodied. 
[embed-3]
4. Ice Cube. Saturday, 9:25 p.m.
N.W.A.'s name has been on everyone's lips over the past year. Their biopic,
Straight Outta Compton
, thrust the pioneering hip-hop trio back into the spotlight. And one third of the group, Ice Cube, is headlining the first day of Treasure Island. While Ice Cube has been primarily focused on acting and entrepreneurial endeavors in recent years, he doesn't get enough credit for his politically defiant solo discography — which we need now more than ever amid the election-season madness. 
[embed-4]
5. Day Wave. Sunday, noon. 
Oakland's Day Wave kicks off the second day of Treasure Island with his upbeat, lo-fi guitar pop. The indie singer-songwriter released his excellent EP
Hard to Read
 last year. It's a collection of danceable yet melancholy tracks coated in distorted fuzz reminiscent of shoegaze. And with his production on Hazel English's brand new project,
Never Going Home
, his influence is spreading across Oakland's indie scene.
[embed-5]
6. James Blake. Sunday, 7:30 p.m.
James Blake's songs are like spiderwebs: delicate, intricate, and slightly haunting. The British singer-songwriter creates minimal trip-hop beats with suspenseful effects that allow his idiosyncratic voice and poetic lyrics to assume the foreground. While Blake's music could be compared to older-generation electronic artists such as Björk and Tricky, he's had surprising cross-over appeal in the hip-hop world and has writing credits on Beyoncé's
Lemonade. 
  [embed-6]
7. Sigur Rós. Sunday, 9:20 p.m.
Icelandic band Sigur Rós makes slow, pared-down music that was a precursor to James Blake's sound. The quartet started in the early Nineties in the same Reykjavik scene that birthed Björk, but Sigur Rós' work is more oriented towards ballads than beats. Their music can be sorrowful and understated or thunderous and epic. They close out Treasure Island on Sunday with a rare performance. 
[embed-7]