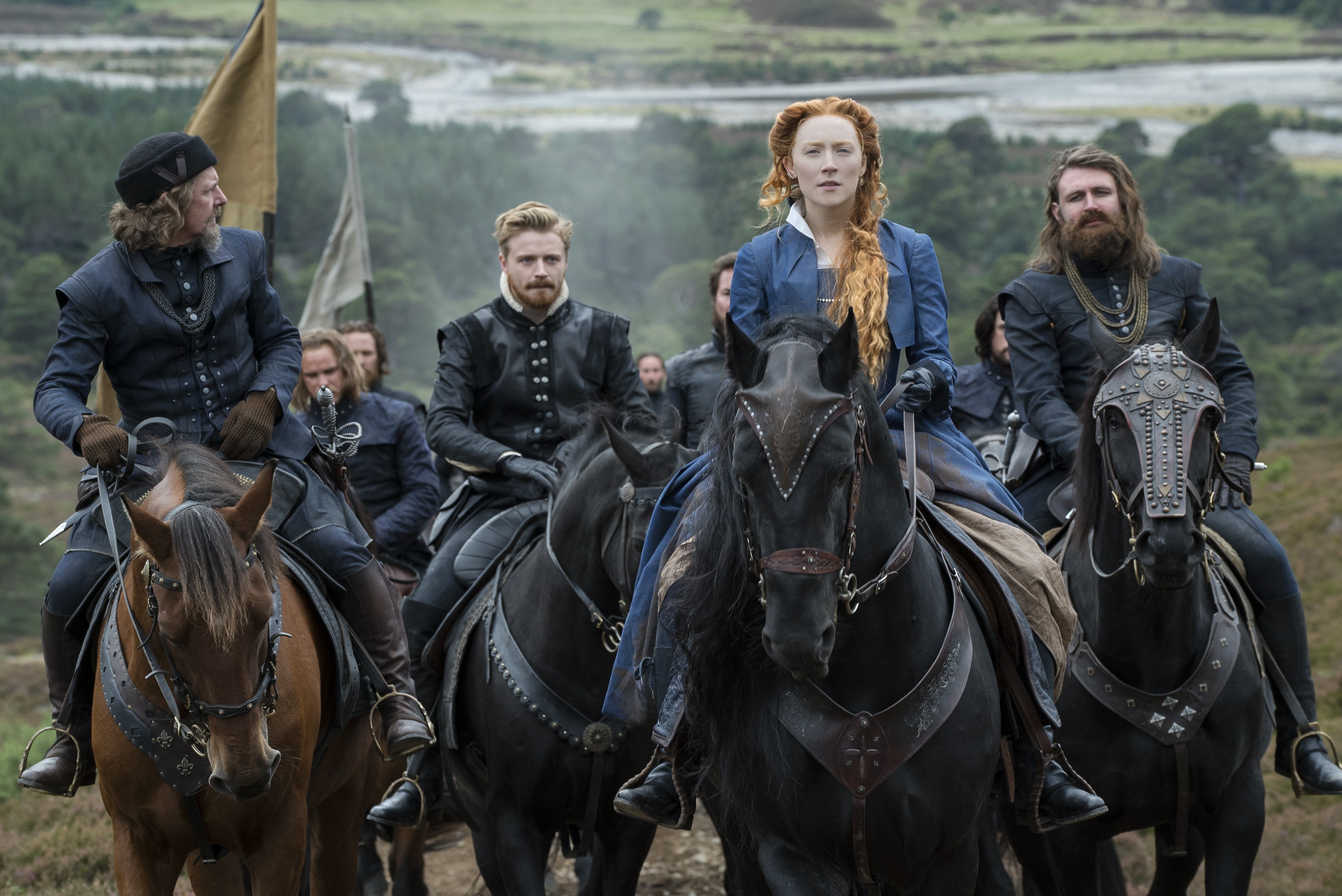 Ever wonder why supporters of the Celtics and Rangers football clubs in Glasgow hate each other so much? The answer is in
Mary Queen of Scots
, the latest British Isles historical spectacle to stretch its limbs in stateside theaters.
Mary Stuart, aka Mary I of Scotland (Saoirse Ronan), the widowed Queen of France, daughter of Scotland's King James V, is Roman Catholic. Her first cousin, the Tudor monarch Elizabeth I of England, daughter of Henry VIII, nicknamed the Virgin Queen (Margot Robbie), is resolutely Protestant. (Therefore, if alive today Mary would no doubt support the traditionally Catholic team Celtic, whereas Elizabeth would probably line up with Rangers, the "Proddy" favorite.) In the seemingly nonstop game of tribal, political, and religious strife in their corner of Europe in the late 16th century, the two women struggle to gain and hold their power, competing with each other as well as with the restless warlords they rule.
Filmmaker Josie Rourke, artistic director of London's Donmar Warehouse stage, aims to put the putative rivalry between Mary and Elizabeth into her own historical perspective (adapted by TV writer Beau Willimon from biographer John Guy's book) without losing the all-important cat-fight flavor that sells movie tickets — a brave impulse, considering the two queens never actually meet. Their skirmishing is depicted in a series of dull royal court harangues interspersed with one or two battles. Plus a little sex. Mary seeks rapprochement with England, mostly to escape anti-Catholic Scots. Elizabeth wants to placate those subjects who prefer a Catholic on the English throne. Men in armor become the two queens' allies, foes, and lovers. Back and forth we go.
Ronan has the Hibernian cheekbones to carry off the role, and the austere noblesse befitting a royal heir born in Scotland, crowned queen at age 5, raised in France, widowed at 16, and then plopped back into rough and ready Scotland seemingly unprepared for the likes of John Knox (hammy David Tennant), a Rasputinesque hater of "Romans." Robbie's Elizabeth, meanwhile, is too beautiful, despite the director's decision to give her bright red clown hair at one point. Each queen has her separate peccadilloes, but Mary appears to be more able to control herself. There have been all too many cinematic Elizabeths (Cate Blanchett, Bette Davis, Glenda Jackson, Flora Robson, et al.) but too few Marys (Katharine Hepburn, Vanessa Redgrave) for our taste. But no matter who makes the movie, Elizabeth always wins.
Most of the male characters stand around uttering anti-female sentiments before going out to battle. Actors Joe Alwyn, Jack Lowden, Martin Compston, and Guy Pearce stand out as various men in tights, with Ismael Cruz Cordova as an unfortunate court jester.
Be that as it may, Mary and Liz's long-distance jousting is not particularly involving. The dialogue is tiresome, the pageantry overbearing, the dramatic tension stillborn. Mary Queen of Scots is a fine example of why so many audiences stay away from historical movies. We'd rather walk the Scottish Highlands in sack cloth and ashes for 40 miles in the pouring rain than sit through this again.

[embed-1]