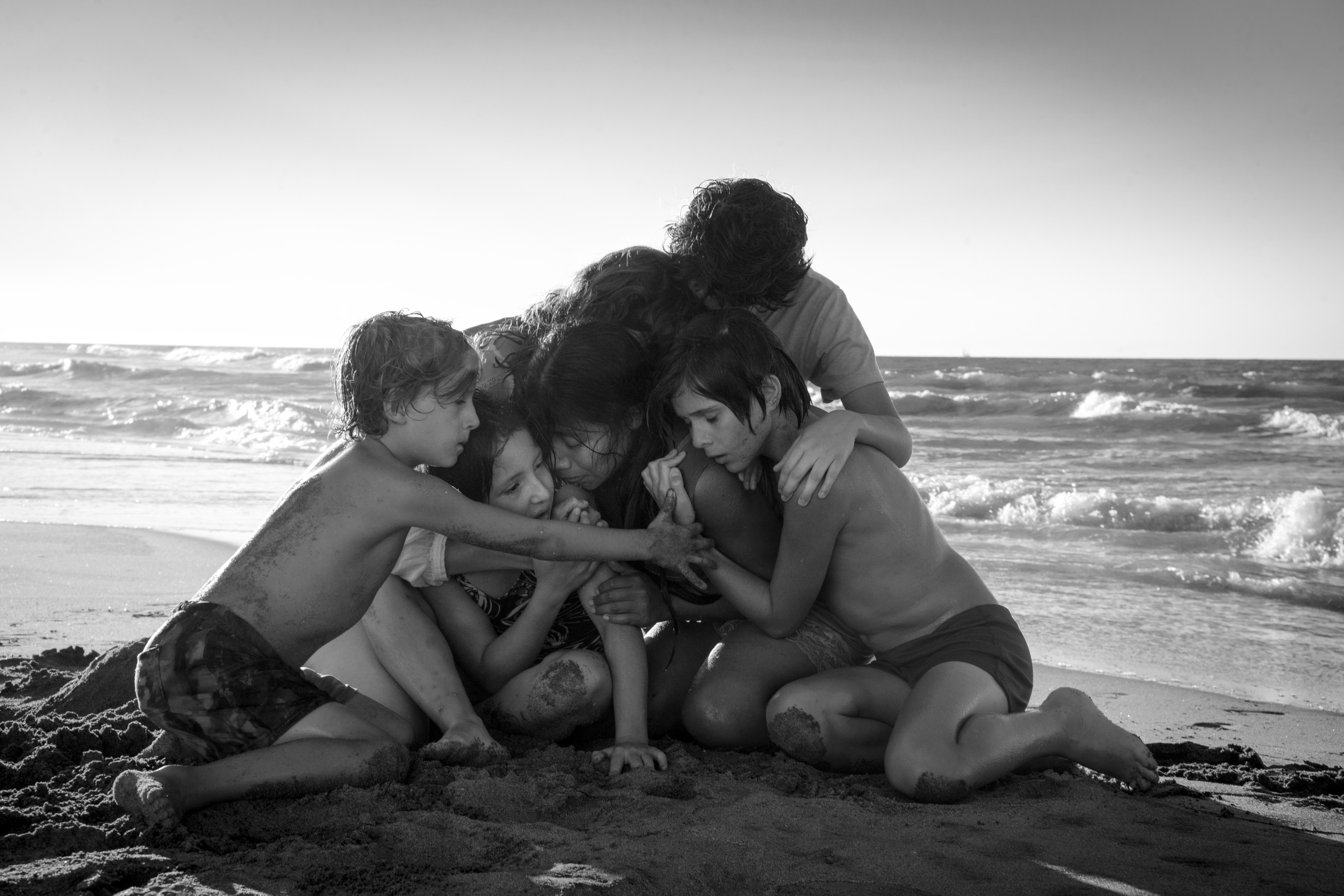 Alfonso Cuarón's Roma falls on the holiday movie season like a warm, gentle rain. Not that we've been suffering through a drought of meaningful film entertainment lately — 2018 has shaped up to be an especially fruitful year for well made, intelligent releases. But
Roma
is something special. For want of a better descriptor, writer-director Cuarón's very personal, very closely observed drama about some people from almost 50 years ago has soul. It's an emotionally nourishing experience just to watch it.
In the drama about a relatively prosperous family living in the Colonia Roma neighborhood of Mexico City in 1971, Cuarón opens the door into his own past, with a background much like his own, and introduces us to characters we think we already understand as types — but about whom we actually know almost nothing.
The first one we meet is Cleo (a remarkable performance by neophyte Yalitza Aparicio), the household chambermaid and
cuidaniños
, as she patiently washes out the tiled entryway at dawn. And it is from her perspective that we witness the lives and times of the little nuclear family — turbulent times in Mexico, as it turns out. Cleo, who gossips in the Mixtecan dialect with her fellow domestic Adela (Nancy García García) every night before bedtime, carries all the hopes and dreams of her "family" inside her, alongside her own, whether they realize it or not. So when Cleo goes to the movies on her night off, or starts a relationship with a young man named Fermín (a military goon, played by Jorge Antonio Guerrero), her experiences are reflected in the world of the kids she cares for, and in our eyes.
The family's four school-age children live carefree lives of the cosmopolitan Mexican middle class. Cleo and Adela make their sandwiches, wash their clothes, and clean up after them and their dogs —
caca
on the gleaming tile, in glorious black-and-white — and there are holidays in the mountains and trips to the beach. Without squinting too closely we can see in them the two spoiled young men from Cuarón's
Y Tu Mamá También
(Gael García Bernal and Diego Luna). And if we peer in carefully we can almost spot the filmmaker himself, as a runny-nosed squirt. It's his tale to tell.
Their mother, Sra. Sofía (Marina de Tavira, as the movie's other linchpin), is a jittery, seemingly fragile housewife who looks poised for a nervous breakdown, yet perseveres. Her husband, the mostly absent padrón, flits through the scenario like a half-heard suggestion. Cleo and Sofía are the glue that holds the family together on their slippery way. There are unforgettable moments: Cleo tenderly waking the youngest children in the morning; the Christmas celebration at the family lodge, including an alarming forest fire; and the scene on Corpus Christi, when the massacre in the streets intrudes into a shopping trip for a cradle. This outrage is little more than a footnote, a startling but minor incident, for the self-involved family — but for us, guided by the filmmaker, it might as well be the end of the world. The most compelling sequence in Roma, however, takes place at the beach when Cleo ventures into the swelling surf for the youngest niños.
That scene in the water echoes a similar crucial moment in
Y Tu Mamá También
. Cuarón has made a career out of lending his eye for detail and his sympathy for the underdog to stories in a variety of genres and moods, with the common denominator of empathy.
Roma
finds him in a sentimental reverie, a tribute not to lost youth but to the endless possibilities of this life. In its calm compassion, it's the antithesis of cynicism.
Roma
is a Netflix original production — take it to heart, but take it soon.
Roma will screen at Shattuck Cinemas in Berkeley starting Thursday, Dec. 6. Tickets are now available. On Friday, Dec. 14, it will be available to stream on Netflix and see a wider theatrical release.


[embed-1]