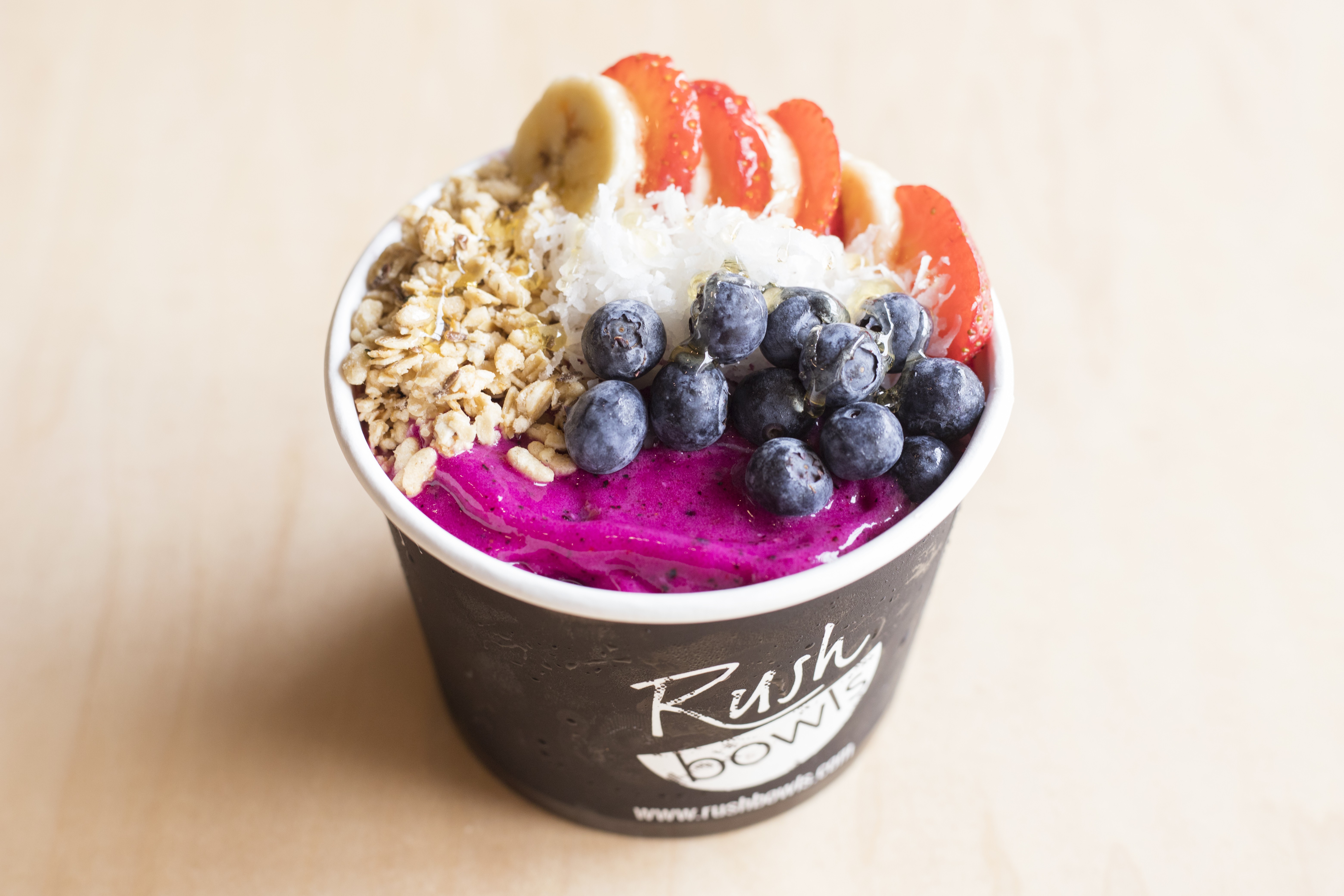 Smoothie bowls have gone far beyond the acai berry, as evidenced by Colorado-based
Rush Bowls
' extensive offerings. Rush Bowls just opened in downtown Berkeley (1935 Addison St.). It's the chain's first store to open up in the Bay Area, but more are in the works, including one in Oakland slated for the fall. Expect to see the company continue to expand across the United States.
The grab-and-go-style restaurant features 40 types of "bowls" on the menu, from blended mango-based bowls to more interesting twists such as a chai tea-style bowl, peach cobbler, and peanut butter and jelly. All bowls are made from blended fruits and/or vegetables, and come with toppings like almond butter, chia seeds, or fresh fruit. The bowls start at $8.25 and are blended together with protein and vitamins. Extra toppings can be added for $1 each.
Berkeley franchise owner Kanishka "Kenny" Noori said he was inspired to open a Rush Bowls to cater to students and those seeking healthy options.
Noori, who immigrated to the U.S. from Afghanistan in 2009, said he previously worked in the car industry but was looking for a type of business that was more family-friendly. The Hayward resident's favorite item at Rush Bowls is the Beach Bowl, which is made of acai, mango, banana, and guava juice and topped with organic granola and honey.
Rush Bowl's menu offers four types of acai bowls. Beyond that, the focus seems to be on less conventional flavor combos. There are bowls featuring frozen yogurt, avocado, green tea, coconut, kale, and spinach, for example. And each bowl can be customized. They also have vegan, gluten-free, soy-free, wheat-free, nut-free, and dairy-free bowls as well.
Each "meal in a bowl" could contain up for five servings of fruits and vegetables, and up to 40 grams of protein. Rush Bowls also makes many of the individual components, such as the jams, and blends homemade peanut butter onsite in a grinder.
The East Bay's second Rush Bowls is opening later this year (350 17th St., Oakland), owned by Robert and Shamani Walker. The location is near Pho 84 and kitty corner from Howden Market. The Walkers are Oakland residents who have a passion for health and healthy living. The opening date is not set yet, but they are hoping to open this fall.