A mural on the wall of Rise Above Graphics art gallery in Oakland's Temescal district portrays a chilling scene. A crane and wrecking ball stalks a portrait of Rise Above itself as the gallery hovers, ghost-like, above its foundation. To the right are clustered, almost dystopian, high-rises, each labeled "condo," with ever-gazing security cameras.
Sadly, the mural is a portrayal of its own fate: The wall — and Rise Above Graphics — is slated to be demolished and replaced by real condos.
The mural was a collaboration by J. Otto Seibold, an Oakland artist, and Gabriela Laz, owner of Rise Above. In July, Rise Above's landlord served Laz with an eviction notice while Seibold was holding a show at the gallery. Laz and Seibold learned that a developer planned to demolish the Rise Above building and at least one other building nearby as part of a plan to build three high-density residential projects.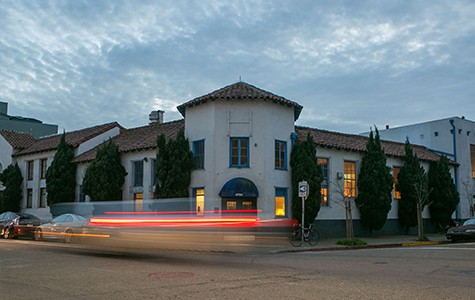 "I wanted to publicize everything that's happening on this corner," Seibold said of the mural. "It's gonna be torn down and turned into condos."
Laz said she was devastated by the thought of leaving Temescal, a neighborhood known for its creative energy. But moving to another storefront in the district was out of the question. Temescal has become one of the hottest real estate markets in the Bay Area, and rents have become unaffordable.
"The artists that move into the neighborhood and work to make it interesting actually end up ruining it in a way and making it something people can't afford," Laz said. "I think it's sad, but what can you do? It doesn't seem stoppable."
Last May, The New York Times reported that Oakland had become a "welcoming oasis" for artists, citing Temescal as a prime example of the city's potential for "top-flight creative capital." However, the longterm viability of that creative capital in Temescal is already in jeopardy. A rash of small businesses in the area — including Good Bellies Cafe, Rise Above Graphics, and Smokey's Tangle — either have been shuttered or fear being priced out by rising rents or the construction of new housing developments.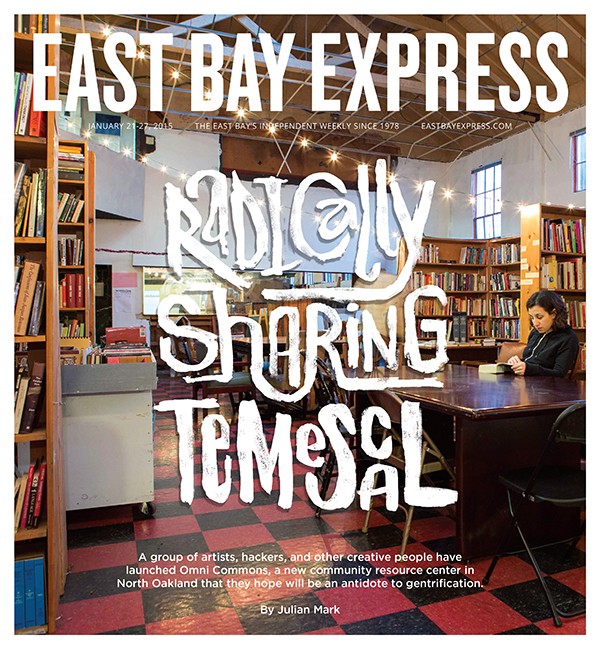 The three new projects are being built by the Nautilus Group, an Oakland-based firm that recently relocated from Southern California. The three sites — on 51st Street and Telegraph Avenue, 47th Street and Telegraph, and 48th Street and Shattuck Avenue — are to become mixed-used complexes of retail and housing. And while Oakland needs more housing, some local residents and business owners fear that the new condo complexes could ruin the neighborhood's character.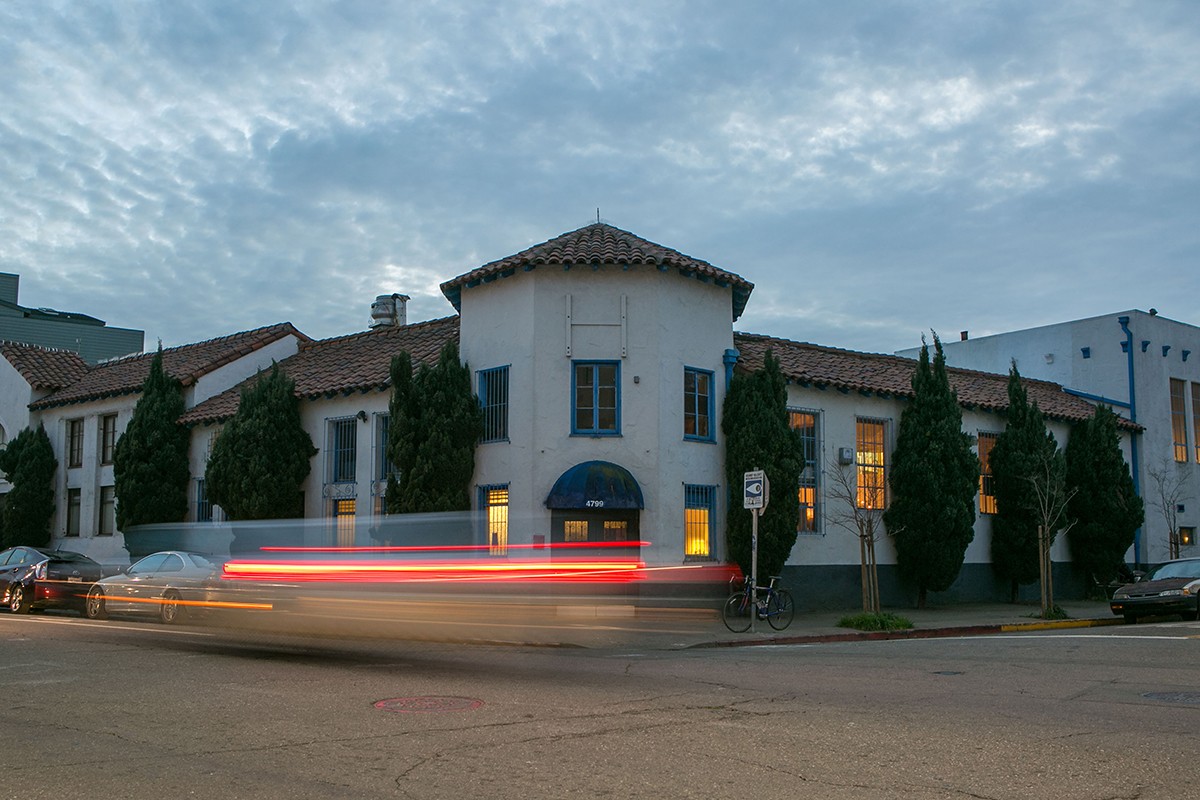 However, not long after Laz received the eviction notice, she said a sort of miracle happened: She was approached by two organizers from Omni Commons, a self-styled "radical community resource center" that had just moved into the former rock venue on Shattuck at 48th. The two organizers explained that part of the mission of Omni Commons, which is made up of many artists, hackers, dancers, educators, and other creative people, was to keep the area's artistic character alive and to provide an antidote to gentrification. They offered Laz space at Omni Commons at an incredibly low rate.
She accepted. "I'm so grateful; I feel like the Omni really rescued me," she said. "Hopefully, the Omni will be a stronghold for people in the community and culture in the area."
Omni Commons is one of the largest and most ambitious projects for arts, science, and activism in the Bay Area. It's an effort by a group of multidisciplinary collectives to pool creative and political resources into a free public space in a building that has stood in Temescal since the 1930s. For some members, it's a solution to the out-of-control rents currently threatening the creative life of the Bay Area. For others, it's an overtly political continuation of the Occupy Movement that seeks to challenge cultural assumptions associated with capitalism. And for Temescal stalwarts and creative types, it could be a uniting force in response to the new, high-density developments.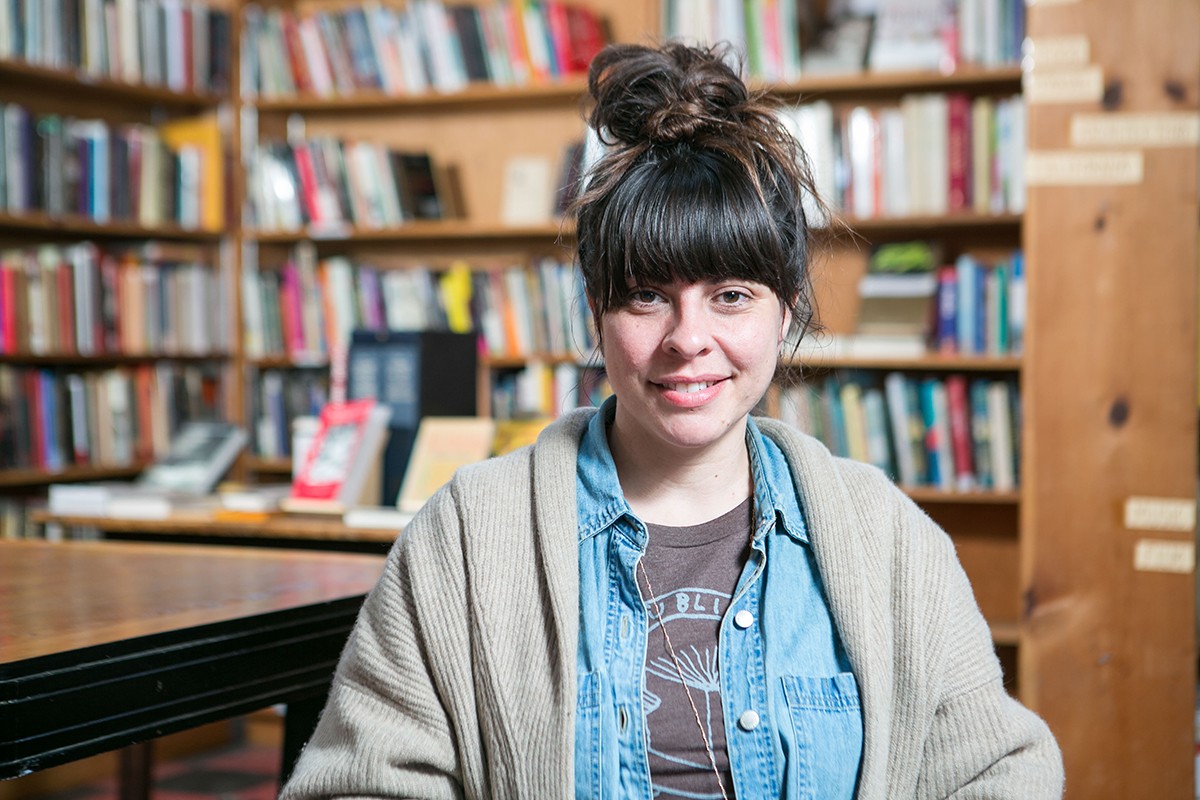 The Omni Commons collectives include the hackerspace Sudo Room; the autodidactic university The Bay Area Public School; the bio-hackerspace Counter Culture Labs; the activist group Food Not Bombs; the celluloid film lab Blackhole Cinema; the small press Timeless Infinite Light; and La Commune Bookstore & Café, in addition to others specializing in dance, visual art, music, health, and grassroots activism. The commons represents the most recent iteration of Bay Area counter-culture as well as an odd, startup-like manifestation of the oft-cited Bay Area culture war — one that seeks to reclaim terms co-opted by Big Tech, to challenge the "dominant culture," and to become a stronghold for arts and common folk in Oakland.
---
Just after the 1906 earthquake destroyed San Francisco, droves of Italian-American refugees settled in Temescal, transforming the neighborhood into Oakland's "little Italy." Many of the Italians found work as "scavengers," collecting trash on horse-drawn wagons and eventually organizing into formal, often competing, groups.
One such group was called the Oakland Scavenger Association (which would decades later become Oakland Waste Management). At the time, the association's business model was relatively unique: Every worker owned a share of the business, which made the Scavengers, in many ways, the East Bay's first cooperative. But they wanted a place outside of work to meet, host dances, play bocce ball, and make wine. So, in 1934, they built the Ligure Social Club.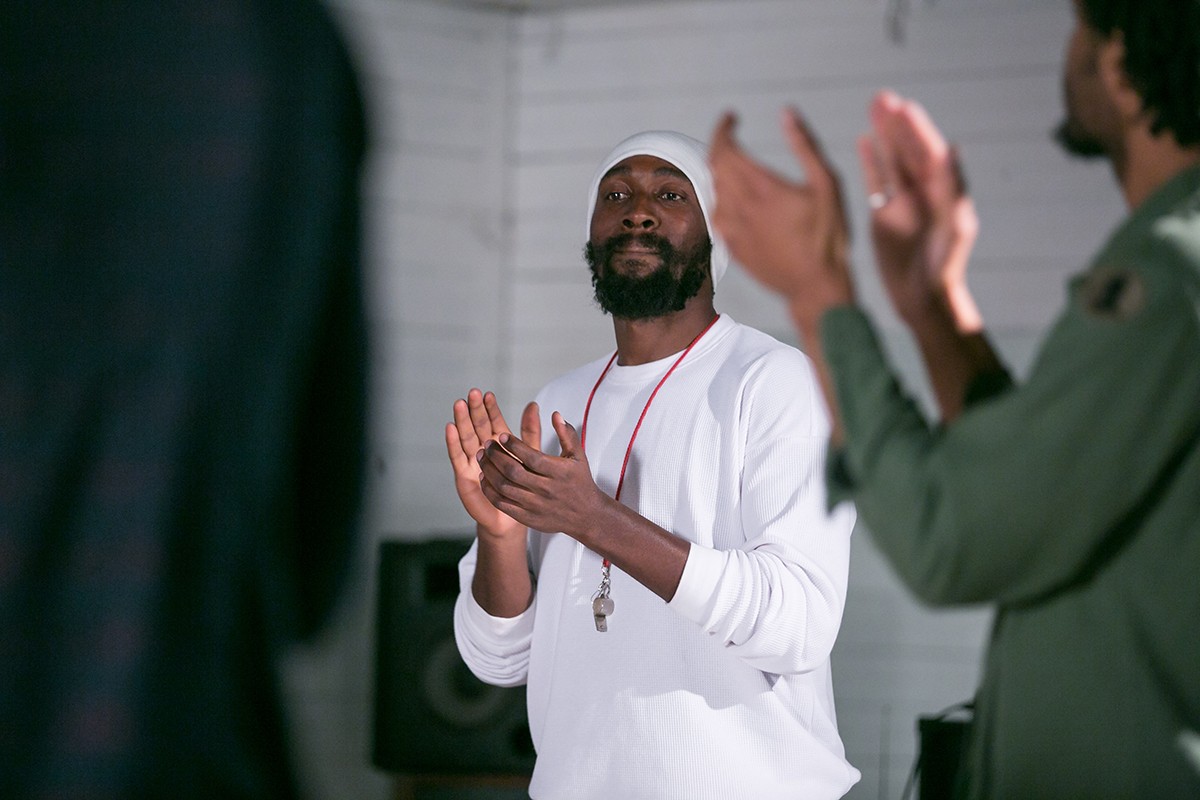 It was a Spanish Colonial building with stucco walls, mission-tiled gable roofs, and two main wings that lead into a two-story octagonal tower. Inside, it had checkered floors and high ceilings, a basement for wine, and courts for rolling bocce. The building also had an amphitheater, which hosted political speeches by major politicians of the time, including then-Alameda County District Attorney Earl Warren and then-US Congressmember Richard Nixon.
For nearly half a century, the Scavengers and their families passed through Ligure's canted entryway — that is, until 1981, when Ligure's membership dwindled and the association's funds dipped, forcing the club to move elsewhere.
However, not long after, the building became the Omni nightclub, a music venue that hosted such legends as Primus, Metallica, Too $hort, Don Carlos, and Mr. Bungle. But after roughly a decade, neighbors got fed up by the noise and rowdiness. So, in 1992, the Omni nightclub closed, and for twenty years the building sat empty, used only as a live-work space by an eccentric couple. In recent years, it has been eyed for use by the New Parkway Theater, various music venues, and the Center for Creative Reuse, and as a live theater, a bowling alley, a beer garden, a bar, a restaurant, and a burning-man-oriented live-, work- and party-space.
---
I'm at bio-hackerspace Counter Culture Labs in Omni Commons with Marc Juul, a co-founder of Counter Culture Labs and Sudo Room. The hackerspaces share a wide-open room that used to be dedicated to the Ligure Club's bocce ball courts. These days, it's filled with lab benches, test tubes, an industrial robot arm, and racks of scavenged hardware.
Juul pulls out an open PCR (polymerase chain reaction) machine. He explains that PCR machines are essentially DNA copy machines used in bioengineering to target and replicate desired strains of DNA, and that they're indispensable for genetic engineering projects. But for Juul, the fact that this PCR machine is "open" makes it something much more spectacular. It's a device he can modify, and even improve into a cheaper alternative.
He explained that the blueprint for the open PCR can be found under creative commons, meaning that anyone can download the plan from the internet and build the machine using basic tools and a bit of know-how. For Juul, an open PCR machine is an example of the potential power an ordinary person can wield if he or she has access to proper tools and knowledge. Juul noted that most advanced equipment cannot be found in the creative commons. "Most scientific equipment and academic literature is locked down and extremely overpriced — inaccessible to the public," he said.
"In order for us to work at the highest level of humanity right now," he continued, "everyone needs access to equipment … knowledge … skills."
This concept of open access mirrors a point of view popularized by twentieth century Italian political philosopher Antonio Gramsci, who asserted that everyone is inherently intellectual, but only some have the social privileges to realize it. That's why, Juul said, Counter Culture Labs and the other collectives at the Omni are building a "commons," a space in which everyone can have access to essential resources for learning, creating, and meeting each other, for free. "We're really trying to create a commons — not only in the sense of all these tools, but in terms of a space where the community can come in and be part of it and decide what to do with it," he said. "Not having a commons means you're reinforcing privilege in a lot of ways. But having a commons means that everyone — if they have the time and dedication — can come in and use it for whatever they want and create something."
Juul contends that Oakland doesn't have enough common space available. "Yes, there are park areas, but what are you going to do when a park is limited?"
Having come from Denmark, Juul explained that there are more public spaces — commons — there in which people can interact and share ideas. "There's a lot more positive socializing, and the intermingling of different social groups happens in these commons," he said. "And I think that's something that Oakland can really use."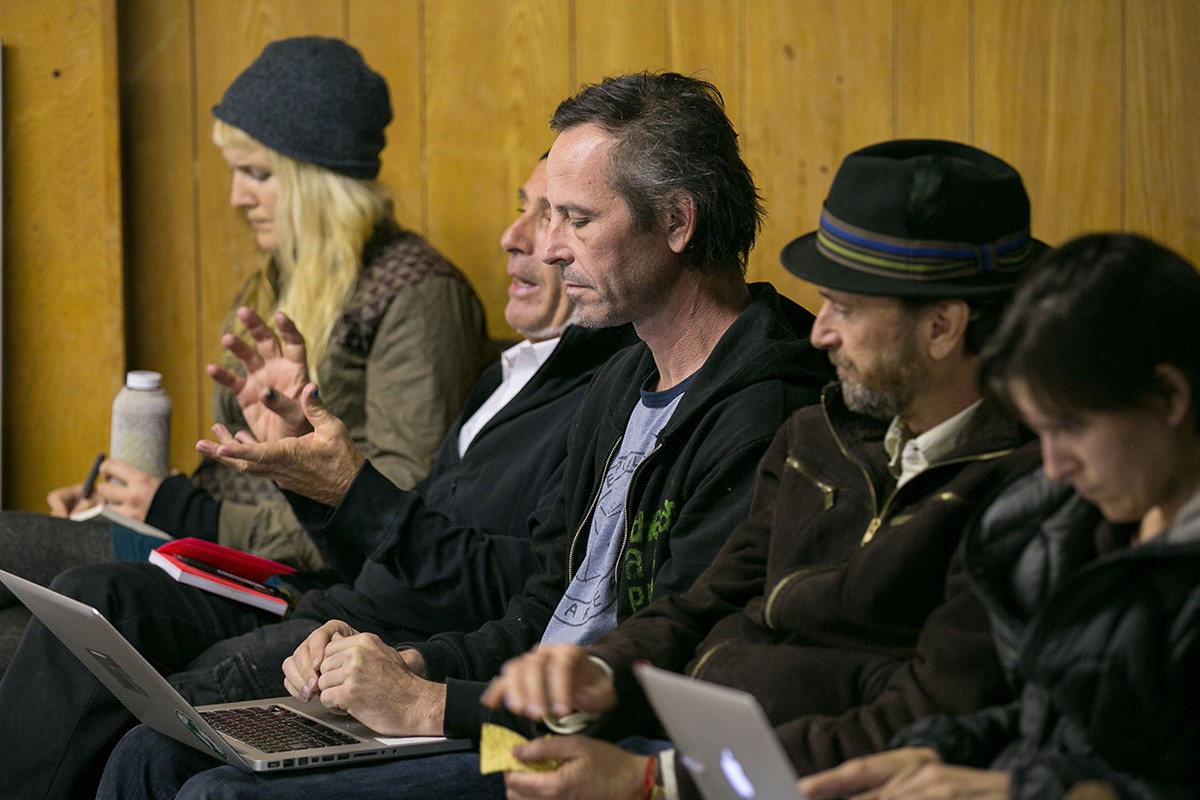 Commons exist in many forms: There are intellectual commons, such as the creative commons, in which ideas, inventions, and text can be accessed free of copyright and patents; there are also digital commons, such as open source technology (Wikipedia, for example, or Linux, which gives users access to its code); and there are municipal commons, such as parks, libraries, and community centers — all of which Omni Commons seeks to resemble and expand on in some way. One can usually access these places without paying a fee. They are maintained and paid for by the pooling of resources.
Juul explained that Omni Commons also differs from a park and library because it welcomes participation. In other words, the more diverse the participants, the richer it can become. It can almost be thought of as an "open source" community center. "We're taking the ideas that have been successful in the digital realms and bring them into physical reality," he said.
At their former location, Sudo Room and the Bay Area Public School (BAPS) rented two rooms in an office space, which were connected by a dingy common area. The common area was usually filled with people waiting for the next BAPS class or Sudo meetup. These people would work on their laptops, pull a book off the shelf, or play the upright piano next to the bookshelf. A web developer might be arguing with a BAPS student about 18th century philosophy. Anybody could be there, even if they weren't visiting BAPS or Sudo. "It was almost as if Sudo Room and the Bay Area Public School were dating each other," said David Keenan, an organizer at Omni Commons. "We were different subcultures, there was a sense of possibility around sharing that common room that allowed so much stuff to go on there, which Sudo Room and the Bay Area Public School would never have on its own."
---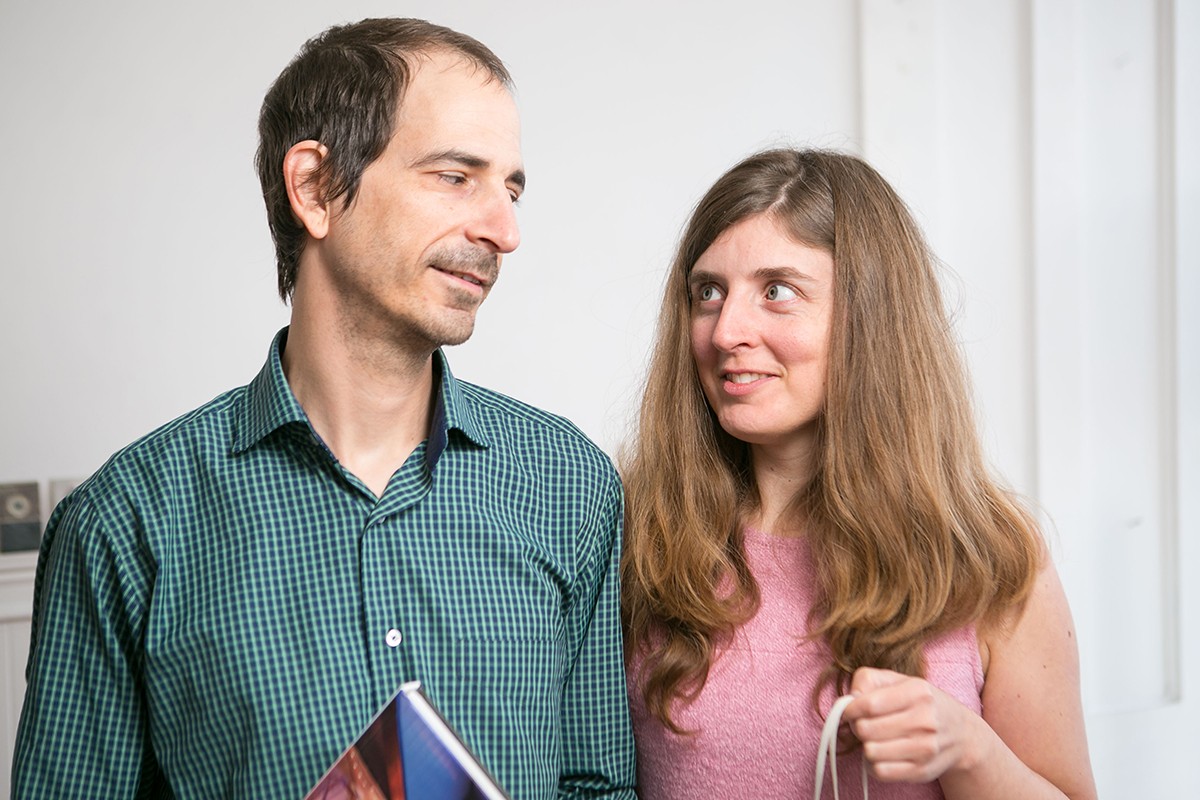 In order to create their "commons," members partake in "radical sharing." This means the sharing of tools, materials, and skills within the space. It also entails the complete relinquishment of ownership. "It's completely non-economic," said Niki Shelley, an organizer of Omni Commons and a member of the Bay Area Public School. "It's not about what you're going to get in exchange for something else; X doesn't equal Y."
Omni Commons recently received two $10,000 "innovator awards" from Kenneth Rainin Foundation, an art and science foundation, and from local clothing brand Oaklandish. The commons has also launched an Indiegogo campaign to pay for building renovations. Member collectives also pay rent — although at below-market rates. "It's a hard thing to pay a thousand a month for … part of this space and let people use for free who don't have the same resources you have, especially when it's your stuff or my 3D printer that can be stolen or messed up," said Keenan. "That's radical sharing."
Radical sharing at the Omni is also intended to examine our culture's deep-seated relationship with money. It's an attempt to reclaim the word "sharing" from the so-called "sharing economy," which includes ridesharing services, such as Uber and Lyft; peer-to-peer home rental services like Airbnb; websites like SnapGoods that facilitate the lending of household items, including appliances, tools, and musical instruments; and enterprises like TaskRabbit and Zaarly, which are mediums for placing personal skills, such as sewing or pie making, on the market.
"The sharing economy is not about sharing," Shelley argued. "Human beings want to share, and value sharing, but the sharing economy seeks to commodify spheres of life outside of the obvious economic spheres; our personal lives are commodified every possible way. Our homes, our cars, are commodified in the name of this sharing economy."
Shelley explained that radical sharing is founded on the de-commodification of goods and relationships. "Radical sharing is based on … the idea that what is between you and I — this relationship — is more important than the material things that either one of us possess, as opposed to a sharing economy, where the exchange of money is the most important thing."
Jenny Ryan, an organizer at Omni Commons and a member of Sudo Room, went so far to say that the term sharing has been co-opted by Big Tech. "There's a lot of buzz right now around the word 'sharing,' like sharing economy, which is bullshit," she said. "It's just another form of co-optation of what is really an essential human thing.
"I don't know how 'radical' it is, really," she added, referring to the radical sharing employed at the commons. "I guess 'radical' in the sense of getting to the root of the thing, which is just sharing — not sharing in the guise of some startup corporate bullshit."
---
In many ways, collectives at Omni Commons can be thought of as "anti-" or "social" startups, and the commons is their incubator for launching social and artistic enterprises. Instead of the traditional notion of a startup — a small tech business hoping to hit the jackpot — these startup "collectives" aspire to radical social change, cultural enrichment, community empowerment, and an all-inclusive society, not making money.
Shelley works part-time for a startup in San Francisco, and I asked her about the differences between collectives at the Omni and the startups she frequently encounters. She said it was more appropriate to compare Omni collectives to the original startups that were "hacking on shit in their garages. There's something about young people feeling that they don't have to go the traditional route — don't have to go to college, appeal to authority, climb the corporate ladder," she said. "There's something that feels exciting and sexy, and there's a sense of camaraderie.
"But the fundamental difference is why people are doing it and what they're doing it for," she continued. "We're not doing it for money and we're openly challenging the notion that money should dictate how we organize and the decisions we make in our lives."
But perhaps there's more to it. Walk into any co-working space in Oakland or San Francisco and you'll see that startups collectivize their resources as well, often benefiting from an ecosystem of complementary skills and ideas. In the business world, it's near-paradigmatic that an ecosystem breeds innovation. But the difference is that collectives at Omni Commons don't care about making money. Or, in the words of Korl Silver, an organizer at the commons and a member of Sudo Room, "We're like a business, but our gains are community."
And collectives at the commons that do work with technology — hackerspaces Sudo Room and Counter Culture Labs — represent an antithesis of corporate tech. Noemie Serfati, a French filmmaker who is making a documentary about Sudo Room and Omni Commons, believes Sudo Room and Counter Culture Labs are subversive precisely because they're located in the Bay Area. "The Bay Area is at the heart of an empire," she said. "Because of the tech industry, most of the power is concentrated here."
Many collectives at Omni Commons found their momentum within the Occupy Movement and seek a radical transformation of society. But instead of the "event-based" activism witnessed at Occupy, collectives at the Omni seek to build infrastructure that poses alternatives to dominant cultural values. This is done by offering a safe space for community discourse, as well as the incubation of community outreach projects.
This month, Sudo Room began hosting a collaborative coding bootcamp called the Cyber Wizard Institute. It has been described as an "un-bootcamp" or "anti-bootcamp" because it is free, collaborative, and takes in students at all levels. "Programming is currently an area where there's a lot of demand in the Bay Area, and there are a lot of folks who haven't had access to any sort of collaborative environment related to programming," said Marina Kukso, a member of Sudo Room. "Most other options are expensive, and there isn't a whole lot of support for learning these skills." Indeed, many coding bootcamps in the Bay Area charge tens of thousands of dollars in fees, which can be seen as restricting access to what has become essential for finding a job in technology, let alone moving up in Silicon Valley's so-called "meritocracy." Kukso explained that Cyber Wizard Institute's mission is very much aligned with that of Sudo Room, which is to give everyday folks the opportunity to understand and create the technology in their lives. "For a lot people who consider themselves nontechnical," Kukso said, "a lot things relating to technology or coding seem mystical or secret, our perspective is … everyone can learn these types of things."
And the Omni's diversity of disciplines allows it to come up with new and innovative methods for blending technology and arts with community outreach.
P.T. Akwerius (who goes by "Kwe") is a poet, musician, media producer, and programmer, who discovered the Omni a few months ago. A native of Cameroon, he came to the United States to study tech and economic management. After graduating, he traveled to many major US cities, learning about the needs of urban areas through work with numerous city youth programs, after school programs, and media camps. At the Omni, he's hoping to grow his existing media project Afro Roots Hop, a mixed community media project that he started in Chicago and is aimed at developing community media, arts, and education at community centers, art spaces, and schools in Oakland.
"One doesn't need to look far today to see the need for access to technology education, access to a free school, access to a hackerspace, access to digital literacy in an information society," he said. "When one is living in a place that is highly gentrified and that has enormous disparities in its educational opportunities [and] its economic opportunities … the need is pretty obvious."
Akwerius explained that the use of technology in community-based work is becoming essential, which is why the Omni's blend of technology, cultural activity, and community outreach is important and unique. Describing the connection between these elements, he said, "literacy is really the component — media literacy, digital literacy — is the link, because we're living in a digital society; we're living in the Information Age," he said. "These are not just terms that are out there for people to be mesmerized by, but they're actually changing the way that we communicate, work, and relate, in our families, with our partners, with our jobs, with the environment. Any kind of community-based project … has a community technology strategy."
Material Print Machine, another collective at Omni Commons, isn't necessarily high tech, but that's the beauty of it. The collective was recently formed by a group of formerly separate small press printers. They have built a workshop at the Omni equipped with an offset printer and a letterpress, both of which are ordinarily rare, inaccessible, and expensive to use. And they're not just using them for their own purposes. "Once you have the initial startup capital, it's really easy and inexpensive to print," said Emji Spero, a member of Material Print Machine and a co-founder of small press and Omni collective Timeless Infinite Light. "By making that a public resource, basically the propaganda arm is available to a wider range of people."
Spero also explained that this could be a good model for resisting economic gentrification. "You know how a lot of people have been organizing in San Francisco by forming cooperative housing? This is a similar project," Spero said.
In fact, many Omni Commons organizers I spoke with said that one of its most immediate missions is to "undo gentrification," citing collectivization, the sharing of resources, Rise Above's entry into the Omni, and their hopes to put the building into a land trust as key examples.
Sarah Pritchard is a member of the Omni Dance Collective and an active participant in an Omni Commons "working group" called Challenging Dominant Culture, which hosts weekly workshops focused on social justice projects as well as how the Omni can be more inclusive. "When I look at Temescal Alley," she said, referring to a small street in the district that has become home to a few high-end boutiques, "I definitely see a certain kind of culture that privileges wealth and the sort of like bougie fancy commodities that wealth wants, and I think the Omni is definitely trying to counter that." She continued, "in terms of art, within our dance collective we have a lot of discussions about how the arts have been implicated in gentrification and how they are frequently the vanguard."
Yet despite the sense of hope articulated by members of the commons, there is also an air of unease. "Is it really going to be inclusive or will it be just a club for white people?" said Serfati, further explaining that this one of the "stakes" in her film. "It's important to be honest with ourselves that we're a majority white group in Oakland, and that there aren't flocks of people from other communities and cultures and background knocking on the door. And we can be seen as part of the process of gentrification."
"It's super important to be critical of ourselves and … examine our own privilege," Shelley added.
Keenan of the Bay Area School loses sleep over the thought. "If it just ends up becoming just another apolitical hipster mall that's just about lifestyle politics, or just another art center without the overtly political missions … that keeps me up at night," he said.
---
The window of the Temescal art gallery Smokey's Tangle displays a series of paintings that depict the changing neighborhood. Some show recently closed small businesses, such as The New Ho Ho Restaurant and the yarn store Article Pract. Some are of the sites on which the Nautilus Group will be developing, such as the building that was once Global Video. There's one of the Temescal obelisk. And there are three paintings of Rise Above Graphics: one of the gallery's entrance, one of its shop window displaying the eviction notice, and another of the Seibold and Laz's mural portraying Rise Above's demolition. There's another of Omni Commons.
The owners of Smokey's Tangle fear it's only a matter of time until their gallery shutters, too. The gallery now has a new landlord and it isn't protected against rent hikes, according to co-owners Brian Brooks and Emily Wick, who also co-founded the Temescal Art Hop in 2010 as a way to promote the neighborhood's galleries. "The good news is the building was sold to a local resident who lives nearby," Wick wrote to me in an email. "[But] given the trajectory of the neighborhood, we may not be able to stay much longer."
She and Brooks were featured in a 2007 Wall Street Journal article as exemplars of the creative — albeit "yupster" — transformation of Temescal. "Our gallery was funded with money we saved by living frugally and not having a car," Brooks wrote. "We did not open the gallery as a way to make money, and quickly discovered that the best part about having the space and promoting the art nights was the community we discovered."
But he and Wick worry that this could soon be changing. At a community feedback meeting hosted by the Nautilus Group, the gallery owners asked officials from the Nautilus Group whether they'd consider excluding chain stores from the new developments. But according to Brooks and Wick, the Nautilus Group is only interested in renting to small businesses if they're able to pay as much as a corporate retailer.
Brian Caruso, a senior project manager with the Nautilus Group, said that, although rent prices for storefronts of the new developments will be market-rate, the company is being very selective about the businesses it plans to include, although he didn't give any details on which businesses Nautilus will be selecting. "We're interested in finding the right fits for the neighborhood," he said. Caruso said that the Nautilus Group's community outreach has been "extensive."
The Nautilus Group's plans for its sites include the construction of up to 301 housing units and approximately 44,700 square feet of retail space. The previous owner of the sites, Roy Alper, received approval from the city to build the projects in 2006, but because of the economic downturn, the development never broke ground.
After purchasing the properties in 2013, Nautilus is now proposing to amend the design of the buildings to include a more "modular" modern look, with glass and resin composite exteriors. Nautilus is also proposing to expand the development on 51st and Telegraph to add a 20-foot "retail podium" beneath the residential levels, which will include 40,000 to 50,000 square feet of retail space, according to Randy Miller, President of the Nautilus Group. Most of this space is to be taken up by a grocery store, Miller wrote to me in an email, and a portion (7,000 square feet) will be dedicated for smaller retail businesses.
City approval for the new designs will depend on what Nautilus gleans from ongoing community feedback meetings, as some community members were unhappy with the modern-looking redesign, according to officials from the Oakland Planning Department.
All three developments are to be five stories tall. The one at 47th and Telegraph, where Rise Above is now, will have 48 housing units and roughly 4,000 square feet of ground-floor commercial space. The development on 48th and Shattuck will have 43 units and roughly 700 square feet of commercial space. And the one at 51st and Telegraph will include 186 to 211 housing units. Miller said Nautilus is proposing rooftop greenhouses for the development on 51st. Officials from Nautilus also noted that 10 to 11 percent of the total number of units (14 to 16 units) will be affordable with some designed for "very-low income" people, Caruso said.
Wick and Brooks said that, in light of the Nautilus Group's plans for large, mostly market-rate developments in Temescal, Omni Commons can be a uniting force in the neighborhood. And many community members agree. Araya Amare, who lives down the street from the Omni on Shattuck, used to be a regular at Good Bellies Cafe until it closed because its rent skyrocketed. "When the La Commune Bookstore Cafe opens [in Omni Commons], it will be a good place for us to gather," he said. "It's beautiful."
Lory Hayward's backyard touches Omni Commons. She's lived in the neighborhood for fifteen years. Although she said she was "cautious" at first, she attended one of the Omni's neighborhood potlucks and discovered that the Omni has the potential to bring people together. "There's a personality that's reflective of the neighborhood character, rather than having it squished out by the new developments," she said.
Although Hayward said she didn't want to pit the Omni against the Nautilus developments, she said she hasn't seen the same type of sincere neighborhood outreach and consideration from the Nautilus Group as she has from the Omni.
---
In the coming years, Omni Commons organizers hope to buy the building and place it in a land trust, so the building can never be demolished or purchased by a retailer. But Omni Commons is still young and faces some challenges. In order for the it to legally become a place through which community members can freely pass, the building still needs to be renovated and must have the proper city permits, which can be expensive, according to Keenan — especially for a group of nonprofits.
Keenan said that city officials have been "generally supportive," but he suspects that because the Omni is a not-for-profit organization — and therefore won't bring in tax revenue for city — city officials are less incentivized to ease the permitting process.
"Which is understandable; the city needs money," Keenan said. "But if anyone really looked at this neighborhood they would say this neighborhood needs balance. I mean, you have high density residential going up all over the place, and you have places that provide culture for the neighborhood — Rise Above, Smokey's Tangle — essentially priced out of the neighborhood. You need to have a place for the community if you're putting a community in here."
Omni Commons does have advocates at city hall. Margo Lederer Prado, a senior economic development advisor with the Planning Department and an outspoken supporter of the maker movement, said that Temescal needs diversity — "more than just restaurants." She explained that Omni Commons can attract a wide range of community members from different income levels and age groups. "It's really in the spirit of Temescal to have this kind of diversity," she said.
Corrections: The original version of this story erroneously stated that Smokey's Tangle's lease expired in December. It did not. The story also failed to mention the first name of Marina Kukso of Sudo Room and her professional affiliation. And on first reference, the story misstated the name of small press collective Timeless Infinite Light.