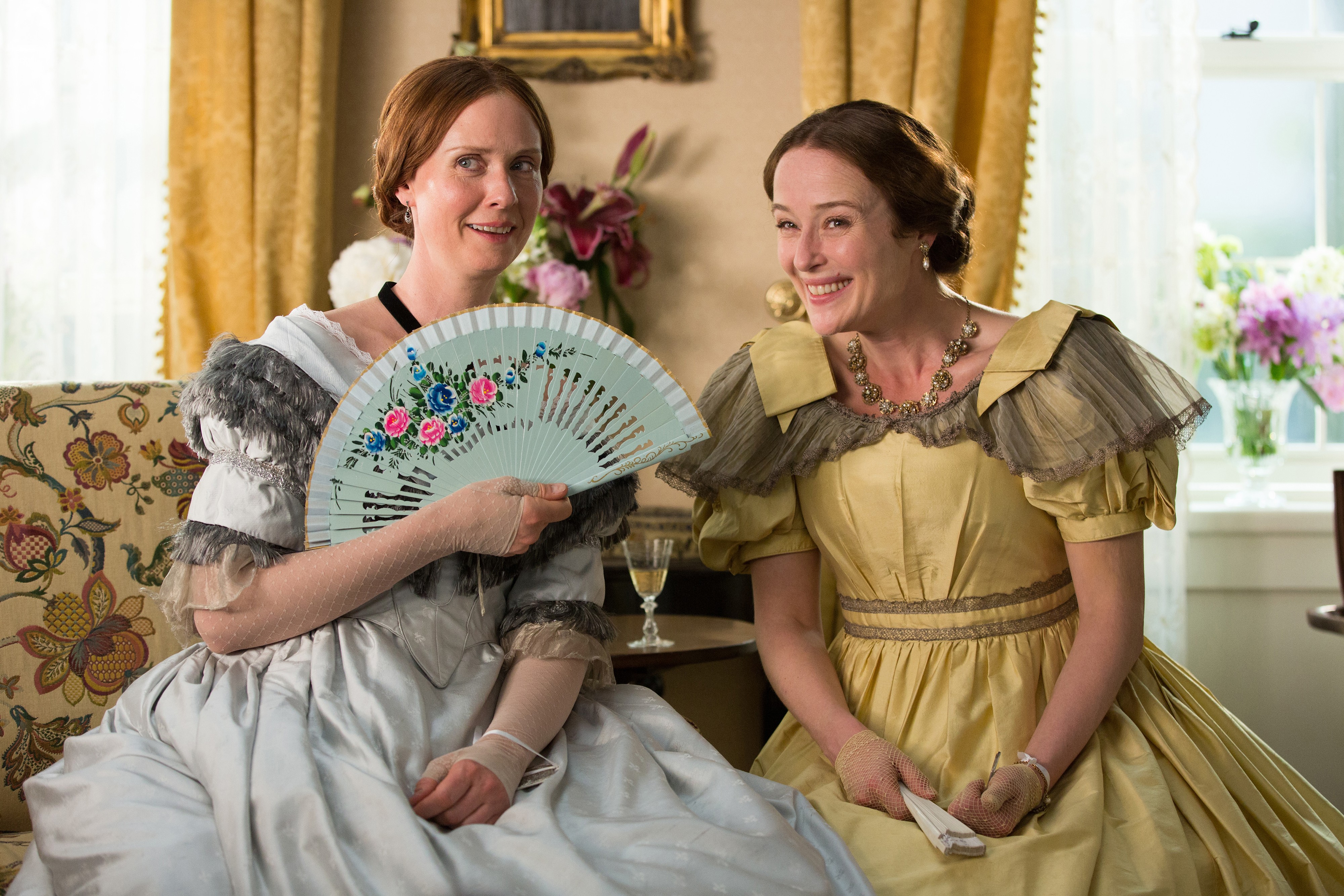 Drawing room revolutionaries: Cynthia Nixon (left) and Jennifer Ehle in
A Quiet Passion
By most reckonings Emily Dickinson was one of America's finest poets, in the same league as Walt Whitman and Robert Frost. This despite the fact that she rarely ventured very far from her family's Amherst, Massachusetts home, and was just as rarely published during her lifetime (1830-1886). Generally overlooked until well into the 20th Century, Dickinson's poetry eventually came to be celebrated as the product of a unique and uncompromising voice, especially by feminists. Terence Davies' remarkable biopic
A Quiet Passion
carries the Dickinson discussion into the realm of speculative drama, with a stellar performance by Cynthia Nixon at the head of a brilliant cast.
Emily (portrayed by Nixon as an adult, by Emma Bell as a girl) is labeled a "No Hoper" by the disapproving schoolmarms at Mount Holyoke Female Seminary, simply because she refuses to be herded into the religious corral with the rest of her classmates. Her whole life is set up as a struggle against disapproval. She will not bow down.
That rebellious spirit may have come from her strict but relatively free-thinking father (Keith Carradine), but Emily and her younger sister Vinnie (Jennifer Ehle) seem to glory in upending Victorian WASP-ish expectations for their own amusement. No self-satisfied hypocritical piety for them. In filmmaker Davies' screenplay, Emily and Vinnie's relationship is presented as lively, almost mischievous. That joyfulness was to wear down as they aged together.
Emily's true refuge is her versifying. She is given to rapturous outbursts, especially when left to herself, but delights in speaking poetry to anyone within range, including infants. Publishers are less amused by her work — they want their poets to be men, and are prone to over-editing Dickinson's poetry to make it conform to the style of the day. Gradually Emily withdraws into a sort of artistic cocoon, writing down her poems alone in her room, sending them out as letters, and sewing them up with needle and thread. Selected Dickinson stanzas are sprinkled throughout the UK/Belgium production in voiceover.
Notorious in the contemporary literary imagination as a solitary recluse, the cinematic Emily is pictured here as a gentle soul, easily wounded, who prefers staying indoors and philosophizing in verse, close to her loving family. Coming from a featured performer on TV's
Sex and the City
, character actor-turned-leading lady Nixon's nuanced performance is an unexpected treat.
Writer-director Davies, the Liverpudlian creator of
Distant Voices, Still Lives
and
Of Time and the City
, lends his nostalgic, very personal touch to Dickinson and her times with a surprising sense of humor. At first, practically every line of dialogue sounds labored and overly formal to our 21st-century ears, but the soulful wittiness of Emily, Vinnie, and their iconoclastic cousin Vryling Buffam, played by Catherine Bailey – sample: "Never play happy music at a wedding, it's too misleading" – shines through and overcomes the epigrammatic stiffness.
Rather than the dour, self-pitying, shrinking violet character we expect from our admittedly hasty awareness of Dickinson's poetry, we are pleased to find her more or less like a "normal," very modern woman, with the same hopes and fears, but amplified by her heightened sensitivity. "Why has the world become so ugly?" she complains at one point to no one in particular. Why indeed.
Emily Dickinson wrote some 1,800 poems. Her oeuvre is continually in print. Renowned as a horticulturist as well as a poet, she published a volume of pressed flowers, the
Herbarium
, in her lifetime. As imagined by actor Nixon and her supporting players, Emily might as well be one of those pressed flowers, shut up in a book to amaze and amuse the reader (and moviegoer) another day. That day is here.