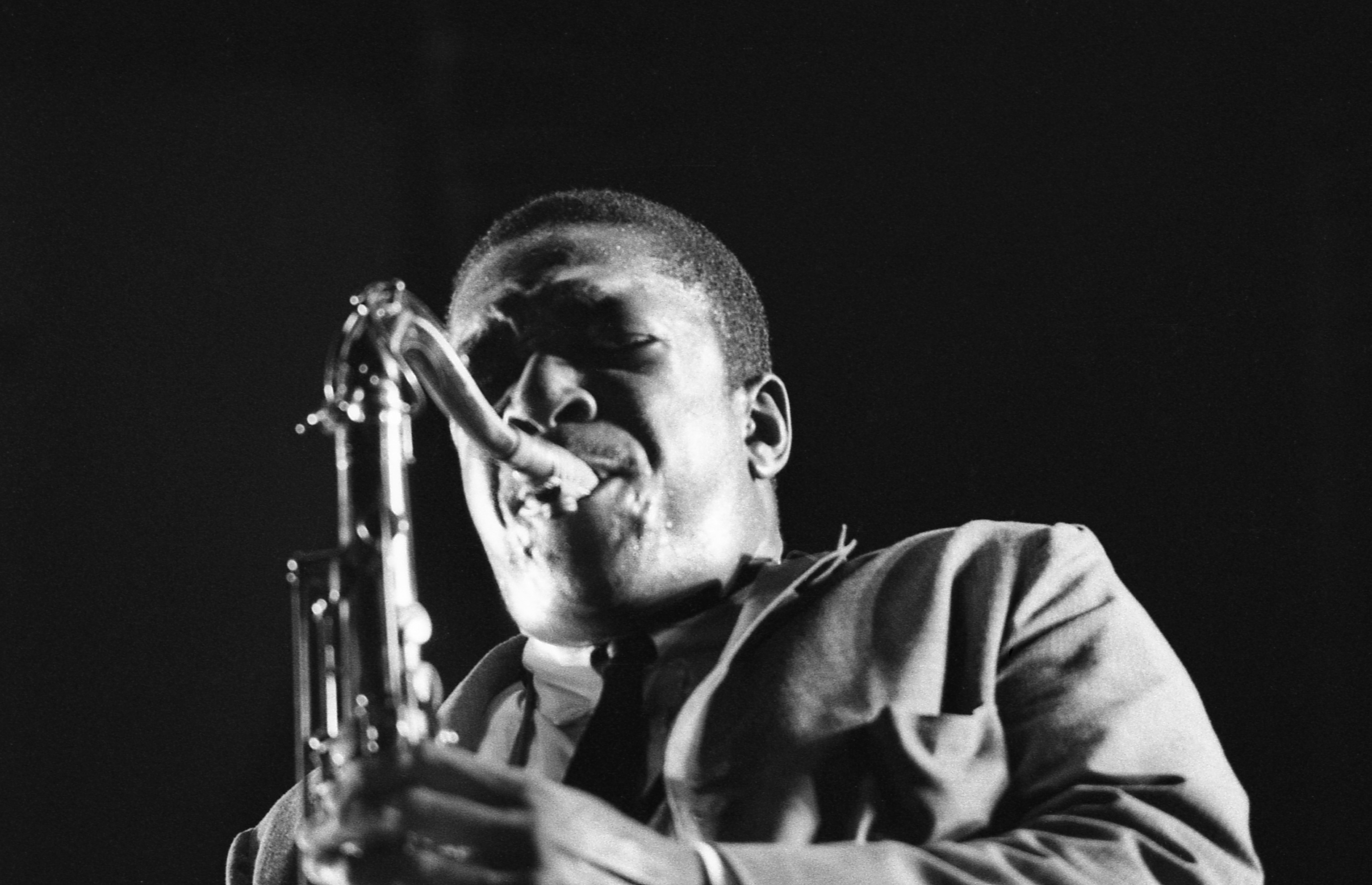 John Coltrane (photograph by Don Schlitten)
Chasing Trane: The John Coltrane Documentary
is a movie on a mission. Filmmaker John Scheinfeld wants to not only remind the late jazz saxophone "heavyweight champion's" fans about his lasting legacy, but to introduce Trane's music to the curious, with help from rare footage as well as testimony from a wide range of admirers. Prepare to be dazzled.
The film sticks close to mainstream biodoc form – chronological progression, talking heads, performance clips, etc. – but all in the service of a talent that refuses to be denied. Coltrane's playing, born in his North Carolina hometown (both his grandfathers were ministers) and nurtured in clubs and recording dates with the likes of Jimmy Heath, Thelonious Monk, and his near-miraculous two stints with Miles Davis in the late 1950s (their album
Kind of Blue
is the most popular jazz recording of all time), provokes something approaching religious awe in listeners.
It is the tone that grabs us at first, that big, golden, warm sound that can erupt into flame at any moment. But his musical concepts have another, loftier trajectory. Soon after kicking the ubiquitous jazz musicians' heroin habit, Coltrane announced a spiritual awakening. By the time he formed his classic quartet with drummer Elvin Jones, pianist McCoy Tyner, and bassist Jimmy Garrison (augmented by alto sax magician Eric Dolphy) on the Impulse label, Coltrane had embarked on a quest toward what he saw as universal truth through music. His "concept of the infinite," inspired by Albert Einstein, baffled a few fans but continues to thrill many more. One critic describes him as a "scientist of the saxophone."
Listen to Wayne Shorter, Carlos Santana, Benny Golson, President Bill Clinton, Wynton Marsalis, and Trane's son Ravi Coltrane, most of them on the verge of tears, describe the vistas the man's music opened up in their lives. Then listen to the music itself. You could start anywhere, but you'll probably end up with "Acknowledgement" from
A Love Supreme
. Sonny Rollins says it: "He was not like 99 percent of other people. He was cool."