Some Santa Ana police officers who are in hot water for eating marijuana-laced edibles on the job are trying to sue their way out of trouble. The suspended officers claim the marijuana dispensary they raided in May violated their rights to privacy when it
recorded them eating the dispensary's stash and released the video to the public
.
Now, those cops and their union are suing the city to quash the damning video.
The
OC Register
reports
a lawsuit filed last week in Orange County Superior Court by three unnamed officers and the Santa Ana Police Officers Association hopes to stop internal affairs investigators from using the video from the May 26 raid of Sky High Collective.
The City of Santa Ana, the Police Department, and Chief Carlos Rojas are named as defendants in the lawsuit.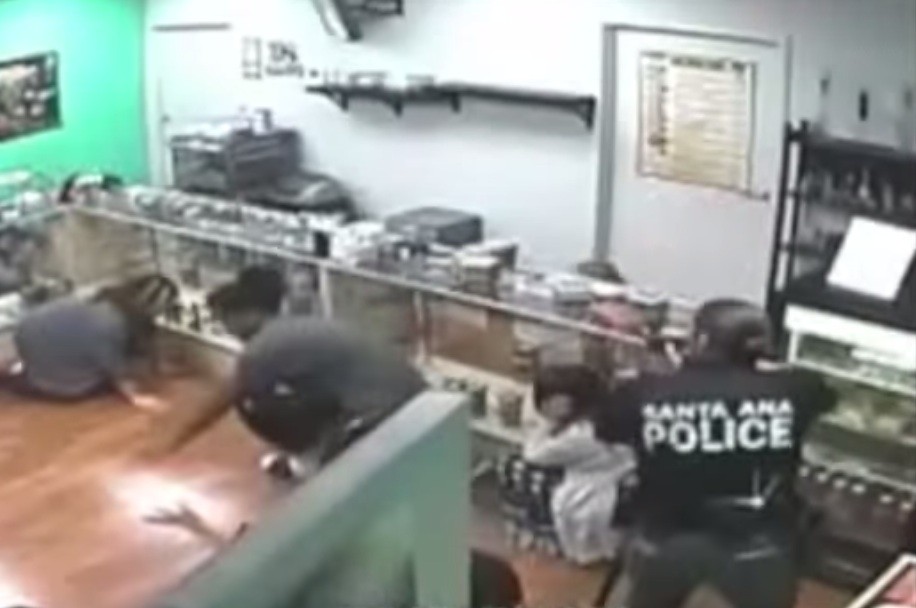 [jump] During the raid, masked officers kicked in the door and tried to disable all video cameras in the dispensary. Afterward, one insulted a handicapped customer ("I was about to kick her in her fucking nub," officer said), while others started playing darts and eating marijuana-laced edibles.
In their lawsuit, the officers state that one remaining video camera recorded them without their knowledge, and they claim that violates California's eavesdropping
law
.   
The law reads "all parties to a confidential communication" must consent to being recorded, except when "the parties to the communication may reasonably expect that the communication may be overheard or recorded."
Dispensary lawyer Matthew Pappas said police knew they were on video in the dispensary, which is considered a public place.
None of the suspended officers have been fired in the incident.
[via
Reason
]