The Port of Oakland and a group of local business leaders hoping to build a new waterfront ballpark near Jack London Square for the A's are now officially talking. Port commissioners approved on Thursday a 10-month exclusive negotiating agreement with Oakland Waterfront Ballpark LLC to study the construction of a 38,000-seat ballpark at Howard Terminal.
[jump]
Now, comes the hard work. "This is just an opportunity for ten months to talk," said Pamela Kershaw, the port's director of commercial real estate. The ENA calls for the ballpark group to deposit $100,000 with the port, half of which can be used to fund various studies on the 50-acre property. The agreement may also shed details on the feasibility of the site for a ballpark and its costs to investors and the public. "A's fans are really ready to get some answers to these question," said John Henson, who is part of a fan group seeking a new ballpark for the A's — Oakland Fan Pledge.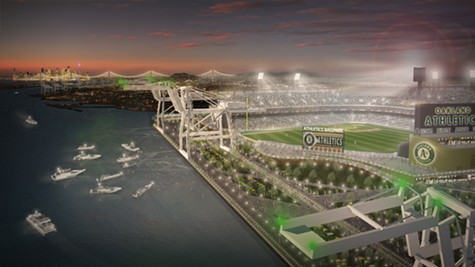 At Thursday's port meeting, local business interests neighboring Howard Terminal asked that they be included in the vetting process as well. A representative for trucking companies at the port raised concerns over the co-mingling of pedestrians and trucks near the proposed ballpark, along with assurances the day-to-day business of the port not be affected.
Earlier this month, port commissioners paved the way for Thursday's approval of the ballpark ENA when they rejected three bids for potential maritime uses at Howard Terminal, one of which included shipping coal. Port Commissioner Michael Colbruno said studies show small terminals like Howard Terminal, also known as Berths 67-68, are becoming obsolete and urged A's ownership to step away from previous statements rejecting the proposed waterfront ballpark plans. "I appeal to the Oakland A's investors," said Colbruno, who speculates the added investment for a waterfront ballpark could be worth as much as $250 million to the value of the club. "If you're Mr. [John] Fisher or Mr. [Lew] Wolff or anybody that is going to own this team, take a $750 million franchise and turn it into an almost $1 billion franchise, that's not only good for investors, but it's also good for the community."
Howard Terminal could also become a future landing spot for the Golden State Warriors — that is, if the team's dreams of building a waterfront arena in San Francisco are ultimately dashed. The Howard Terminal property is potentially large enough to fit both ballpark and an arena, according to some port commissioners and Michael Ghielmetti, one of the members of the waterfront ballpark group. According to the ENA, the property can be transferred to A's ownership in the future or "[an]other national professional franchise group." When asked to clarify, Ghielmetti said in an interview after the meeting that "the Warriors are looking for a home. We don't want to close any doors for any potential successful venues for them. It could fit potentially more than one venue. We just want to keep Oakland's options open I think is the big point."
Ghielmetti is also the CEO of Signature Development Group, which is part of group building a waterfront development just south of Jack London Square, known as Brooklyn Basin. He said in many ways the planning and regulatory work involved in the two projects are similar. "This is something we have done before in another project down the street with Brooklyn Basin," Ghielmetti told port commissioners. "Lot of the same issues, certainly not the same, but very similar regulatory frameworks and outreach process we would expect to occur. This is more complicated in many ways and less in others."
Ghielmetti added that the ballpark group now includes fifteen local businesspeople, including Clorox CEO Don Knauss, former Dreyer's Ice Cream CEO T. Gary Rogers and former Oakland Planning Commissioner Doug Boxer. Ghielmetti said the group is committed to keeping Oakland's sports franchises in town. "We look forward to hopefully putting something positive together and playing ball sometime in the future," he added.