Stories you shouldn't miss:
1. PG&E expects to face criminal charges for the 2010 San Bruno blast that killed eight people and destroyed a neighborhood, the Chron and Trib$ report. PG&E's parent company made the disclosure in a recent securities filing. The utility also is facing up to $2.5 billion in fines for the gas pipeline explosion. PG&E also has agreed to spend $2.7 billion on upgrading its aging pipeline network. Critics of the utility, including state Senator Jerry Hill of San Mateo, contend that PG&E diverted hundreds of millions of dollars from safety upgrades to bonuses for executives.
[jump]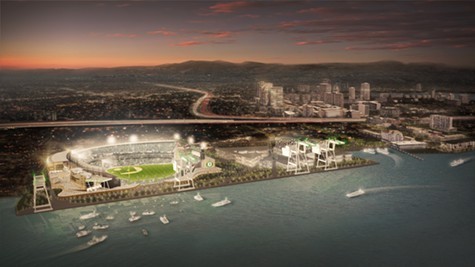 2. The Oakland Port Commission voted to move forward with a plan to build a privately financed ballpark on the city's waterfront next to Jack London Square, the Trib$ reports. The port will now enter into exclusive negotiations with a group of Oakland business leaders who are proposing a 38,000-seat ballpark for Howard Terminal, a maritime facility that is no longer in use.
3. The Port Commission also voted to kill a $450,000 contract with a security company after a Bay Area News Group$ investigation revealed that the company had ties to the former Your Black Muslim Bakery and had lied about having security contracts with other government agencies.
4. State Senator Leland Yee, who is facing federal public corruption and gun trafficking conspiracy charges, pulled out of the race for secretary of state, the Bay Area News Group$ reports. The state Senate also is expected to suspend Lee today with pay.
5. BART delays may worsen under a set of proposed new safety rules that the agency is considering in the wake of a deadly crash last year in Pleasant Hill, in which two track workers were run over by a train operated by an untrained manager during a strike, the Chron reports.
6. A state appellate court ruled that public officials can use their personal smartphones and other electronic devices for official business and then can keep the information secret from the public, the Mercury News$ reports. The court ruled that the state's public records law does not apply to personal electronics. Open government advocates plan to appeal the ruling to the state Supreme Court.
7. And diagnoses for autism jumped sharply nationwide last year, increasing 30 percent over 2012, AFP reports, citing new data from the Centers for Disease Control and Prevention.
$ = news stories that may require payment to read.