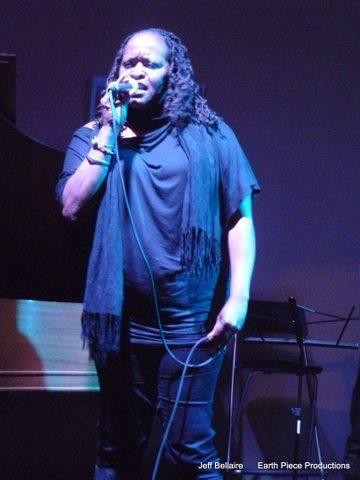 Robert Bradsby arranged tables and chairs in
The Sound Room
on a recent afternoon, anticipating another evening of live jazz. Bradsby is a hands-on operator, managing shows as many as four nights a week. So, as an architect by trade, he's also heavily involved in building a hopefully more permanent home for Oakland's jazz mainstay.
Soon after its opening on Broadway in 2012, the property began changing hands between developers, each time stoking operators' worries about the location's long-term viability. "We've been here for five years, and for two-and-a-half of them it feels like we've been under siege," said Karen Van Leuven, who runs the venue with Bradsby.
With some luck and a lot of investment, though, Bradsby and Van Leuven recently purchased a nearby structure at 3022 Broadway. They intend to begin renovating the building, which currently houses an auto-shop, into a venue more than twice the size — with two performance spaces, one that doubles as a café — beginning next month, and to vacate the current location by early 2018.
"We effectively took all the money out of our house and our savings and bought it," said Van Leuven, exhaling deeply. "So, we're pretty committed."
Van Leuven and Bradsby, who are married, opened The Sound Room in a former seniors' dining room at 2147 Broadway in 2012, compensating for the closure of East Bay jazz clubs such as Anna's Jazz Island and Kelly's with local lineups and an intimate setting.
The atmosphere at gigs at the Sound Room, which seats 72, isn't dissimilar from events the that Bradsby and Van Leuven hosted in their living room for years. They got the idea after hiring a group through Oaktown Jazz Workshops director Khalil Shaheed for a block party in front of their home on the Oakland-Piedmont border. Before long, they bought sixty folding chairs and launched Second Saturday Salons.
The first event featured local jazz vocalist Suzanna Smith, whose partner, famed jazz vocalist Kenny Washington, showed up to run sound. Soon, Washington himself performed, and word spread among locals and touring outfits alike. One day, acclaimed singer Sachal Vasandani inquired about playing a gig after his appearance at Monterey Jazz Festival. As Van Leuven recalled, "We were like, 'You know it's our living room, right?'"
The popularity of their gigs underscored the "dearth of places to play where you're treated with respect," according to Bradsby. And it motivated the couple to form a nonprofit, Bay Area Jazz Artists Inc, before signing a three-year lease on The Sound Room's current location on Broadway. Their house-show regulars came along.
Meanwhile, rents skyrocketed downtown, particularly impacting nonprofit organizations, and the owner of the building housing The Sound Room started courting developer interest. One prospective buyer spooked Bradsby and Van Leuven in 2015, talking about moving them out for just two or three years, and their first lease lapsed. The building went instead to another buyer, who had more proposals and schemes.
Finally, developers Lane Partners and Strategic Urban Development acquired the property as part of the massive Eastline project, which involves new commercial and residential construction on three acres between Broadway and Telegraph Avenue near 22nd Street. So, Bradsby and Van Leuven started looking for somewhere to relocate.
Van Leuven, who often works as a nurse practitioner on Pill Hill, recalls walking by the auto-shop at 3022 Broadway and quietly remarking to herself about the attractive façade. "I don't want to sound corny, but it called to me," she explained. "The space is longer, but it retains the intimacy."
The Sound Room's future location boasts roughly 3,000 square feet. The front third of the space will be a café with seating and perhaps a piano for soloists or small combos, according to Bradsby, while the back room is nearly twice the size as the current performance space. Renovation, though, will be dramatic and expensive.
The Sound Room currently covers overhead with sales of food and drink, reserving door for performers, and Bradsby and Van Leuven are raising money to cover the anticipated costs of building out the new location. They've launched
a YouCaring.com campaign
, and money collected at Comedy for a Cause this Thursday, August 17, goes to The Sound Room.
The spirit of their old house shows animates this new venture, too. "Someone like Marina Crouse, who plays with Miles Davis' old guitarist, heard about this and said, 'Let me be your sound consultant,'" Van Leuven said. "It's been like that."