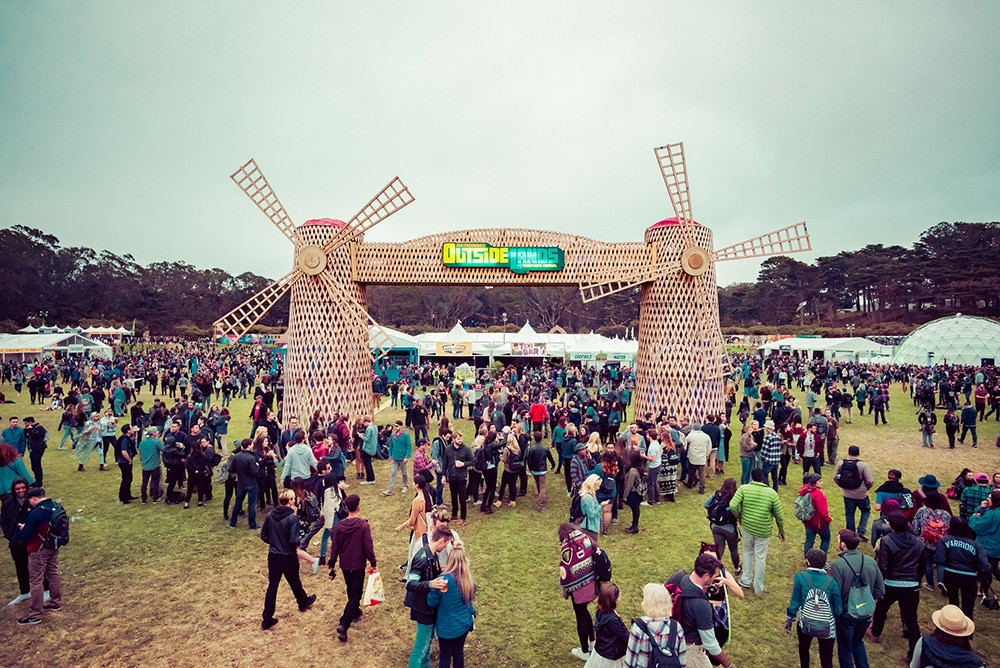 The Bay Area's summer is in full swing, which mean misty mornings, foggy afternoons and finally, sunshine right before sunset. Summer also means Outside Lands, the music, food, and art festival takes over Golden Gate Park for the weekend.
This year's lineup leans rock and pop with headliners including The Who, Metallica, Gorillaz, Lorde, and A Tribe Called Quest in what is likely their last performance as a crew in the Bay Area.
The three-day festival also features quite a bit outside of the music realm including
food, beer, and wine
of course and "
Outsider Ar
t" in the form of live painting and installations including stage art co-curated by Wild Evidence and Juxtapoz Magazine.
Grab your favorite summer fleece, browse our guide and head over the city for Outside Lands 2017!
Friday
Kali Uchis, 2:05 pm, Twin Peaks stage
The "dislikable Colombian girl" as she calls herself on Twitter is the one reason to get to the park extra early on Friday. Uchis is one of the only three Latinx acts in this year's lineup. She has a sold-out show at Richshaw in San Francisco the night before her OSL debut, this is your chance to see her live if you didn't get tickets to her coveted show in San Francisco. I'm personally the most excited for her live rendition of "Tyrant" and hoping she throws in some verses from the Spanish version featuring Fuego.
– Azucena Rasilla
Noname, 4:30 pm, Pandhandle stage
You might recognize Noname's flow from Chance the Rapper's "Lost," from his
Acid Rap
mixtape or maybe from
Coloring Book
's "Finish Line/Drown." That first guest appearance in particular led to widespread attention — and ultimately critical acclaim — for her debut album, 2016's
Telefone
. Over neo-soul soundscapes, her raps feel intimate and relatable, and her past as a slam poet in Chicago clearly shows.
— Janelle Bitker
Fleet Foxes, 7:10 pm, Sutro stage
It's been nearly a decade since Fleet Foxes released its first EP and six years since its second album,
Helplessness Blues
. Then, frontman Robin Pecknold enrolled in Columbia University, and the indie folk band went on a hiatus — potentially forever, it seemed. Now, the group is back on its first tour with its new record,
Crack-Up
, which dropped in June. It's a gorgeous, thematically-rich return: soft and hard; sparse and lush; stormy and uncanny.
— JB


Saturday
Mondo Cozmo, 1:25 pm, Panhandle stage
Philly native Josh Ostrander, better known as Mondo Cozmo is friends with Anna Faris, who starred in the video for the song "Hold On To Me." Besides the Hollywood connection, Ostrander's raspy, edgy, and melodic sounds will take your breath away. Sometimes, a guitar and profound lyrics is all you need, Mondo Cozmo will for sure make you feel things. The song "Shine" is a personal favorite, and you don't have to be religious to appreciate how profound the song is.
— AR
Kaytranada, 5:20 pm, Twin Peaks Stage
Another Outside Lands high point will doubtless be the DJ set by Kaytranada. The Canadian producer is a bit of a chameleon, switching effortlessly between clattering downtempo house ("Bullets") and trunk-rattling bass ("Drive Me Crazy") on his 2016 debut album
99.9%,
which featured guest turns from Anderson .Paak, Craig David, and fellow Outside Lands performers Little Dragon (fingers crossed for a guest appearance). He's got a deep bag of collaborations and remixes to pull from for his set — from Rihanna to Freddie Gibbs to Snoop Dogg — and it'll be an essential dance-party pit stop for anyone looking to escape an otherwise straight-faced Saturday afternoon lineup.
— Brian Breneman


Sunday
K-Flay, 1:30 pm, Lands End stage
K-Flay has been part of the music scene since the early 2000s when she was an undergraduate at Stanford. She credits M.I.A, Missy Elliott, Liz Phair, and Garbage as some of her musical influences, all women, and all at the peak of popularity during the 90s and early 2000s. K-Flay's style is much like Shirley Manson's of Garbage, her lyrics are raunchy, yet relatable, and she's sure to put on one heck of a show. "Blood In The Cut" is the track that has been getting heavy radio rotation, it stems from her latest album,
Every Where Is Some Where
.
— AR
Kamaiyah, 2:00 pm, Twin Peaks stage
In advance of
Don't Ever Get It Twisted
, her upcoming project, Kamaiyah's been making stops on different festival stages across the country. At FYF last month, she performed unreleased songs from the the project along with its first single "Build You Up" which were all certifiable bops. Let's hope she has something similar up her sleeve for her almost-hometown crowd at Outside Lands.
— Ruth Gebreyesus