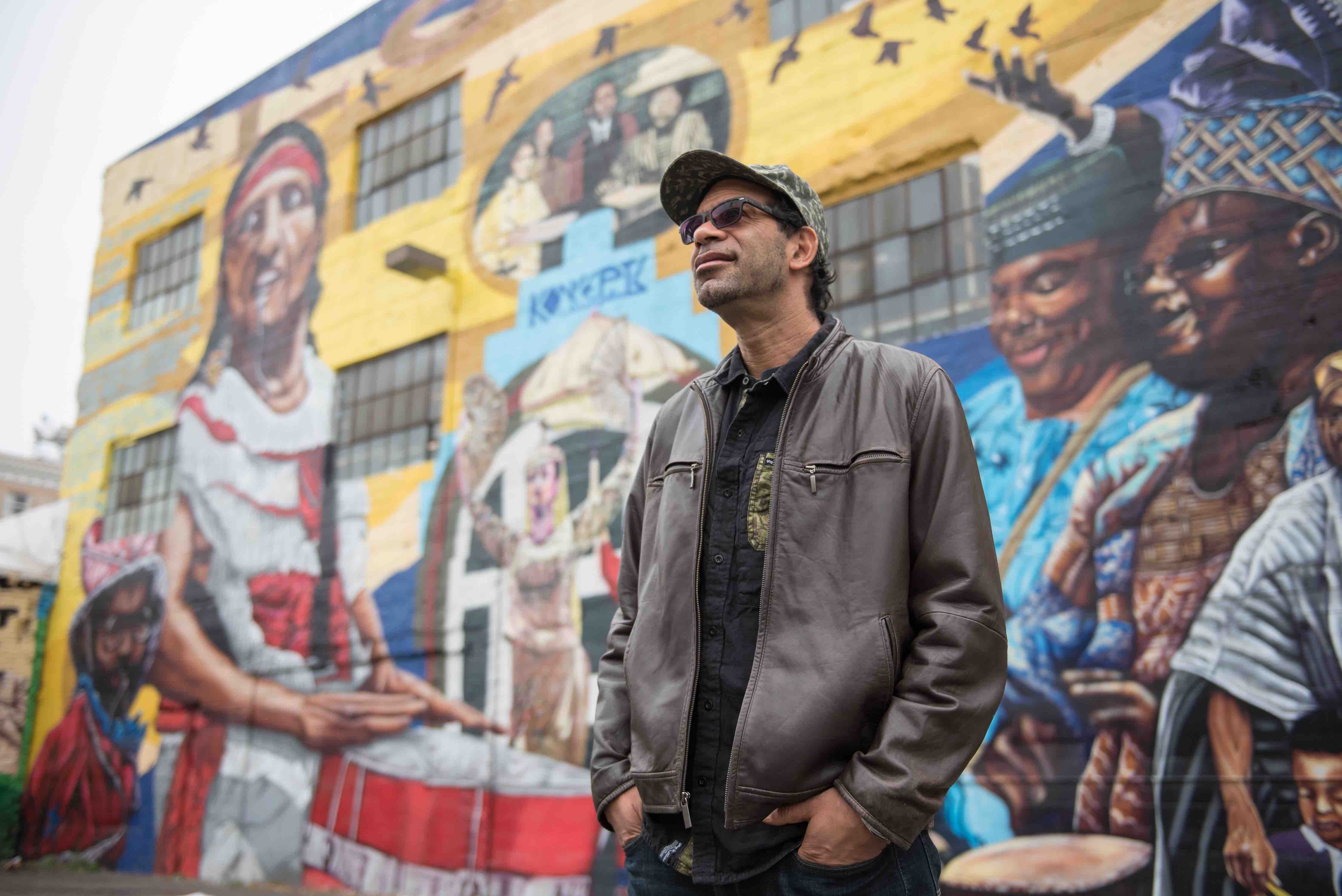 When urban planners explain their work to the public, it often comes across as a blur of technical maps and codes. Floor-area ratios. Lot dimensions. Setback restrictions. The socioeconomic implications are difficult to see beneath complex formulas and crowded tables. And planners stick to a language of space and design, eschewing overtly political questions.
But in January, Oakland's planning department gave a remarkable presentation to a city council committee. "It's a big day for us," explained strategic planner Alicia Parker. "It's a long time coming."
The city's previous plans for vast swaths of Oakland lacked mechanisms to ensure racial equity, Parker explained. And community feedback on the draft downtown plan was extremely critical. In Parker's words, people were focused on "issues of affordability, gentrification, displacement, and the perception that plan outcomes will negatively affect communities of color."
These words marked a big shift taking place in Oakland, regarding who has a voice in shaping urban space. The last several years have been a boom-time for the real-estate industry. But the crisis of gentrification and displacement has prompted activists to block several large projects, on a case-by-case basis, unless they're delivered with tangible benefits to the surrounding neighborhoods. Now, many are demanding that the city's entire planning processes be radically transformed to produce equitable outcomes. In part, this means fewer developers on the planning commission, and more people with backgrounds in economic and racial justice.
Before Parker's presentation, the downtown plan was moving in a markedly different direction. In 2015, the city hired Dover, Kohl & Partners, a Florida-based firm — at the cost of $1 million. Dover's people held several public meetings to solicit ideas, and they presented their own, too: pedestrian-filled promenades and outdoor cafes, sleek electric streetcars trundling past Italianate fountains gurgling in tiny urban parks.
"I don't see multiculturalism represented," one attendee of an early "charette" wrote on a feedback form. "I'd like to hear more about affordable housing," somebody else wrote.
Over the next six months, the downtown plan became a sounding board for locals to vent frustrations about Oakland's transformation from a working class, multiracial city, into one that's fast losing its Black population and pricing out the bottom half.
"We want equitable outcomes," said Eric Arnold, a longtime Oakland resident who's pushed for community-benefits agreements on several downtown projects.
Without a change, many fear the city will be gentrified, especially the downtown core.
"The rampant greed," explained Ayodele Nzinga, an artist and activist, "it forces the average citizen to either have to go to the council and demand something better, or have to pack up and leave the city."
This is not to say City Hall isn't listening. In January, the planning department asked for permission to hire consultants, including people with roots in the city's Black, Latino, and Asian communities, to devise a "social equity strategy" for its downtown plan.
Officials, and even some of the Oaklanders who at first criticized the downtown plan, are now cautiously optimistic that it can do more than pay lip service to the city's diversity.
But how would this work? Will better rules to create affordable housing and support the arts get implemented in time to prevent further displacement and cultural erasure?
Or is it already too late?
Past Planning Failures

The downtown plan is just the most recent attempt to give Oakland a facelift. In April 2009, during the doldrums of the Great Recession, the city kicked off the Lake Merritt Station Area Plan, to redesign everything between 14th Street and the Interstate 880, from Broadway to the lake. Inside these boundaries is Oakland's Chinatown, where the average household's income is two-and-a-half times less than the regional median, and 45 percent of the population has trouble keeping current with rent, according to the city.
Fearing this plan could design their community out of existence, Chinatown residents decided to intervene.
"We were involved from the very beginning," said Julia Liou, the director of program planning and development with Asian Health Services. Liou helped mobilize residents to meetings with the city and its consultants. Locals filled the planners in on what they wanted: more affordable housing, measures to reduce crime, cleaner air, safe and walkable streets, and cheap commercial spaces for small businesses.
And, on a very basic level, the community wanted respect for Chinatown, a majority-Asian neighborhood inhabited by first generation immigrants, as well as native-born Oaklanders, with a long history going back to the late 1800s.
"Oakland Chinatown is an amazingly resilient community," Liou said.
Previous redevelopment schemes damaged the local economy and caused displacement, she noted. Land was seized via eminent domain to build the freeway. Urban renewal knocked down entire blocks. An orphanage and businesses were demolished to make way for the BART station.
Would the Lake Merritt Station Area Plan be different? Distrust lingered as plan meetings stretched into 2011 and 2012.
Alvina Wong, lead community organizer with the Asia Pacific Environmental Network, said that, at first, many suspected the city's prime motive was to help BART and major developers pack the area with market-rate housing for a San Francisco-bound tech workforce. Up-zoning some blocks, especially in the commercial core along 8th and 9th streets, would increase land values, fuel displacement at the neighborhood level, and destroy family-run shops, Wong explained. This might help the region address its jobs-transit-housing mismatch, in some small way, but it would be at the expense of Chinatown.
The community was ultimately able to incorporate its values into the final draft, Liou said. For example, the plan called for 15 to 28 percent of all new housing to be priced at affordable levels. But the final draft lacked one thing: a way to realize community's vision.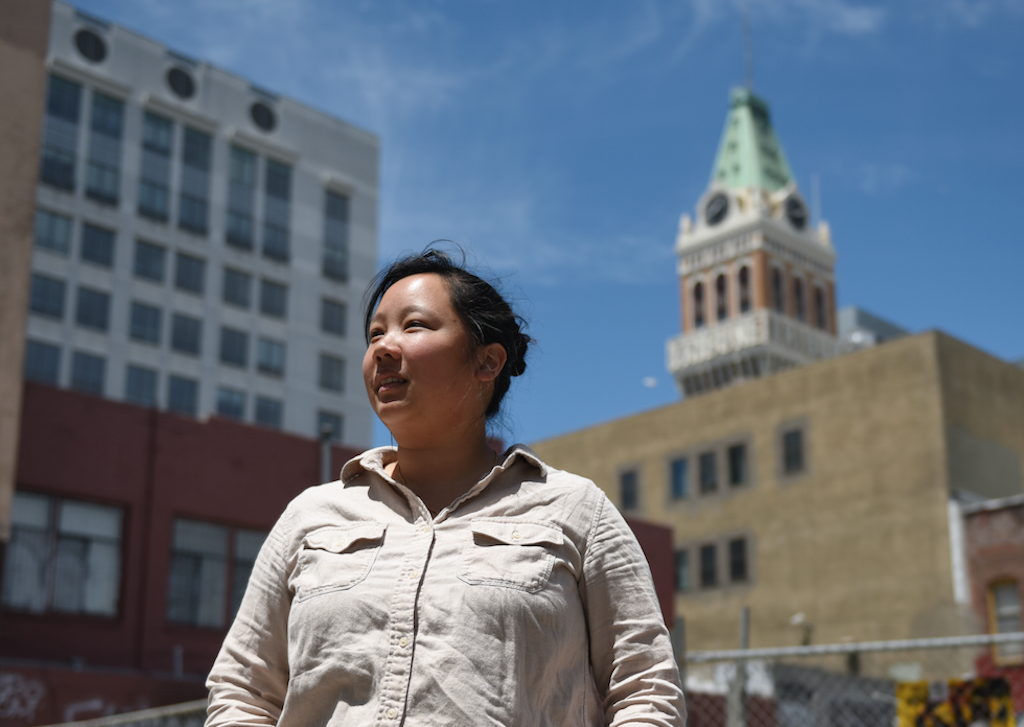 For example, the affordable-housing goal was just words on paper. The city didn't enact strong enough zoning tools or fees to ensure affordable units would actually get built alongside market-rate projects, Wong argued. That's why APEN advocated for what Wong called "trigger points": If a developer wants to build above a certain height, or surpass other zoned limits, they'd be required to add deeply affordable housing, pay a fee, or make neighborhood improvements.
At the time, however, Oakland's city council, planning commission, and staff felt the city was suffering from a lack of new investment. Desperate to attract builders, they declined to incorporate policies such as trigger points in the final plan, Wong explained. And they also told Chinatown that they wanted to hold off other affordable-housing policies and community benefits such as subsidized retail, a displaced renters fund, requirements that new housing units include enough rooms to be family-friendly, and more.
[pullquote-2]City officials said these policies should be city-wide, not neighborhood specific. The result was a plan that promoted market-rate development in the future: up-zoned lots, pre-approved environmental analyses, and other capital enticements.
But there was nothing for Chinatown's longstanding residents who wanted access to affordable housing and other public goods. The plan said nice things, according to Liou and Wong, but it didn't "have any teeth." As a result, when the next real-estate boom cycle began, there was nothing in place to capture value for the community and combat gentrification.
Building-by-Building Battles

The current boom snuck up on Oakland. Out of the great recession, slowly at first, and then reaching a furious pace, Silicon Valley started adding jobs. But without new housing on the Peninsula and in San Francisco, newcomers and long-time residents have been priced out. They spilled over into Oakland. As a result, rents shot upward.
More than any other part of the city, the boom's paradoxical effects impacted Oakland's downtown: A spike in market-rate rents causes displacement. But it's also these rising rents that attract developers, who build new housing. Still, most people can't afford new market-rate homes, and they don't lower rents in the neighborhood where they're built in the short-term. As a result, people get priced out before the new housing — which they can't afford, anyway — actually gets built.
The absence of planning tools and a broader array of affordable-housing policies at the city and state level only make things worse. So, as higher-paid newcomers take over both the existing rental housing stock and, then, also whatever new homes are built, people fear for the cohesion of their communities.
It was an unlikely, but symbolically potent, incident that pushed some influential Oakland residents to take action against this flawed development dynamic.
During the recession, back when no one could imagine 17-story glass towers rising from Oakland's parking lots, Desi Mundo and Eric Arnold's arts organization, the Community Rejuvenation Project, got a grant from the city and other sources. The money was used to paint an epic mural on the walls of several buildings where Alice and 14th streets intersect, right across from the Malonga Casquelourd Center for the Arts. The medley of portraits depicts famous local artists, community leaders, and labor organizers, all surrounded by dancers and musicians. But the paint had barely begun to dry when, in February 2016, the planning commission approved a new apartment tower that would obscure it.
"When that mural was threatened, it was so symbolic," explained Lailan Huen, a community organizer who worked to save the mural. "These luxury apartments were literally going to cover up this expression of our cultural history."
The mural's creators, and the arts communities depicted in it (many who use the Malonga Center), feared the tower would do more than symbolically erase them. They worried about whether the tower's new residents — unaccustomed to Oakland's ways of life — would put pressure on the Malonga to shut down or move.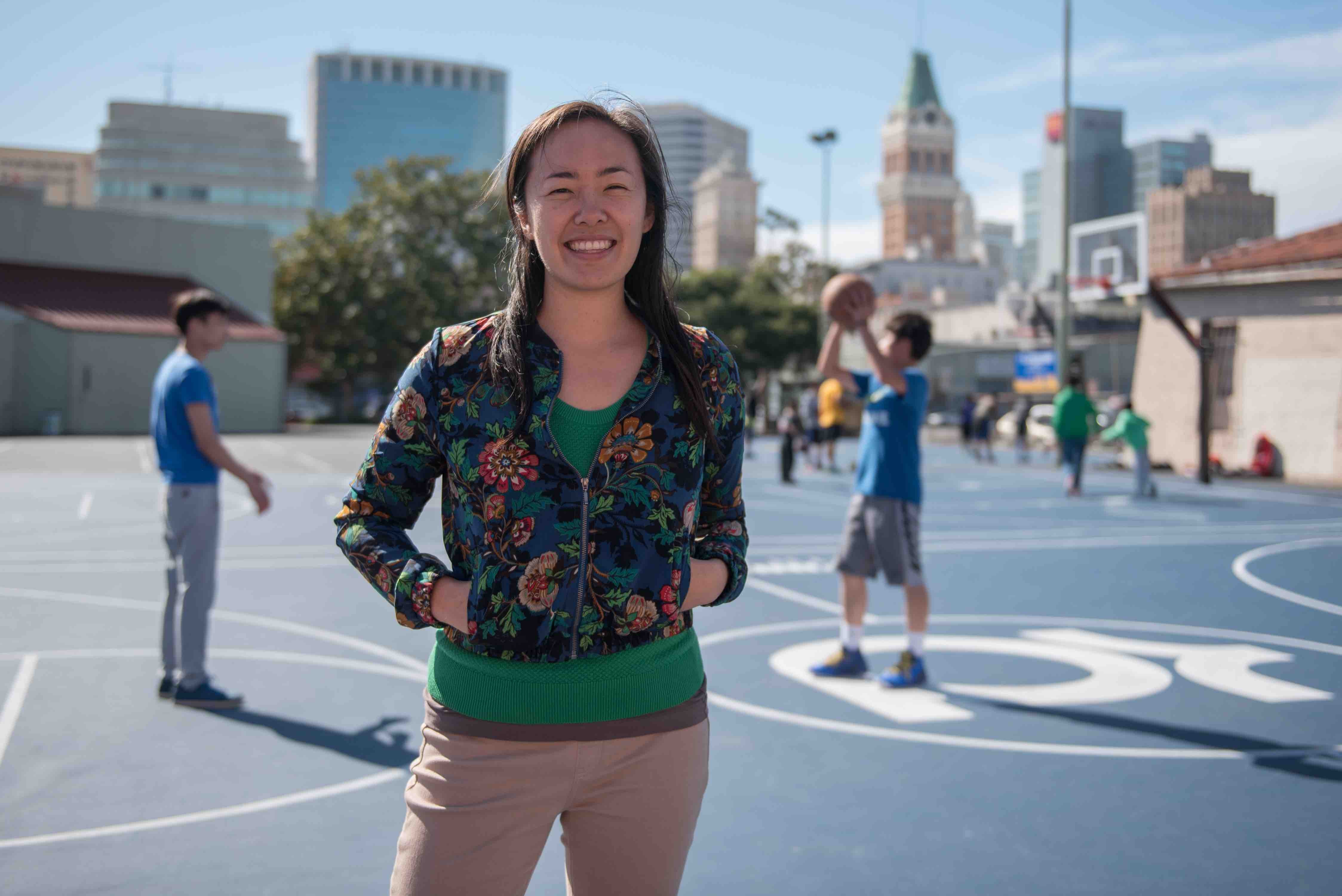 On February 3 of last year, Arnold, Mundo, Huen and about twenty others went to the planning-commission meeting, where the tower's final approval was scheduled for a vote. The developer was seeking a conditional permit to build taller on a small lot.
"The planning commission said 'We don't care,'" recalled Huen, who said commissioners wouldn't even consider their request to re-paint the mural elsewhere. "If this was proposed in a white or upper-class community, they wouldn't have disregarded the community that way."
That's when they decided to appeal to stop the tower.
Huen said the appeal was never an attempt to kill the project. Instead, it was a tactic to force the city and developer to take their concerns seriously.
She stayed up late and wrote the appeal the night of the planning commission's vote. The activists also set up an online fundraiser to pay the appeal fee. Within a few days, they had the money. And when they filed the appeal, they marched to the planning department with drummers from the Malonga.
"They were freaked out," Huen said. "But we were not going to let them fast-track this project."
The developer, Maria Poncel of the Bay Development Group, agreed to meet. Oakland Councilmember Lynette Gibson McElhaney mediated. Eventually, an agreement was struck: Bay Development would pay to replace the mural nearby. The developer also agreed to pay for a renovation of the Malonga Center's kitchen, and also to dedicate the project's required arts fee to Malonga.
This win emboldened the activists, whose next fight was over a proposed a 262-unit, all market-rate apartment building on the surface parking lot catty-corner to the proposed tower site.
"We're not going to say no to new housing on a surface parking lot," Huen said about the national developer Wood Partners' project. But she and a growing coalition of activists were concerned about the building's lack of affordable housing and retail space, and the possibility it would get built before the city's new affordable housing impact fee kicked in.
The strategy was similar: delay and negotiate.
Eventually, Wood Partners agreed to a $225,000 payment to the city's affordable housing trust fund, as well as the dedication of 3,000 square feet of shops in the building's street level for subsidized, below-market space. The planning commission approved it.
But the activists wanted more.
They felt the city held new, unprecedented value for developers, and they wanted some of it to come back to the public. They appealed the project at city council and asked Councilmember Abel Guillen to mediate.
After rocky negotiations, Wood Partners agreed to a community benefits agreement that Guillen estimated as being worth $1.8 million. This included $675,000 from Wood Partners toward an affordable-housing project already being planned in the neighborhood.
"It's real, tangible, it happens now, and in this neighborhood," Huen said.
Then came the biggest project: a proposed 630-unit apartment tower replacing the merchants parking garage on Franklin Street. It would easily be the city's tallest.
From the start, the sheer scale of the building triggered the state law requiring an affordable housing component. The developer, Carmel Partners, had also agreed to hire union workers to build the skyscraper.
Huen and others argued the developer should aim for at least 10 percent of the building's units to be deeply affordable to low-income renters. And Chinatown advocates wanted a redesign of the building's southeastern edges, to swap out dead wall space with storefronts and other active features.
[pullquote-3]Also, because the building would take up the whole block and reduce public access, locals wanted money to improve existing nearby parks. And activists working to create a Black Arts Movement Business District asked for a dedication of funds or space to help cultural organizations stay in the area.
It was a case of on-again, off-again talks. But by this point, a tone had been set. The activists were also in a position to tie up the project in appeals if they weren't pleased with an outcome. So, another deal was struck.
Critics have tried to characterize these building-by-building negotiations as foolishly impeding new housing and worsening the affordability crisis by stopping the market's natural supply-demand mechanism.
For example, Robert Ogilvie, the Oakland director of the developer-funded think tank SPUR, argued in a blog post that, when the community demands changes to a project, especially costly ones, it becomes less likely to happen. "Adhocracy might seem expedient in the short term," he wrote, "but it can be ruinous in the long term. Oakland can't afford that."
Nzinga, an advocate of establishing a Black Arts Movement Business District, helped negotiate these community-benefits agreements. She said critics are misplacing blame for the housing crisis and calling for limiting people's input on how their communities are transformed.
"Until there's a citywide way to address development from the community's standpoint, I don't see any way to stop being involved in the projects and areas that are closest to us," she said.
Arnold and Huen said they'd rather not have to appeal individual projects and negotiate, but until the city implements a single, strong, enforceable set of anti-displacement policies, they don't see any other way.
But Arnold said the "adhocracy" has had another important result: It showed a different kind of development is possible. "There's now a model, through this process of community organizations working with developers in a more long-term context around goals like cultural retail, art, housing affordability," he said.
"There's this existential sense of dread over displacement in the arts community and low-income communities, and a sense that no one is speaking for them," he said. "In that sense, I think these [community benefits agreements] are extremely positive things."
And the building-by-building fights had one other effect: They put more pressure on the city council and planning commission to reconsider the downtown plan and try to address community concerns at a higher level.
'Forget All the Pretty Pictures'


Darin Ranelletti is a career planner who leads Oakland's department of planning and building on an interim basis. He's played a key role in developing many complicated land-use policies. As a technocrat, you might expect him to prefer a smooth, orderly process for designing the cityscape, but he actually embraces Oakland's quarrelsome politics.
"I'd rather have a much more engaged conversation with the community than apathy," he told the Express during a recent interview.
Ranelletti said the city's planners realize they have a role to play in addressing poverty and inequality. That's why his department spent considerable time drafting housing policies and advocating for things that are obviously more political than obscure zoning tweaks, such as looser accessory-dwelling unit regulations and multimillion-dollar affordable-housing bonds.
The shortcomings of prior specific plans helped convince the city that a more intentional effort is needed for downtown, according to Ranelletti.
"The equity component," he said about the decision to overhaul the downtown plan, "is a response to what we heard from the community, that we have to engage with different voices, [and] we need to understand how different land use and planning strategies affect racial equity in the downtown."
The lead consultant on the equity project is the Oakland-based nonprofit Institute for Sustainable Economic Educational and Environmental Design, or I-SEEED. Sub-consultants include the well-known local urban think tanks Center for Social Inclusion and Policylink, the small business incubator Popuphood, Asian Health Services, and even Eric Arnold.
Compared to his predecessor, Rachel Flynn — who once said there isn't an affordable-housing crisis in Oakland, and who left the city last year to take a job with the corporate developer FivePoint — Ranelletti sounds like a reformer bent on changing the system.
"I think it's the job of government to guide the market in a reasonable way to benefit all of society with a particular eye on the most vulnerable populations," he said.
But some remain skeptical as to whether the city is willing to overhaul its planning and development process.
Nzinga said that, within Oakland's Black community, there's a belief that people are being pushed out of the city not through impersonal market forces and unintended police consequences, but by design.
"They've finally found a way to market Oakland," Nzinga said. "It calls for a demographic change.
"It's impossible for the average Black and brown person to stay in Oakland if things keep going the way they are, and I don't see any reason, if this trend isn't disrupted, for people like me to be able to stay here anymore."
She said one of her fears is that Oakland's Black cultural, political, and intellectual substance will be turned into a "negro museum" for the enjoyment of affluent newcomers.
"I've got forty years in arts practice, most of it in Oakland. I don't think it's right for me to drive in from Antioch to entertain the people who work at Uber, and then drive back to Antioch. There's reminiscences of the plantation system in that," she lamented.
Nzinga thinks the equity strategy for the downtown plan possibly represents a shift. But the only reason the city agreed to it was the disruption of specific projects, like those along 14th Street, and harsh criticism of the initial downtown plan rollout.
And it's not just tenants or artists who are deeply skeptical. Michael Pyatok has worked as an architect for more than 45 years, and designing some 35,000 affordable housing units and other projects throughout the East Bay. If he's learned anything over the years, it's that market-based solutions don't work, planning and design has limits, and a deeper political change has to take place.
"There's nothing architects can do to make the places we design for market-rate renters more equitable," said Pyatok. "The market has to be tamed."
He is part of the reason the downtown plan will be subjected to the equity analysis. At a plan presentation in the Paramount Theater in 2015, Pyatok told Dover's team bluntly to "forget all the pretty pictures" of vibrant streets and shining towers they were projecting.
"New buildings cost a lot," he said. "Rents are escalating, and many cannot afford to participate in this new economy, this new world that you are depicting here."
He elaborated on this in a recent interview: "What this downtown plan does is prettify things in the public realm enough to make it more likely that, when a developer builds a tower, people will be more likely to come there because the public realm isn't disheveled and scary anymore. [The city] is satisfying the taste of those with higher incomes, and those with lower incomes might benefit, too. But the downside is all the real-estate prices will go up, so we'll see a lot of people closed out of living downtown."
[pullquote-1]Pyatok says he's seen the same tragedy unfold throughout Oakland's history. In the 1960s, much of downtown's housing was demolished in the name of urban renewal. Gaping holes in the ground remained into the early 1980s. But by then, the city's real-estate market was hot. Thousands of apartments were converted into condos. Rents were rising at an unsustainable pace. Rent control was defeated twice at the polls, after landlords spent heavily campaigning against it. A weak "rent adjustment" ordinance was finally passed by the council.
Then, Oakland languished for more than a decade: affordable, but disinvested, whites having abandoned the flatlands and downtown, corporations instead choosing to locate in San Francisco or Walnut Creek.
It was at this point in history, Pyatok says, that the city should have implemented policies to prepare for the eventual reinvestment. Instead, city leaders have maintained an attitude that Oakland isn't worth much, and should race itself to the bottom to attract capital.
"The city has never put in place a truly aggressive plan to develop affordable housing before the private developers start building their stuff," he lamented.
Pyatok said the most important thing now is to find robust sources of funding, so that public agencies and nonprofits can acquire land and build housing for the bottom-half of society.
"The city should have been doing everything possible in assisting the nonprofit sector in getting in on the ground floor before the boom hit," he said. "Now, the affordable-housing sector is struggling to get their projects to pencil out, because there's a boom.
"The price of building affordable housing is not much less than building market-rate housing, and the funding isn't there to keep up with costs."
'Blood and Sweat on the Ground'

Can the downtown plan do anything about this? Probably not much. But if something can be done through the planning and development process, it'll probably require diversifying the planning commission and planning department, giving power to people whose needs and perspectives have been marginalized.
That real-estate investors and landlords are major players in Oakland government is no surprise to anyone. They employ more lobbyists and spend more than any other industry: about half-a-million dollars a year to influence officials. And landlords are among the top donors to most councilmembers' election efforts, according to campaign filings.
Neighborhood, labor, and arts activists say this influence has fostered, over many years, a stacked planning commission and planning department. Real-estate industry people on the planning board, critics say, are much less likely to understand people's concerns about affordable housing, good jobs, and other community benefits, because their expertise is project design and finance. They tend to think new development is a boon for everyone. They don't understand the social and economic implications of their decisions.
Currently, six of the planning commission's seven members are developers, architects, or attorneys that work in real estate. Only one of the commissioners has a background in social policy: Jahmese Myres, whose day job is organizer with the nonprofit EBASE.
When Myres' three-year term expired last month, it was unclear if she'd be reappointed. Ten local nonprofits and labor unions sent letters to Mayor Libby Schaaf supporting her return. The mayor reappointed Myres, but only after appointing another developer to an open seat.
In addition to diversifying the planning commission, activists say the planning and building department needs to further embrace social equity as a core part of its mission.
In December, seven community organizations — including the Oakland Creative Neighborhoods Coalition, APEN, and the Black Arts Movement Business District — sent a letter to the mayor asking for a voice in picking the new director of planning and building. "We write to reflect the concerns of those who have historically been marginalized and bear the burden of unjust planning decisions that have destroyed vibrant local economies and neighborhoods of working class communities of color," the letter explained. "We want real input and accountability for the next leader."
The mayor never responded, said the groups that sent the letter, and the job has yet to be filled.
At a higher level, activists want new and stronger anti-displacement policies. And they want affordable housing built now — not just fees accumulating in a fund.
"The city really likes saying, 'We'll figure that out later,'" Wong said. But a lot of people seem to be fed up with that answer in this time of rapid, unprecedented growth.
Arnold said that elected officials must take action. "Planning can't do alone what the city council is supposed to do, so maybe it's a little unfair to ask the planning department or planning commission to solve all these problems when there's no guidance from the city council."
But Ranelletti, the guy currently in charge of the planning and building department, said his agency will do its best to change. "Sometimes it's a challenge to use zoning" to address major social and economic problems, he said. "But what's different [about the downtown plan] is that equity is more front and center, from the very beginning."
If Oakland manages to transform the way it plans and develops, maybe it could achieve what Nzinga said is the possible coexistence of the old and new.
"Oakland, to me, is the blood and sweat on the ground, the places where it went down, where people held things up," Nzinga explained.
"New things aren't bad, but they don't have to overwrite old things. They can coexist, but you have to be intentional about that."