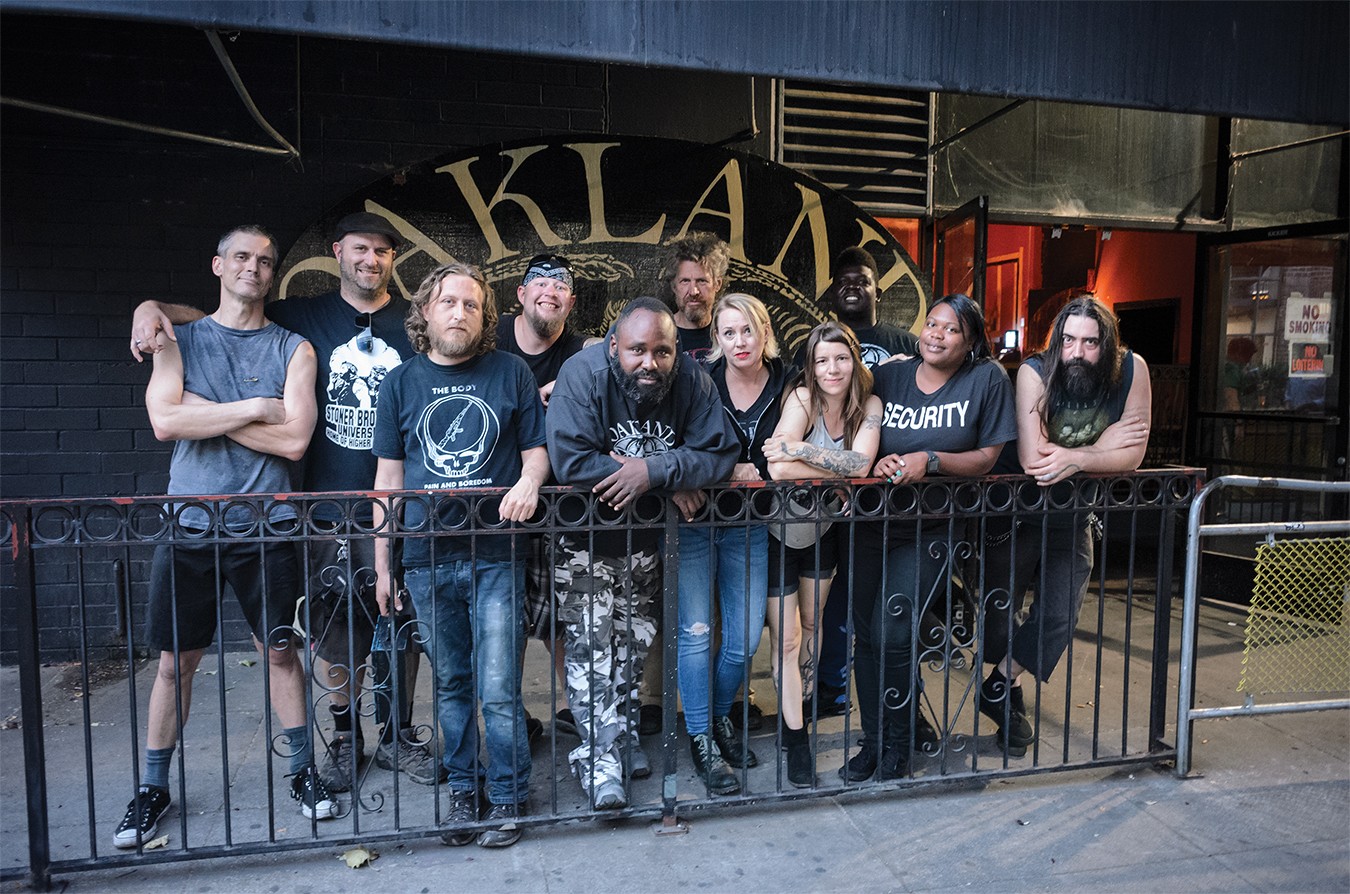 Lawyers, stakeouts, and ceaseless complaints to government officials — the Oakland Metro Operahouse's owners say that their neighbor is on a years-long crusade to put them out of business.
The Metro, which first opened in 2001, is a popular punk and metal venue in the Jack London District. Next door is a two-story building owned by semi-retired finance professional Brad Paley, who bought the property nearly four years ago. The Metro's operators, Tom and Mia Dean, claim that Paley has "harassed" their venue ever since it arrived on the block two years ago, triggering serious consequences.
Paley — who wants to open his own event space in his adjacent building — says the Metro is too loud, illegally so, and that the city needs to step in and force the venue to quiet down.
The couple explained that it all started in the summer of 2015, when the Metro moved to the former Kimball's Carnival location at 522 2nd Street. That July, before the Metro's first show at the new spot, Paley filed a protest against the venue with the California Department of Alcoholic Beverage Control. Tom says this ultimately stymied the Metro's liquor-license transfer, and even today seriously limits booze sales.
Paley's efforts continued. Emails and city documents acquired by the
Express
through public-records requests indicate that, throughout last year and into 2017, he regularly coordinated with several individuals and organizations — including San Francisco sound-consulting firm Charles M. Salter Associates, Oakland real-estate attorney Robert Selna of Wendel Rosen Black & Dean, and photographer Orlando Xavier — to collect evidence of loitering, smoking, and loud noise stemming from concerts at the Metro.
Paley also commissioned a photographer to regularly stake out the Metro during several shows, snapping pictures of people smoking and hanging out in front, as well as documenting noise levels. In May 2016, Selna incorporated these photos and observations into a six-page letter, which was sent to several city officials.
Obtained by the
Express
, the letter urged the city to "revoke or suspend" the Metro's live-music permit. It also addresses many of the same issues as Paley's previous protest in 2015, arguing that "violations, including noise, smoking, and loitering, are adversely affecting the general welfare of the neighborhood." The letter specifically asserted that the Metro violated at least ten of the twenty-nine conditions attached to the venue's "cabaret" license.
In a different email to Oakland officials, he relayed that Metro show-goers don't wear earplugs, which he described as an "important public health issue."
Records show that, in August of last year, a city inspector investigated the complaints and found no violations. The city has never fined the Metro for violating any sound ordinances.
The Deans say that Paley's persistent complaints to various agencies, coupled with increased scrutiny following the Ghost Ship fire, have dramatically constricted the venue's finances and programming.
"All I can say is, if we'd been treated like this for the past fifteen years we've been in this neighborhood, we wouldn't be in business right now, period," Metro co-owner Tom said.
'Gift to the Community'

In the 2015 complaint to ABC, Paley wrote that his business — DIDI, a financial technology and interactive-design company that boasts 35 years of experience and clients such as Goldman Sachs — bought the historic warehouse at 221 Washington Street "to house in-depth individual analysis and group discussions of our complex intellectual projects." But a tour of the property and an interview with Paley revealed other plans: events and live music.
The ground floor of Paley's 10,000-square-foot property features a large stage, flanked by large speakers, and a 40-track mixing console at the back of the room. There's also a bar, stocked with pint glasses, plus turntables on the second-floor mezzanine. A workspace, with desks and drafting tables, is on the top level.
Paley, who has homes in Port Costa and upstate New York, said he was inspired by talks that he organized on the East Coast. During a tour of the building that he gave to the
Express
, he described his vision of events that "start with a lecture, break out into conversations, and degrade into dance parties that maybe go until 2 a.m."
Paley says these events, which he likens to raucous academic conferences, will serve his peers in the world of data visualization. "It's a community of tens of thousands, and I'm known and distinguished throughout," he continued, citing his adjunct professor post at Columbia University. "People are waiting for me to start."
After the tour, Paley wrote in a statement to the
Express
that his plans for the building, which he described as an "intended gift to the community," are being delayed by noise violations at the Metro, which have been "objectively measured" at "three-to-four times the federal and Alameda county threshold for interrupting speech." Paley said he wants the Metro to "shutter or simply obey the law."
"It's truly about the noise," he said, adding that he likes punk music.
But what of the perception that Paley is working to shut down the venue, only to open his own event space? "Absolutely not," he responded, explaining that the Metro isn't competition with his "Nobel prize winning scientist lectures."
Instead, he wants the venue soundproofed in a fashion that, by his estimates, would cost half-a-million dollars. He characterized the violations as severe, and complained that the Metro is "counting on Oakland's non-enforcement" to remain open.
After initially declining to discuss the issue, Patti Rossi, who owns the nearby Fat Lady Bar & Restaurant, wrote in an email that she too is "frustrated with the ongoing problems that [the Metro has] brought to the neighborhood." And an employee with Kamal Trucking, which is next door to the Metro, said that he's had issues with bands parking in their lot.
Mia disputes these accusations. She said that, when she walked into an event at Paley's building while a show was going on at the Metro, noise from her venue was negligible. She emphasized that complaints they receive mostly originate with Paley, who she noted doesn't reside in his building.
Interviews with individuals who've attended events at Paley's building — as well as a video of one get-together at the location that showed brisk bar service — suggest that he has already thrown parties. One recent gathering caught the attention of Greg Minor, an assistant administrator with the City of Oakland, who dinged Paley for hosting an unpermitted event in a letter dated April 14 of this year.
Paley wrote in an email that the event was a "private engagement party" that didn't require permits.
Overall, he says that there are seven neighbors upset with the venue. The
Express
spoke to a handful about the Metro, but none shared any concerns over noise or loitering issues.
Ben Delaney, of neighborhood-advocacy group the Jack London District Association, agreed that few other nearby business-owners share Paley's concerns. "Frankly, he's a carpetbagger with an exalted opinion of himself, and he's not representative of the neighborhood's feelings," Delaney said. "He immediately went nuclear, throwing money around, bringing in lawyers, [and] making complaints."
But Paley blames the Metro's owners for spreading misinformation. "The dulcet-speaking Deans have been crafting a story to undermine me," Paley told the
Express
, adding that it hurt when Tom called him an absentee landlord. "The truth is the Metro continues to break laws, so I continue to try to get them enforced."
In Limbo

For more than a year, Orlando Xavier has regularly photographed people loitering and smoking outside the Metro, sometimes from the roof of neighboring buildings or the parking structure across the street. When he's done, he then turns over the documentation to Paley, who has solicited advice from Selna about what activities Xavier should "witness," according to emails obtained by the
Express
.
At first, the Deans said they were pleased to see Xavier at seemingly every gig. They were already acquainted and friendly with him, because he's played in punk bands such as Special Forces and United Blood. Eventually, though, Mia and Tom discovered he was conducting surveillance for Paley, so they banned him from the venue.
Xavier, 57, doesn't dispute that he surveils the Metro for Paley, who he met in 2010 while working at nearby Beer Revolution. But he told the
Express
that the Deans are trying to smear him as a "snitch."
"Here's the sad thing — now there's people I've known through the punk scene for thirty years who won't talk to me," Xavier said of the incident. He refers to himself as Paley's property manager. Eventually, though, he says he'll be the building's "events coordinator."
In one email to officials in various agencies this past March, Paley cited Xavier's notes — and invoked the "Ghost Ship tragedy" — before requesting that his complaints be "elevated in priority to allow a real-time dispatch of one OPD officer" to visit the Metro immediately after he observes problems.
The Deans say that both Paley and the Ghost Ship fire have impacted the venue: The week of a benefit gig in February, for instance, police nightlife overseer Jorge Cabral, of the Special Events Unit, denied the venue's permit application because, he said, the Metro lacked a fire assembly occupancy permit. Mia countered that the venue's routine fire inspection occurred in August 2016 — and that the department simply neglected to mail the certificate.
After she appealed to leadership in the Jack London Improvement District, officials including Fire Marshal Miguel Trujillo, Assistant Fire Marshal Cesar Avila, and Inspector Flanoy Garrett re-inspected the venue the day of the slated gig. They ultimately dropped the Metro's capacity from 500 to 400, and the police permitted the concert to go forward within hours of door-time. It raised nearly $5,000 for Ghost Ship fire victim families and survivors.
Mia says that fire officials later reset the venue's capacity to 500 in May — but they still haven't mailed the Metro's occupancy permit.
Meanwhile, even a couple years after Paley's complaint to ABC, the venue's liquor license remains in limbo, and they have to acquire one-day alcohol permits. But Oakland police nightlife overseers won't approve the permits unless the Metro also applies for police-issued special-events permits, which cost between $50 and $200 each, depending on expected attendance. The fees, plus the often-lengthy permitting process, means they've had to virtually eliminate lower-margin shows featuring local bands. And they're limited to just twelve one-day liquor permits annually.
Altogether, the Deans say they're spending between $2,000 and $3,000 a month on special event and alcohol permits.
Like many club operators, Mia argues that the uneven — and sometimes incoherent — code-enforcement against Oakland venues means the city needs a new regulatory body for nightlife. "We need a late-night coalition," she said. "Some kind of advocate in city government."
The Deans, who've run the Metro at various locations in the neighborhood, argue that since they have a cabaret permit, they shouldn't be required to acquire special-event permits. City Administrator Minor, who oversees cabaret permitting, wrote in an email to the
Express
that his "office and OPD are currently in communication with both the Operahouse and ABC to see if we can avoid any permitting redundancies."
But they say the cumulative effect of bureaucratic entanglements and neighbor complaints has been nearly disastrous.
"This guy [Paley] has endless resources," Mia said. "We don't."