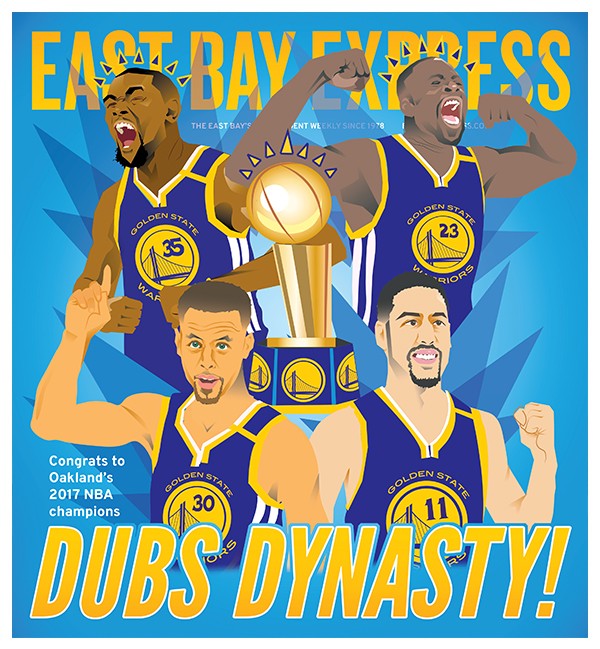 "Are the Golden State Warriors a Dynasty? Obviously" by Nick Miller, Opinion, June 13:
Warriors Still Got a Long Way to Go
Relax Nick, the Warriors are a long way from claiming to have a dynasty in the NBA. This team needs at least two more championships to make that claim. The Celtics, Lakers, and Bulls had dynasties; see how many games those teams each won. I think the Warriors will be a dynasty, but a lot of things could derail that (free agency, injuries, infighting, etc.), and they're only halfway there, at best.
Not Yet
I usually enjoy your political and social commentary, but have to take exception to your Dubs column on two accounts:
After presenting that wonderful cartoon of the Big 4 in three places, all you provide is a short essay written by a guy who's not from the area and doesn't know about basketball. I was a Celtics season ticket holder for thirty-plus years and have lived here for only three. But I could talk volumes about the greatness of this team. Isn't there anyone else at the Express who knows enough about the team and basketball to author a more informative cover article?
You anoint the Warriors as a dynasty ("obviously"), but don't say why. And you're wrong. The dictionary definition of dynasty is "a sequence of rulers from the same family, stock, or group: e.g., the Ming dynasty."
In sports, a dynasty is created by long-term success with a changing cast of players. The N.Y. Yankees of the Fifties and Sixties were a dynasty. The Montreal Canadiens of the 1950-70s were a dynasty. The New England Patriots of today are a dynasty. The Dubs are a kick-ass team enjoying an unprecedented run. They are not a dynasty. Yet.

"Crucial Legislation for New Oakland Police Commission Stalls in Committee as Activists and Councilmembers Fight Over Rules" by Darwin BondGraham, Seven Days, June 14:
Let's not Rush
Measure LL/police commission issues haven't been covered much lately, but how LL is implemented can change a lot, for better or worse. Better to have the ordinance a little late than rushed through with defects — and we are not that far apart. It was very disappointing to me that Councilmember Larry Reid , for whatever reason, seemed to be in "on strike/shut process down" mode, rather than being willing to hear from authors and public about the five to six areas of disagreement. The first commissioner appointment process was launched in early June with notice to applicants that general (not criminal) background checks will be done on all nominees. Only time will tell if current or future commissioner is overruled on that.
Gotta Be a Compromise
One of the provisions of the charter amendment and implementing ordinance requires that commissioners receive training in procedural justice, unconscious-bias recognition, and participation in the civilian police academy. As someone who just completed the latter, I can say that all commissioners will undergo a full background check. This is the same check that is used in evaluating police-academy candidates. The point is that, if an appointed commissioner has an undisclosed disqualifying criminal background, they can be removed for cause. My suggestion for a compromise is that the academy training be initiated as soon as possible after appointment. This will allow the mayor and selection panel to evaluate a candidate on their application, rather than the unconscious bias toward felons, regardless of the nature of the charge or conviction.
We Want Independence
Allowing the mayor's appointees to comprise a majority on a disciplinary panel will appear to, or actually make, the commission just another agency, rather than independent. Independence is the heart of what the voters approved by 83 percent.
Clarification
Last week, the Express cited media outlets who had either published stories or Tweeted on how the Golden State Warriors allegedly decided to not visit the White House (see "Reports: Warriors Unanimously Reject Trump White House Visit After Winning Championship" by Nick Miller, News, June 13). The Express regrets aggregating the sources cited in that story, and apologizes to readers.