The dollar sign tattooed over the crease of Philthy Rich's right eye symbolizes that money is the root of all evil, yet a motivator for success. The cross next to his left eye is a reminder that God is watching. And the "FOD" on his wrist stands for "Funk or Die," the unofficial motto of his block in Seminary, his neighborhood in East Oakland.
Though Rich has come a long way since his turbulent beginnings, he proudly wears reminders of his life experiences on his skin in the same way that he candidly addresses them in his music. The rapper recently released his new album, Real Niggas Back in $tyle, a hard-edged, street rap confessional that details adrenaline-inducing tales of hitting licks, selling narcotics, and — eventually — ascending into the high life.
The nineteen-track project sees Rich expanding his sonic palette from the quintessentially Oakland, mob music sound of his early work to a more sinister trap knock. This evolution reflects the influence of his latest collaborators: He recorded most of Real Niggas in Atlanta with help of several prominent producers. Zaytoven — a San Francisco transplant to Atlanta who is best known for working extensively with Gucci Mane — made beats for seven of the album's tracks. Fellow certified hit-makers 808 Mafia, a production team that frequently collaborates with Young Thug, Waka Flocka Flame, and Future, contributed beats as well.
While these Southern heavyweights architected the project's sound — giving it a slow-moving, aggressive cadence — it also features verses from local artists IAMSU, Ezale, Nef the Pharaoh, and E-40. Mozzy, a rising rap star from Sacramento who has strong ties to the Bay Area scene, is featured on the record as well. The songs they appear on bring an upbeat, hyphy influence to the album's otherwise dark ambiance.
While Rich's rhymes about high-stakes hustling might come off as typical of trap music, the rapper said in a recent interview that his lyrics are reflections of his life experiences. And Rich has survived some pretty traumatic ordeals. When he arrived at the Express offices for our interview, he was with his two sons, ten and twelve years old — both around the age Rich was when he first found himself in trouble with the law.
"I didn't meet my dad 'til I was eleven, and I caught my first case when I was eleven in San Leandro for robbery," he said. "Moving house to house, staying with my teacher — I wouldn't say it's the normal life for a kid in Oakland, but it is. … It's poverty, it's the ghetto, so there's probably a kid who had a worse childhood than me."
Rich explained that his turbulent adolescence continues to motivate him to give his all to his music career so that he can provide a better life for his family and give back to his community. He recently made an appearance at the West Oakland Youth Center, where he shared personal anecdotes with the kids as part of a peace rally for gun violence prevention.
Rich began making music seriously in 2006, after spending much of his life in and out of institutions. His early releases caught the attention of prominent Bay Area artists, including Keak Da Sneak. When Rich and Keak were boarding a flight to go on tour in 2007, the pair ran into J. Stalin at the airport. Stalin was already a fan of Rich's music and invited him to join Livewire Records. Rich still works with the label today in addition to running his own enterprise, FOD Entertainment.
In the years that followed, Rich strove to devote himself to his music but found himself returning to selling drugs to fund his creative practice. "It was hard because I still had to pay for studio time and CDs and all that, so I was still trying to dibble and dabble," he recalled. "I kept getting caught with dope and getting caught with guns because I needed money to pay … for all the things I had to get done in order to rap. It wasn't given to me. So I was trying to be halfway in and halfway out."
Rich's illegal activities eventually caught up to him, and he did several stints in jail throughout the late Aughts. After getting released in 2010 following a firearms charge, he decided that it was time to move on — for good. "I pushed myself," he said. "I'm not finna be like how my daddy was; I'm not finna give myself away to the streets or lose myself to the streets. I wanna at least try to do something better for myself and my kids."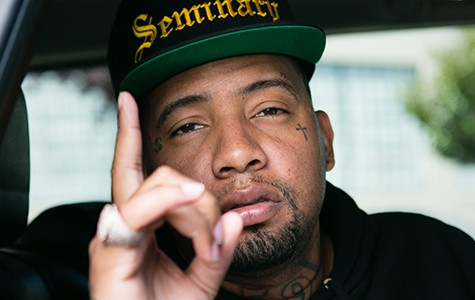 Despite the setbacks, Rich's career has been exceptionally prolific. Since 2009, he has released over forty albums and mixtapes. "I got my buzz off my work ethic. I'll record a song today and shoot the video today."
And while, on the surface, his body of work could be interpreted as sensationalizing drug dealing and violence, his lyrics speak to the realities of many folks from Oakland's most disenfranchised and overlooked communities. Even as hip-hop becomes increasingly accepted in mainstream culture, Rich isn't concerned with making music that's sanitized to appeal to middle-class sensibilities. Instead, his work is a reminder that hip-hop is a vital medium for people that — like him — have been excluded from other avenues of success because of the school-to-prison pipeline and other forms of systemic inequality.
But these negatives notwithstanding, the artist has made huge strides in overcoming the harsh realities he experienced throughout his life. The dark places he's been are a major impetus for him to keep creating.
"Basically, if you're in a messed up situation, you stay down, and work at it, and pursue 'til you do better — because you eventually will."