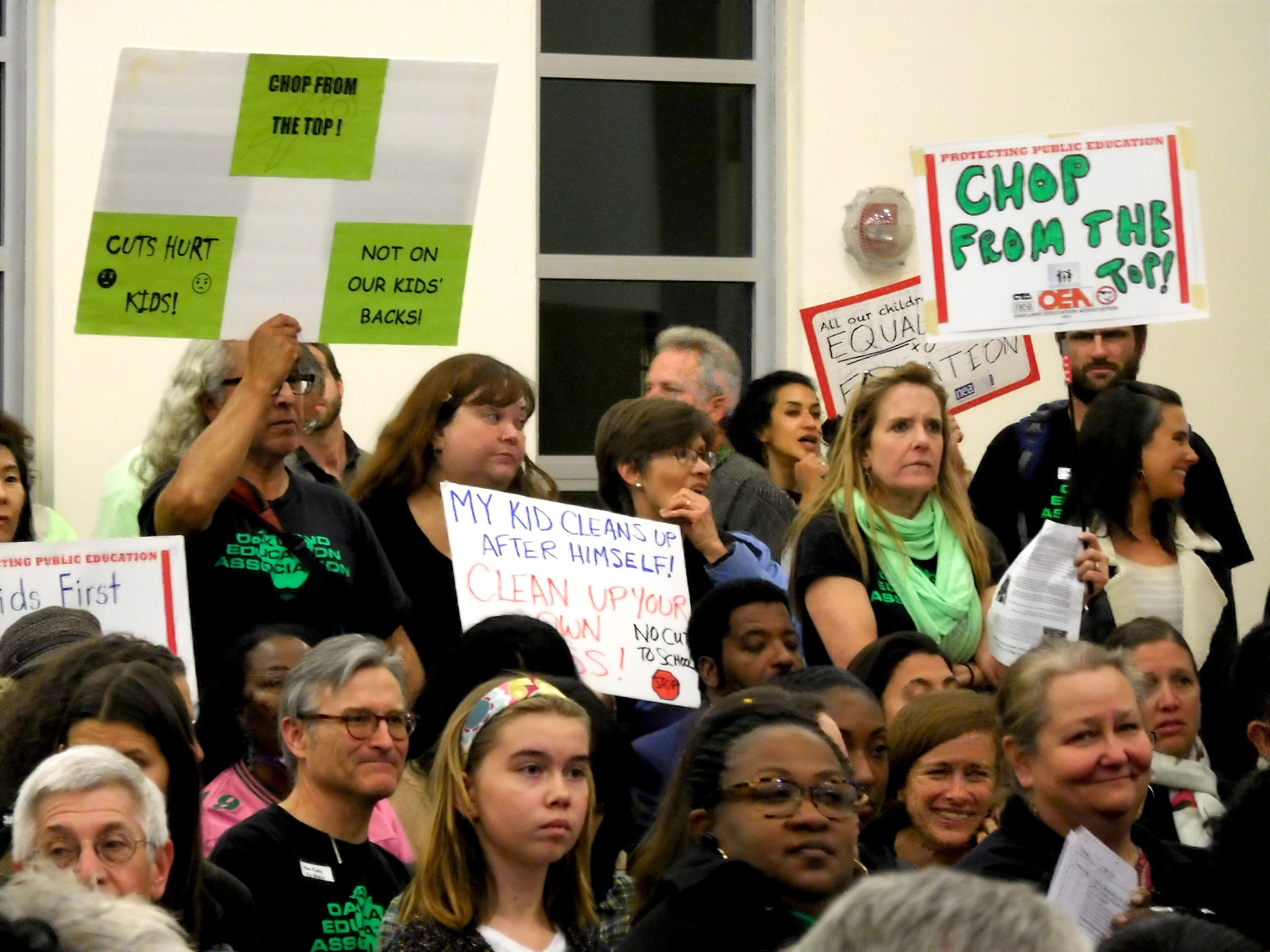 It's not unusual for schools to hold bake sales to pay for extra-curricular activities. But this year, Oakland parents and teachers are trying to raise substantial amounts of money to soften the blow of budget cuts affecting core academic programs.
Last week, the district's board voted to adopt another $9 million in mid-year cuts on top of tens of millions more in reductions imposed earlier this year.
Melissa Ramirez-Medina's child is a second grader at Think College Now Elementary, which last spring was being asked by the district to layoff one of its 12 teachers in the first round of cuts. The layoff would have meant combining classes and increasing student-teacher ratios. To prevent this,
Ramirez-Medina set up a fundraiser
in May. Donors gave $73,600.
"I didn't want to see combined classes," she said in a recent interview. "I just knew immediately it would be a bad idea."
But it was only a temporary reprieve. "With the bigger cuts coming," she said about the district's latest $9 million in reductions, "we're losing funding for our family resource center."
The family resource center serves as a hub, providing parents with English language classes, computer access and tutoring, and even food and clothing, all to help low-income families address basic needs that impact student learning.
Other fundraisers from earlier this year included last ditch efforts to save
camping
and
field trips
for students. Some schools managed to reach their goal and save a program. Others did not.
As the district's fiscal problems worsened this fall, parents and teachers have launched fundraisers to make up for the exact amounts their school budgets are being cut by.
For example, at Laurel Elementary, the district is requiring an immediate $63,850 cut. The reduction will lead to layoffs or furloughs of a librarian, two coaches, and a computer teacher. In response, the school's PTA
is trying to raise exactly $64,000
.
At Urban Promise Academy,
teachers are trying to save the school's "college for all" field trips
which are designed to help students learn about college options. Most of the school's students qualify for free and reduced lunches, one measure of the low-income community the campus serves.
"Unlike other schools that have the ability to raise funds via a PTA, we do not have such capabilities here at UPA," wrote Kate Krumrei, a teacher involved in the fundraising effort.
At OUSD's Frick Impact Academy,
math teacher Alefiyah Lokhandwala is trying to raise $3,000
to pay for printing supplies so that students can simply have materials to work on.
Even the school district is encouraging donations from the community as a response to the district leaders' mismanagement of the budget.
[embed-1]
But not everyone is comfortable with the explosion in fundraising efforts. Mike Hutchinson, an activist who unsuccessfully ran for a seat on the school board last year, said he hopes schools can raise enough money on their own to make up for the district's fiscal issues.
"But we shouldn't have to do this," he said about the fundraisers. Like many students, parents, teachers, and activists, Hutchinson believes that the mid-year reductions were too extreme, and he blames a top-heavy administration for wasteful spending.
The proliferation of grassroots fundraisers are just one more burden put on parents, teachers, and students, he said.