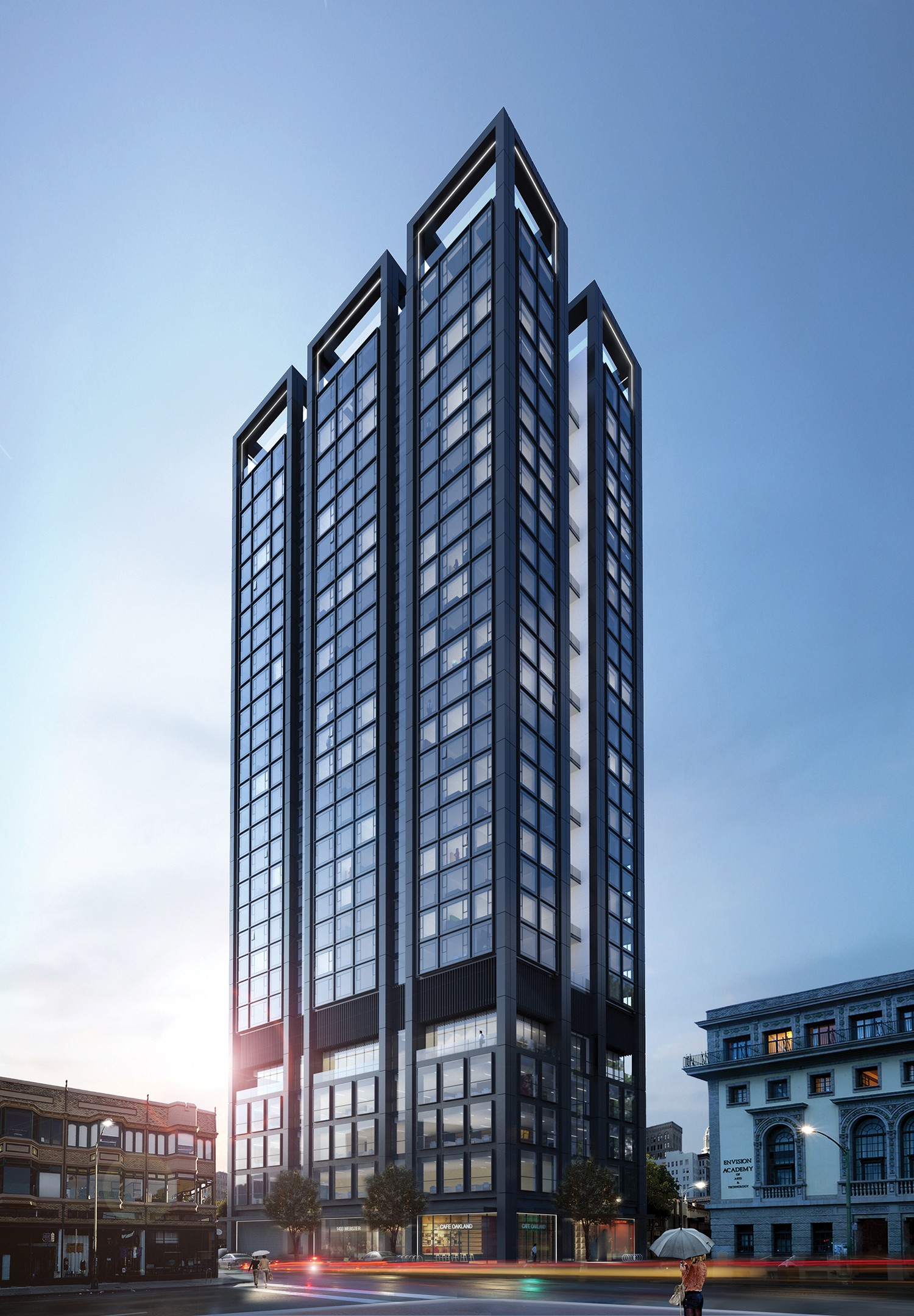 The Bay Area's housing crisis continued to worsen in 2017, as home prices smashed records and large numbers of people lost their homes, were displaced from the region, or were forced to spend hours each day commuting from less expensive suburbs. The median home price in the Bay Area soared to $910,350 in November, a 12.5 percent jump over 2016. In Alameda County, it reached $880,000, and in Oakland, it topped $700,000 — far higher than most people could afford. In Berkeley and Alameda, the median home price hovered around $1 million.
Economists and real estate experts attribute the out-of-control prices to the region's extreme housing shortage. But that might begin to change locally, because 2017 was also the year that Oakland finally started to build new housing — lots of it. In fact, the city's housing boom, by year's end, was approaching historic proportions, as construction cranes dotted the city's downtown skyline and housing developers broke ground or submitted plans for several high-rises.
According to city data, 1,113 new housing units were projected to be on the market by the end of 2017 — the vast majority of which were apartments. That's more new housing built in Oakland this year than in the previous four years combined. And by December, there were 6,675 additional units of housing under construction, with another 15,306 units in the pipeline (approved or proposed), according to city data. The city's Planning and Building Department anticipates that 3,477 housing units will be completed in Oakland in 2018 — which would nearly triple the previous high this century: 1,440 units in 2008. All that new housing is expected to help relieve demand pressures that have sent prices through the roof.
The year was also marked by the continuing rise in the East Bay of young pro-housing activists — who also call themselves YIMBYs (for Yes In My Backyard). The political influence of these activists increased substantially in 2017, and they convinced local and state agencies to allow for more housing construction — both market-rate and affordable units. They've also sued cities, including Berkeley, that have blocked new housing development.
"I think we made a lot of progress this year, but we still have a long way to go," said Victoria Fierce, an Oakland resident and pro-housing activist with the group East Bay for Everyone. "It's still a revolutionary thing in California to say, 'Yes, let's build more housing.'"
Pro-housing forces were particularly successful this year in the state legislature, which officially recognized California's housing shortage and approved a sweeping package of legislation that included 15 bills on housing in September. The package included Senate Bill 2, a real estate transaction fee that is expected to generate about $200 million to $300 million a year for affordable housing construction, and another bill that calls for a $4 billion housing bond for the November 2018 ballot.
But perhaps one of the more important bills in the package was SB 167 by state Sen. Nancy Skinner, D-Berkeley. The legislation prohibits cities from blocking new housing construction when the project complies with local zoning rules. "I think it's going to have a real positive impact," Skinner said in an interview.
Skinner noted that her legislation will bar cities like Berkeley from arbitrarily banning new housing construction. In 2017, the Berkeley City Council was sued by YIMBYs — and lost — after it twice blocked a small three-unit project on Haskell Street that was zoning compliant.
For years, Berkeley, under then Mayor Tom Bates, had embraced new housing construction in its downtown area. But that changed in 2017, after the election of Mayor Jesse Arreguin in late 2016 and a new council majority. The new mayor and council were much less likely to greenlight housing projects than their predecessors.
However, there was an indication by year's end that the backlash against new housing in Berkeley may be easing. In December, the city council endorsed a measure by Councilmember Lori Droste that would allow affordable housing projects to be approved by city staff and avoid public hearings if they're zoning compliant. If the council gives final approval to the measure in 2018, it will mark a dramatic shift for a city known for hours-long public hearings and endless debates over new housing proposals.
In Alameda, by contrast, a progressive, pro-housing council majority took control in early 2017 and has since embraced several new housing development proposals. In addition, the new housing laws passed by the legislature and signed by the governor in 2017 will make it much tougher for Alameda and other cities to turn down new development in the future.
"The new state laws are huge," said Alameda pro-housing activist Angela Hockabout. But she added that Alameda still has a long way to go to meet its regional housing goals. "We're still nowhere near where we need to be," she noted.
YIMBY activists like Fierce, Hockabout, and others also advocate routinely for more affordable housing in the East Bay. But local cities and affordable housing developers continued to have trouble in 2017 financing new construction. Of the 6,675 units of housing being built in Oakland, only 182 — less than 3 percent — will be priced at below-market rate, according to city data. That number, however, is expected to rise in 2018 when Alameda County starts to allocate funds from the $580 million affordable housing bond approved by voters in November 2016 and the city of Oakland begins to spend $100 million in affordable housing money from Measure KK, also approved in 2016. In 2018, YIMBYs also plan to continue their push for more housing in wealthy, transit-rich areas of Oakland and Berkeley, like Rockridge and the neighborhoods around North Berkeley BART.
Although rent prices remain at unaffordable levels in the East Bay for many people, there was some good news locally for tenants in 2017. After years of double-digit increases, rents declined a bit in Oakland and Berkeley, according to analyses by Apartment List and Zumper. Rents dipped 10.9 percent in Oakland through October and 3.8 percent in Berkeley.
Tenant activists also scored a victory in Oakland in 2017 when the council approved a moratorium on landlords' use of the so-called "substantial rehabilitation loophole." In the past few years, property owners had increasingly exploited the loophole, which allows them to exempt occupied apartments from rent control if they substantially rehabilitate them. Longtime tenant activist James Vann said some landlords were abusing the loophole by attempting to pass off routine maintenance as "substantial rehabilitation."
But Vann said the biggest change of 2017 was the implementation of Measure JJ, a tenant protection initiative approved by Oakland voters in November 2016. It required landlords to petition the city's rent board for rent hikes above the legal maximum. Previously, tenants were required to challenge large rent increases. "It was a huge change," Vann said of Measure JJ, "because previously it required tenants to know about the law and about deadlines."
This week, the council also approved relocation payments of up to $9,875 for tenants evicted through no fault of their own.
In Alameda, however, tenants suffered a significant setback in 2017 when landlords gathered enough signatures to overturn just-cause eviction protections approved by the city council. "It was a big loss," said Hockabout, who, like most YIMBYs in the Bay Area, is also pro rent control and tenant protections.
In 2018, one of the big housing battles on the state level will be over a proposal by Assemblymember Rob Bonta, D-Alameda, to overturn Costa Hawkins, a state law enacted in the 1990s that restricts the ability of cities to expand rent control. If Bonta's legislation fails, tenant activists are expected to launch a ballot measure drive for the November election.
Tenants and pro-housing groups are also expected to push to reform Prop. 13 in order to free up more property tax revenue for affordable housing construction. They also hope to enact other affordable housing measures — especially as California's homeless crisis deepens.
"Housing must continue to be the priority of the legislature," Skinner said. "It's completely immoral that we have this level of desperation in California — of people living under the freeway."
Correction: The original version of this report misstated the year in which Oakland voters approved Measure JJ. It was 2016 — not 2017.