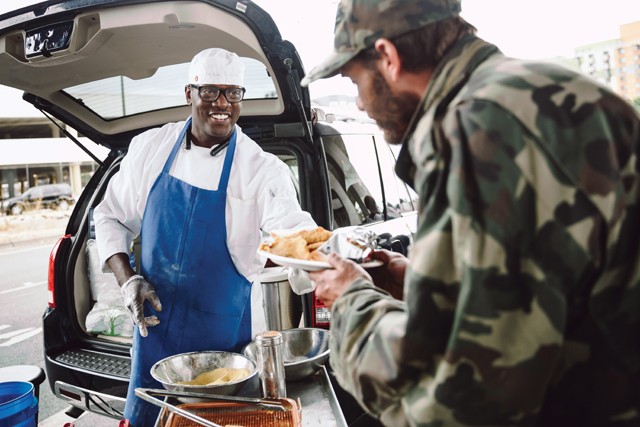 On May 20, 2016, Thomas Patrick Former woke up to smoke. He was in his East Oakland restaurant, Star Food Seafood, where he often slept. At first, he thought he had fallen asleep while cooking. Half awake, he started to turn his stove's fan on. He quickly realized that his stove wasn't the source of the flame. His restaurant was on fire.
Former watched as the restaurant, along with the rest of the businesses in the building, burned to the ground. "I said, 'God, get in my head, because I don't want to go crazy right now,' " Former recalled. "I stood there and watched the whole time it burned, from the top to the bottom."
The restaurant, which he had opened in 2011, had loyal patrons—"Starfish Seafood Cafe makes the best food on the West Coast," a fan wrote on the restaurant's Facebook page in 2015—but Former didn't have insurance or the funds to rebuild.
Still, Former, who is affectionately known as "Chef Pat" to friends, considered himself lucky. He was alive, for one, and the fire didn't take his skills of cooking and serving food that he had honed since he was a college student hosting cookouts for friends. Soon, he had steady work as a caregiver, preparing food for elderly patients and driving them to appointments.
Earlier this summer, Former, who now lives in Castro Valley, drove past one of Oakland's homeless encampments. "I began to see the homeless tents really growing around town, so I got an idea from on high, the heavenly father, to go out there and just feed [them]," he said.
At Star Fish, he had developed a deal for the homeless people who had walked in looking for food: three pieces of chicken and a pile of fries for $3. But this time, it was different. "I lost everything," he said. "I can relate."
In August, he loaded up his Jeep with a fryer, 20 pounds of fish, five loaves of bread, chips, plates, Crystal hot sauce, and sanitary wipes, and started cooking for one of the camps he had seen. He's returned almost every week since.
"It's a nice change," said Eugene Jenkins, an Oakland native who's been homeless for about three years. Local charities and churches serve free food, but accessing it requires traveling and a knowledge of their rotating cooking schedules. Former's fish is better than the food Jenkins can get at those places, which often serve what he calls UFOs: "unidentifiable food objects."
"It made me think about my grandma, because she used to fry fish and french fries every day as a kid," Jenkins said. "It feels awesome. It makes me feel like I still matter."
On a recent Friday, Former, dressed in an immaculate chef uniform, set up his small, tidy fry station next to the homeless encampment off 27th Street and Northgate Avenue. After drenching a fish fillet in cornmeal, he fried it and sprinkled it with his mix of spices. "You can't buy this at [nearby cannabis dispensary] Blum, but that's the good shit," Jenkins said of the blend before serving it with a bag of chips and some fruit.
Chef Pat aims to offer people living in the camps the same experience they'd get at his restaurant. Her refers to women as "sweethearts," and men are "sirs." He brings music, but it requires a prudent selection. "Music—you have to be careful," he said. "You start playing Tupac and people are wanting to fight. You play gospel, people start talking about the Lord."
He listens to people's problems and laughs at their stories. While he's there, he tries to meet their needs, both corporeal and spiritual, as best as he can. "If you wanna pray real quick, I'll turn the grease down and we'll pray," Former said. He brings a sense of normalcy in a living situation fraught with danger and constant notices from the city forcing people to vacate.
Former rotates between Oakland's encampments and would love to set up a more permanent way to feed people—perhaps with the funding of the city or a local sports team, he suggested. He's interested in starting a restaurant again, but this time, he'd like it to have a charitable component. And in the meantime, he's eager to continue serving as many people as he can, with the help of donations through a GoFundMe he recently set up, as first reported by KTVU News.
Former didn't always have such empathy for the homeless, he said. "You [hear] people say, 'Get a job.' You hear people saying, 'Don't give no money. They got money. They just begging,'" he said. "But when I actually got a chance to see with my own two eyes, I thought differently."
He noticed how much a simple meal and the act of being served could change someone's outlook—and how good it made him feel. "What surprised me is how Patrick felt. Because when I drove off, the same voice that told me to go do it said, 'Patrick, why are you smiling like this?' And I said, 'I know!'" he said.
"We're all getting something. They're encouraging me, and I'm encouraging them. They're saying, 'God bless me,' and I'm saying, 'God bless them.' It's just—man, it's something I kind of got addicted to."
This story was originally published in our sister publication,
Oakland Magazine.