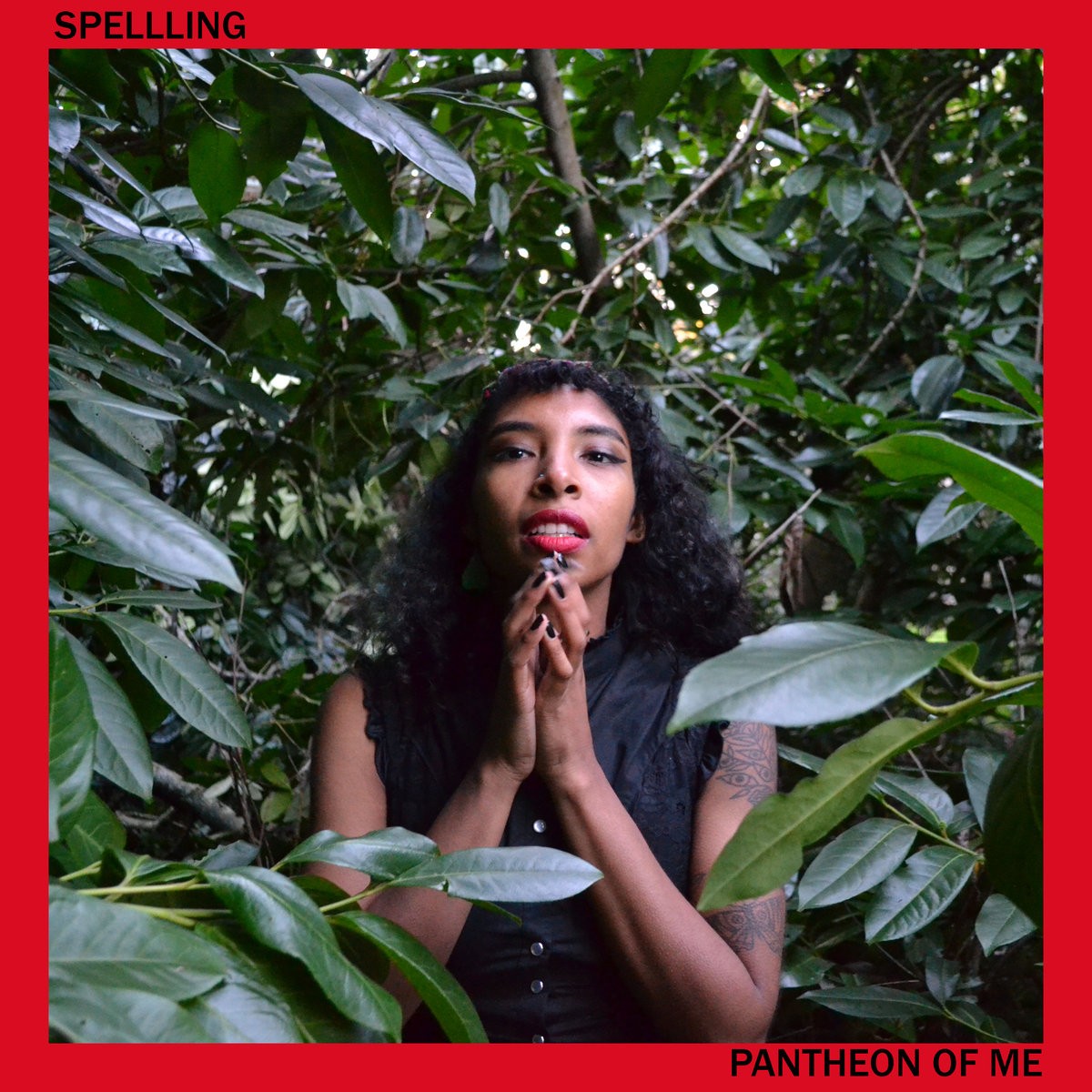 Tia Cabral stood before a modest keyboard and a sampler, weaving long vowels and sibilant whispers into a lustrous patchwork atop deep, pulsing notes. Each surge of her voice sounded so embodied, it belied the difficulty of her real-time layering and looping. The sixty or so onlookers, mostly seated on the ground, lavished applause on every song, and Cabral wore an expression of focus and steely resolve.
It was a performance earlier this month by Spellling (mind the triple L), moniker of 26-year-old Berkeley songwriter Cabral. The gig, at Luggage Store Gallery in San Francisco with Earthbound and Lexagon, doubled as the premiere for her new music video for "Blue (American Dream)," a highlight from Spellling's debut release,
Pantheon of Me
.
Pantheon of Me i
s a six-song release that Cabral considers a prelude to her debut album of the same name, due this August. (It's also a fundraising gambit to complete and the self-release the album; the tape version, for sale online, includes two additional tracks.) Cabral tells the
Express
that the forthcoming thirteen-track full-length will include polished versions — some rerecorded, all remastered — of the songs now online.
[embed-1]
Yet what Cabral considers a batch of demos is nevertheless the most striking debut from a local songwriter this year.
At the center of
Pantheon of Me
is Cabral's elastic voice and incantatory phrasing. Take "Walk Up to Your House." The opening lines unfold slow and thick:
I dreamed a dream, again / This is the countdown
. And the closing lyric,
Late last night lyin' in my bed eyes red
, arrives at first as a choral backdrop, and then assumes the foreground of the mix with its pattering, sticky cadence.
The songs on
Pantheon of Me
are fluid and nonlinear. They don't oscillate between parts. They're largely relieved of rhythmic underpinning. Instead they swell and billow outward, or else hover, wraithlike, in absorbing reveries. There's gossamer guitar and streaks of stardust synth, beading keys and low-end murk. And sometimes the most stirring passages are spare save for one tone pulsing lighthouse-like in the distance.
Spellling performs at Classic Cars West (411 26th St, Oakland) on Sunday, July 8, with The Classical, Diesel Dudes, and Tiny Head, among others.

***
Following outcry from the international music community, Mills College reversed its decision to lay off celebrated improviser and composer Roscoe Mitchell.
Mitchell tells the
Express
that he received the news this past Tuesday, the day after the college's board of trustees met and adopted a revised financial-stabilization plan aimed at closing the liberal arts college's projected $9 million budget shortfall.
A press release states that the updated plan will balance Mills' budget within three years.
As we reported, eleven faculty members, mostly tenured, were informed of their impending dismissal about a month ago.
A Mills' spokesperson declined to say which of those teachers, aside from Mitchell, might also be retained after all.
Composers and Center for Contemporary Music co-directors Maggi Payne and Chris Brown agreed to retire early in the hopes of pre-empting cuts to the music department. It's unclear if, after they leave at the end of next school year, their positions will be refilled.
Details of the adopted plan still call for dramatic department restructuring, such as eliminating majors in Latin American studies and philosophy, and downsizing at least nine other programs.
School faculty involved in fighting what they consider Mills' reckless austerity measures were hesitant to declare victory over retaining Mitchell, noting that the revised plan is still very similar to the original proposal.
A letter from the American Association of University Professors to Mills President Elizabeth Hillman dated June 13 casts the layoffs as hasty and opaque, and faults the administration for "declining to consider … alternatives to terminating faculty appointments."
The letter notes that, in similar cases at other schools, "the AAUP was compelled to conduct investigations and impose censure."
Backbeat is the
Express
' new weekly music column.