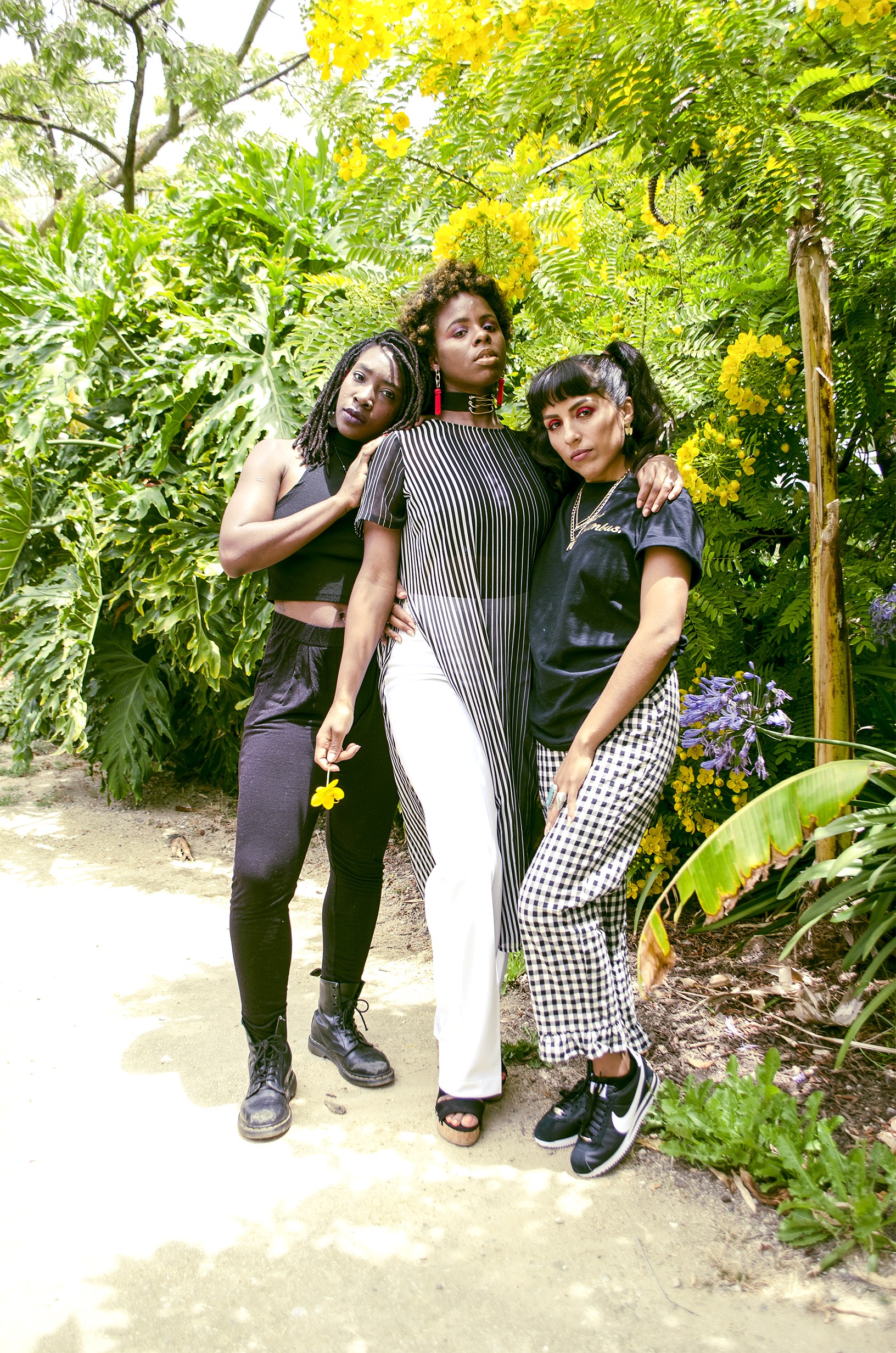 The Unity Mart headquarters near MacArthur BART is covered with prints, zines, and silk-screened shirts — all products of the evolving and colorful multipurpose space, which houses a publishing press and a queer skateboard brand, among other things. It is also the new home of internet radio station Lower Grand Radio, where once a month the witches of Las Brujas Radio broadcast a live show that's later released as a podcast.
Local DJ Namaste Shawty, also known as NoNo, plays tracks by underground artists, focusing on "female rappers and punk artists, [anything] with a message to empower ourselves." She's joined by two co-hosts: Oakland rapper Queens D. Light and activist Imani Atlantic, who's currently pursuing a PhD in microbiology at UC Berkeley. Over less than two hours, the women open up about a variety of topics, from mental health and social justice to sex, witchcraft, race, and pop culture.
Las Brujas Radio is gaining popularity in an internet landscape that's increasingly receptive to occult and pre-Christian religious influences. You may have noticed an uptick in friends discussing their astrology signs or paying attention to the phases of the moon. This cultural infatuation is spurred in part by content circulated on platforms like Tumblr and Instagram, where mystics can share their practices with increasingly wider audiences.
For Las Brujas, the emphasis is on witchcraft as a mode for self-care and healing. Most episodes focus on a specific political or social issue. In addition to sharing their own perspectives on a given topic, the women highlight tools to help their listeners cope, from rituals and spiritual texts to services available in the community.
As Atlantic articulated it, the show's mission is twofold: "To connect folks, our homies who have businesses or art projects," and "to speak on our own experiences and not have it be whitewashed, not have a man tell us what our stories are."
That's especially crucial when many of the non-Christian rituals gaining popularity are also being co-opted and whitewashed. Expensive ayahuasca retreats, for example, cater to predominantly white audiences. Las Brujas aims to reclaim these rituals for women of color and other groups that historically were persecuted for practicing them.
One way they take control of their story is by calling themselves "brujas" in a positive context, taking back a word that is used to demonize powerful women healers.
[pullquote-1]The women come from different faith backgrounds — NoNo and Queens were initiated into their respective spiritual communities roughly a decade ago by older women they sought out for guidance. NoNo practices the Santería religion and Queens is a member of the Yoruba faith. Atlantic described her own spiritual development, "delving into hoodoo traditions, into Santería traditions," as "also based in resistance when you remember that so many slaves were using these incantations and these spells against slave masters to get free."
All of the women mention the energy of the Earth, nature, and the cosmos as important for their spiritual development, and the show incorporates customs from a variety of sources. One recent episode featured a ritual calling on the power of Ra, the ancient Egyptian sun god, and on their latest episode, NoNo started the show by reading a formal affirmation that was intended to break contracts with outside energy that wasn't serving her.
"Affirming yourself is something that people have to do every day in the face of oppression," Queens explained. She emphasized that while some rituals require special knowledge or preparation, others are daily practices that many people engage in without even realizing. "We wanted to make it so that it's not taboo to talk about ritual," she added.
In a previous episode, all three hosts found that they start their mornings with the same custom that gets them ready for the day. "We found out we all be dancing in the mirror," said Queens. "We be dancing naked in the mirror in the morning, and that's part of our personal rituals that we didn't even know we had in common."
[embed-1]
In addition to destigmatizing witchcraft, one major cornerstone of the show's activism involves publicizing resources: giving shout outs to fundraisers going on, publicizing events in the community, and highlighting organizations and programs that listeners may not know about. In their latest episode, Las Brujas highlighted the birth services and doula training program offered by Oakland womb practitioner Sumi Franklin.
Much of Franklin's work focuses on queer families and families of color, and the hosts talked with her about issues facing these communities throughout the birthing process, from gaps in insurance coverage to the legal thicket of queer parenting rights. Queens, who was eight months pregnant at the time of the show, answered questions from listeners and addressed some common myths about pregnancy.
This emphasis on audience participation, on making the conversation comfortable and accessible to their listeners, allows the women to bring up urgent social issues in a way that isn't draining. And by destigmatizing spiritual practices that have helped them cope, Las Brujas empowers their listeners with healing techniques that help them take on these issues.
As NoNo put it, "We're saying 'fuck you' to mainstream media and creating our own outlet to express ourselves and create a sense of community."
Las Brujas Radio is recorded monthly. To find out when the next show will happen, check Instagram.com/LasBrujasRadio. To listen to previous episodes, visit Soundcloud.com/NamasteShawty/Sets/Las-Brujas-Radio.