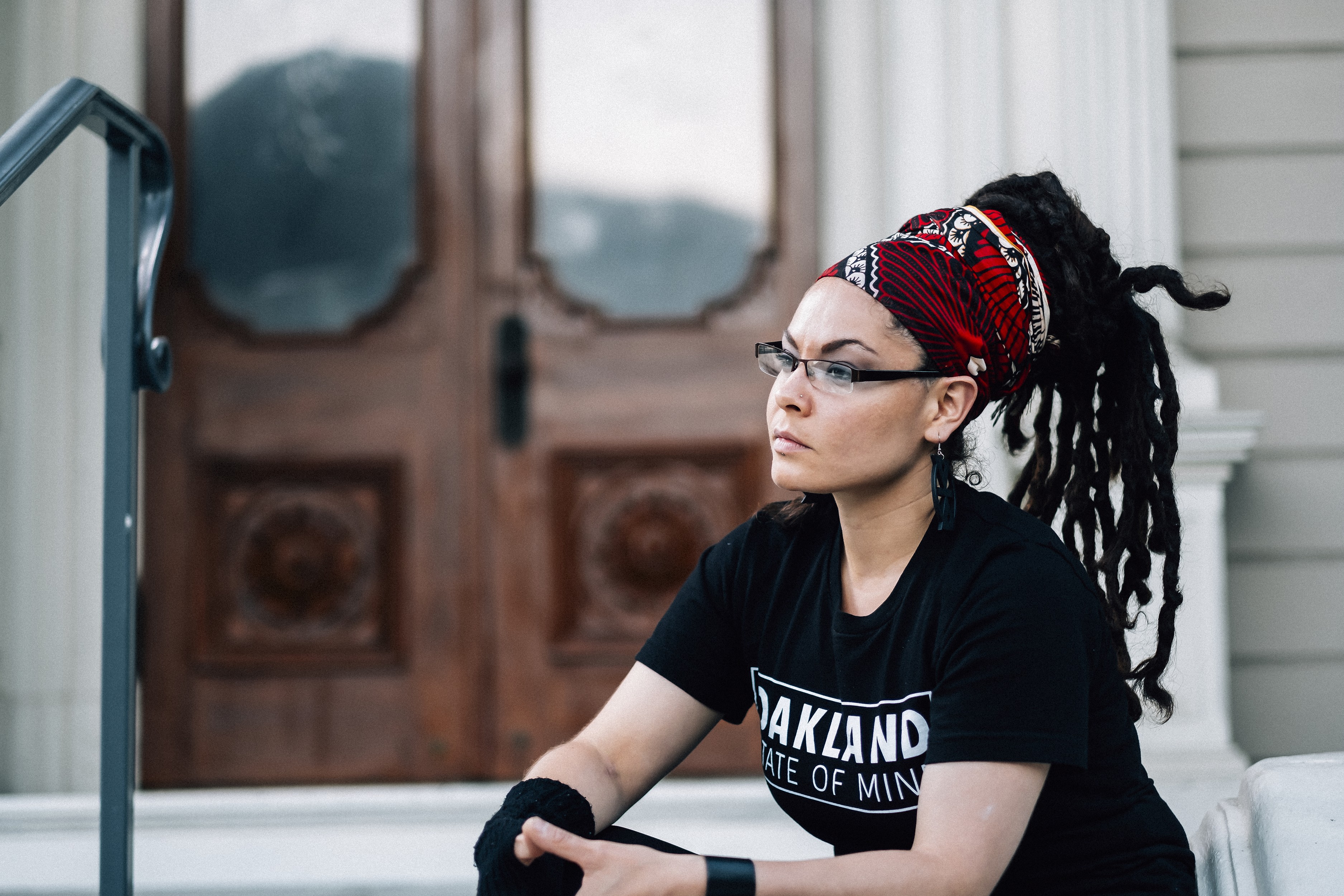 Like nearly all immigrants, local rapper
Gina Madrid
started from scratch when she moved to Oakland from Mexico almost twenty years ago. She not only learned to navigate the streets, but she also had to decode a new language. Interestingly, her way of learning was to translate rap songs, from Tupac to Nas to Wu-Tang Clan. And, while doing this, she realized that what these artists were singing about resonated deeply — and that their struggles were the same, just in a different language.
Nowadays, if you've ever been to a hip-hop or Latin show in the Bay, or partaken in a political march, chances are you know Madrid. Whether on stage performing or out on the streets resisting, the Mexican lyricist and political activist is deeply connected to the music and political game.
Just last month, Madrid opened for Raekwon at Slim's in San Francisco. Earlier this year, she was one of the activists who led the May Day march in Oakland. These two facets of her character should not come as a surprise: She is a natural-born lyricist, and revolution is in her blood.
"Political activism and music go hand in hand," Madrid insisted. "Being involved in what's happening in my city, being aware of what our people are going through all around the world is crucial to me."
While growing up in Mexico, her inspiration to become a lyricist came thanks to B-Real of Cypress Hill. And while Madrid did not understand his verses, the music nevertheless captivated.
By the time she was a teenager, she'd already developed as a bona fide break-dancer, and she boasted a collection of poems and lyrics, as well, which she would perform with her rap group, Rimando.
[pullquote-1]But in 1999, at just 16 years old, a pregnant Madrid decided to leave her native Guadalajara, Jalisco, in search of a better future. It's a story similar to that of many immigrants who come to the United States. Her journey would take her to Oakland, a city that would inspire her music years later.
In those early days, she penned lyrics during BART rides to work, writing about what she was going through in her new home. Though she had built a following with Rimando back in Mexico, breaking through in the States proved to be harder.
Her first brush with the Bay Area music scene came courtesy of warehouse parties, and places like the now closed Mandela Arts Center, which served as the place to organize freestyle and dance battles in the late Nineties and early 2000s. Getting to meet creative people motivated her to start releasing music. With little money under her belt, she bought her first computer, Pro-Tools software, and got to work. One of her first shows was in 2001 at La Peña Cultural Center in Berkeley.
"My son was two years old, and I remember him pulling on my pants as I was trying to get on stage," Madrid recalled.
In 2015, she released her first EP, Esperanza, which touched on politics, immigration issues, police brutality, corruption, and violence. Her lyrics reflect personal conflicts, and the need for social justice. Like with many musicians without a record label, Madrid produced and released her EP under her production company, Steelo Entertainment.
But she also wrote about home. The track "Sangre" was penned to bring awareness to the violence in her native Mexico. Specifically, it addresses the disappearance of 43 students in Ayotzinapa Guerrero, who have yet to be found. The song also alludes to the murder of Eric Garner at the hands of an NYPD police officer in 2014.
"My music goes along with what I do. I express what I see through my craft," Madrid said of her inspiration.
Currently, she is working on new tracks, and hopes to release a full-length album early next year. She is also engrossed in a project dear to her heart: opening a community center solely dedicated to helping kids who are interested in the arts, and for independent musicians in need of a space to produce music.
She never forgets how difficult it was for her, and this is a way of paying back the Oakland community who embraced her with open arms.
"If we help create spaces in our city specially dedicated for people of color and the youth, it will open up a whole new path and possibilities, artists are a very important part of this city," she said. "It is crucial to keep the arts alive in Oakland."