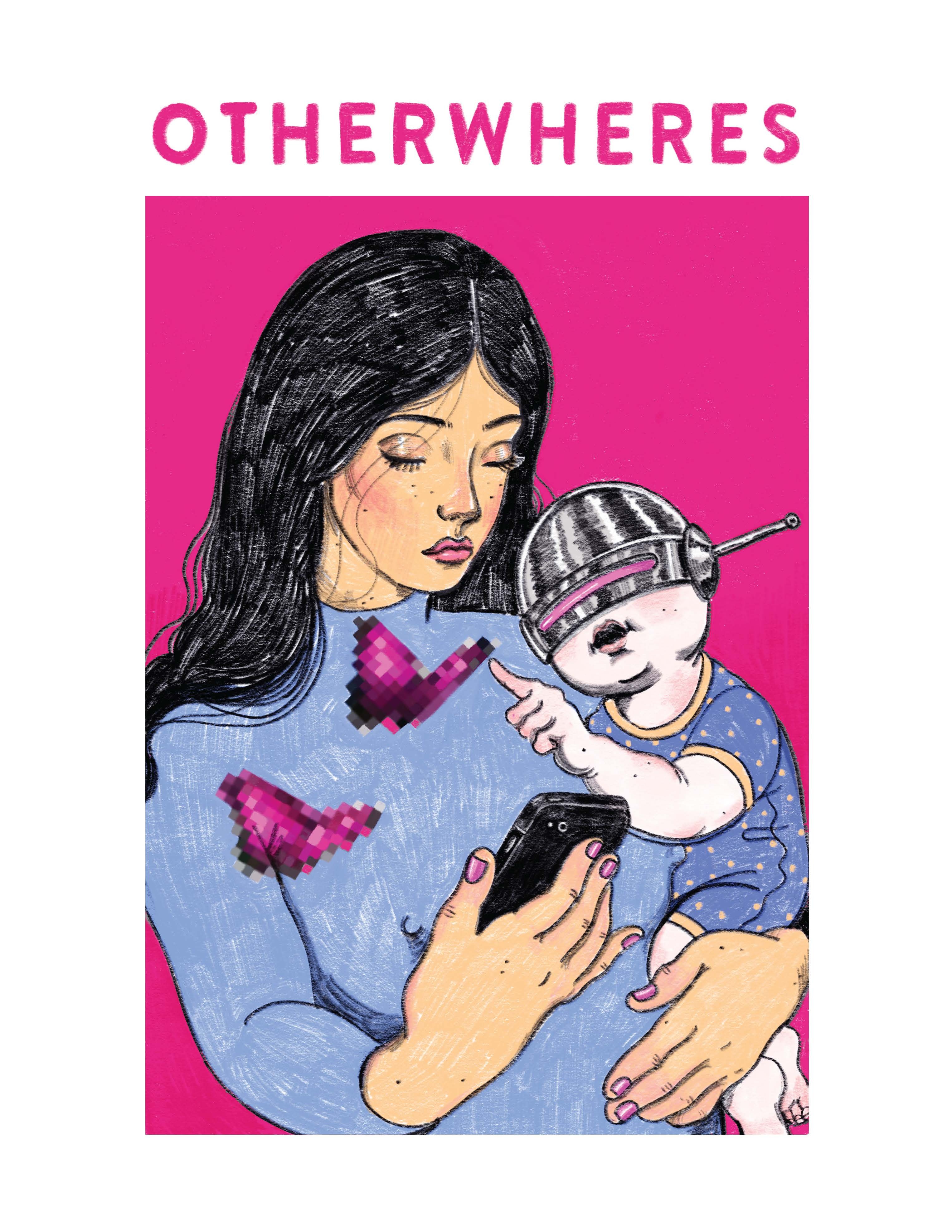 When Joseph Bien-Kahn was a college student, he received a creative writing assignment that has stuck with him years later. His teacher handed out a few opening lines to novels and asked the students to pick one as their own opening line to a short story.
"He told us the first line was always the hardest," Bien-Kahn said. "What was fascinating most of all was all the stories were different. They all went in completely different directions."
Bien-Kahn applied that lesson to his literary and art magazine's newest issue,
Otherwheres V: Artificial Inspiration
— with an appropriately Bay Area twist. Web editor Aaron Strick found an open source sentence-building tool, so the pair put all of the poetry, first-person stories, and
other writing from the first four Otherwheres editions
into a database, and the algorithm spit out "an absolutely amazing, bizarre, magical collection of sentences," Bien-Kahn said. A few examples: "I think you grow stale and I am a backpack," "His face loosely stitched over his huge plantation homes," and "But something had raspberry bushes in my tongue."
The magazine team — editor Bien-Kahn, co-founder Aaron Kingon, web editor Strick, and design editor Toby Silverman — picked two sentences ("The Sisters are Dubious" and "You have found a thousand year passed by the ceremony") and found six writers to pen a short story using them as the opening line. They also gave six photographers different robo-excerpts to use as captions for an image.
Contributors include Lexi Pandell, who has written for
Wired
,
The Atlantic
, and
Playboy
; Megan Molteni of
Wired
; Nastia Voynovskaya, KQED's music and books editor and former
Express
writer; and Ismail Muhammad of
Zyzzyva
,
The Millions
, and
LA Review of Books
. Given the theme and technology behind the issue, it makes sense that some of the pieces lean dystopian and futurist, but others remain rooted in personal stories. "They still feel lived in and have that truth to them," Bien-Kahn said.
The hefty, beautifully designed magazines are printed at Autumn Press in Berkeley and will be for sale at the release party at 9 p.m.
Friday, June 22, at Starline Social Club
(2236 Martin Luther King Jr. Way, Oakland). With no cover to attend, folks can enjoy live readings followed by a dance party with Voynovskaya and Will Bundy of Wine & Bowties spinning hip-hop and R&B.
Editor's Note: An earlier version of this story misidentified Aaron Kingon as the web editor. In fact, Aaron Strick is the web editor.