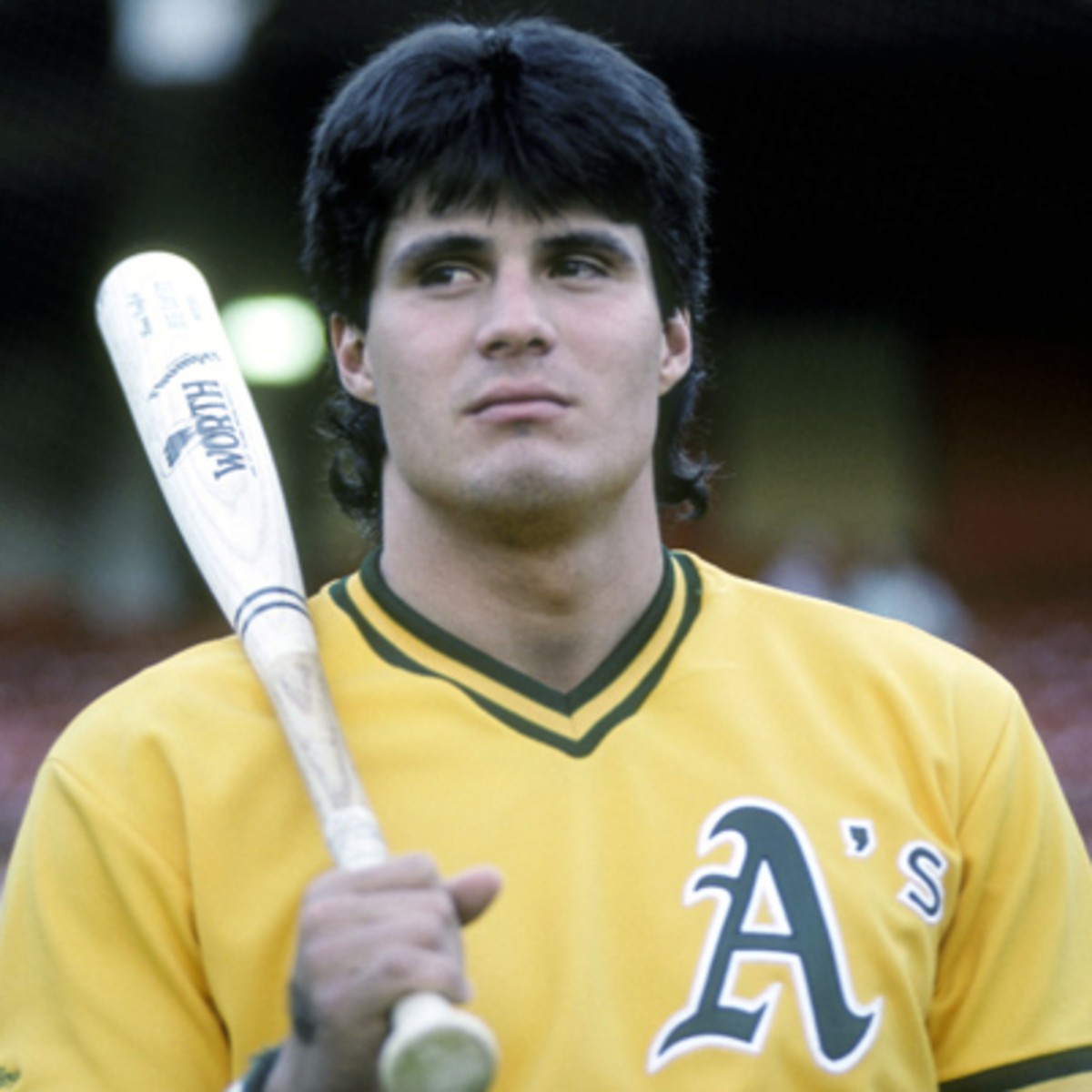 Oakland A's history offers a little bit of something for everybody: Four World Series titles amid 18 playoff appearances and a lot of star players, colorful characters, and wild, amazing moments — all tucked into 50 seasons at the Oakland-Alameda County Coliseum. There've been so many great memories, in fact, we've split the top ones into three parts.
Part One
kicked off the countdown by looking at numbers 50 through 34.
Below is Part Two, which counts down from No. 33 to No. 16:
33 — Jose Canseco starts the 40-40 Club in 1988
: A Jose Canseco home run was a thing of beauty. Sometimes, they soared and floated, like an Oakland shoreline seagull, before landing in the adoring arms of the Coliseum bleacher bums. Sometimes, they were violent rockets like the grand slam that dented the center-field camera in Game 1 of the 1988 World Series; or the 1989 ALCS blast that seemed to still be rising when it crashed into the top deck in Toronto's Skydome. Canseco's homers often wowed fans with their power, ascending majestically before falling quickly — much like his uneven career — to earth with a thud.
It's difficult to describe for younger generations just how big of a superstar Canseco once was. Here's how big: Canseco's midseason trade from the A's 26 years ago made front-page national news, including a critical guest column in the old afternoon
San Francisco Examiner
by Joe Eszterhas, a big-time Hollywood screenwriter (
Flashdance
and
Basic Instinct
) and a die-hard A's fan living in Marin County.
Today, Canseco is an oft-derided punchline best known for admitting to longtime steroid use and posting goofy, occasionally offensive tweets. But 30 years ago, the muscular slugger was a baseball God. He had his best season in 1988, when he became MLB's first player ever to hit 40 home runs and steal 40 bases in the same season. Between 1986, when he was named American League's Rookie of the Year, and 1992, when he was banished to the Texas Rangers, Canseco was MLB's most charismatic and controversial star and seemed destined for the Hall of Fame.
But just like the Greek gods, he was flawed. The former A's outfielder, unfortunately, had run-ins with the media and brushes with the law. He nabbed speeding tickets and gun-related arrests almost as quickly as he blasted homers. That is, when he wasn't being photographed leaving Madonna's Manhattan home in the wee hours of the morning (true story).
In many ways, he represented the best and worst memories of the A's in the Haas family era. One of his best moments came in Milwaukee on Sept. 23, 1988. That night, he went 3 for 5, raised his average to .308, hit his 41st homer and stole his 39th and 40th bases of the year. He earned those gaudy, history-making numbers on the way to being voted 1988 American League MVP.
32 — Charlie-O the Mule & Harvey the Rabbit
: These two animals — one fictional, one real — were characters sprung from the fertile imagination of A's owner Charlie Finley. While the A's were still in Kansas City during the 1960s, Finley introduced Harvey the Rabbit, a mechanical ball boy that popped up from the ground behind home plate to give baseballs to umpires during a game. Then in 1965, Finley added Charlie-O the mule to the A's experience. Missouri Gov. Warren Hearnes had given the mule to Finley, who named the animal after himself and made Charlie-O a fixture at home games. Finley brought both Charlie-O and Harvey with him when he moved the A's to Oakland in 1968. Harvey eventually stopped popping out of the Oakland Coliseum ground. Charlie-O stuck around longer, meanwhile, until he died of natural causes in 1976.
31 — Jason Giambi wins MVP in 2000
: Another wildly popular A's player who had an incredible — albeit steroid-fueled — career with the Green and Gold. Giambi was a tattooed, motorcycle-riding, goatee-sporting muscleman who lived in the Hayward hills; he looked exactly like any East Bay weightlifter you might run into at the gym. He was genuinely funny and gregarious, known for offering sportswriters a drink and quip — sometimes in the same breath. He also could flat-out hit. My favorite Giambi highlight came a year after his MVP season, when he swatted a walk-off homer against the hated Yankees in 2001. The sold-out Oakland Coliseum (no tarps back then) erupted in bedlam, prompting the late A's announcer Bill King to proclaim Giambi, "The Man — in capital letters!"
30 — Moneyball takes the world by storm
: Berkeley author Michael Lewis created a best-selling book out of the 2002 Oakland A's. He depicted team GM Billy Beane as a free-thinking iconoclast who made the A's an unlikely winner by rebelling against baseball's outdated methods for evaluating talent. By overhyping Beane and his journey from failed prospect to successful executive, did the book unfairly minimize the roles that several A's coaches and front office employees — including Sandy Alderson, Grady Fuson, and manager Art Howe — played in the franchise's success? You bet. But it became a sports-and-business bible, anyway, mostly because it did what Lewis' books do best: take an arcane topic — in this case, the role of analytics in evaluating baseball players' abilities — and explain it in a simple, entertaining, and readable way. The 2003 best-seller became a hit 2011 movie starring Brad Pitt, Jonah Hill, Philip Seymour Hoffman, and, my favorite character in the film, the Oakland Coliseum. That Gloria Swanson of ballparks was more than ready for its Hollywood close-up.
29 — A's draw nearly 3 million fans in 1990
: The A's drew 2.9 million fans to the Oakland Coliseum in 1990, the height of the Haas family era. The New York Yankees failed to match that single-season figure in the franchise's entire existence until the 1998 season, nearly a decade after Oakland first achieved it. In fact, the A's outdrew the Giants 17 seasons to 8 from 1968-1992 — the first 25 years both teams shared the Bay Area market. Since then, the Giants changed owners, built a waterfront ballpark, began drawing sellout crowds, and won championships. Oakland, given its strong track record, could enjoy the same transformation San Francisco has enjoyed once it too gets its own new ballpark.
28 — A's win Game 1 of the 2003 ALDS
: In a tense, almost operatic playoff game filled with more twist and turns than an Agatha Christie novel, A's catcher Ramon Hernandez ended the whole surreal night with that rarity of baseball rarities: a walk-off bunt with two outs in the 12th inning. The A's won 5-4 in front of 50,606 exhausted but delirious fans at the Coliseum.
27 — Catfish Hunter throws perfect game in 1968
: The A's had been in Oakland for less than a month when 22-year-old phenom, Jim "Catfish" Hunter, provided the Coliseum its first unforgettable baseball highlight. It would not be the last. On May 8, 1968, Catfish recorded 11 strikeouts while retiring all 27 batters he faced. Even more, he did it against a powerful Minnesota Twins lineup featuring multiple Hall of Famers such as Rod Carew and Harmon Killebrew. Amazingly, Catfish also was the game's leading hitter (in those pre-designated hitter years), going 3 for 4 with three RBIs. On a team that soon would highlight stars like Reggie and Vida, the first A's legend to become recognizable solely by his first name was a baby-faced Carolina hurler known as Catfish.
26 — Seven Athletics go to 2014 All-Star Game
: In retrospect, this might be the most bittersweet moment in Oakland baseball history. It's like watching the first two hours of the movie
Titanic
without knowing the iceberg is going to appear. The good news? In mid-July, A's fans were in baseball bliss. They had MLB's best record, 59-36, and seven of their players were selected as All Stars: catcher Derek Norris, first baseman Brandon Moss, reliever Sean Doolittle, starter Scott Kazmir, outfielder Yoenis Cespedes, third baseman Josh Donaldson, and newly acquired pitcher Jeff Samardzija, who technically was chosen to represent his former National League team, the Chicago Cubs. Cespedes put on a fun, eye-catching power display and won the Home Run Derby the day before the All-Star Game at Target Field in Minneapolis. About two weeks later, Billy Beane traded Cespedes to Boston for Jon Lester. I'll stop there. Let's move on …
25 — A's win the AL West in 1971
: It was the beginning of a dynasty. But they still had some kinks to work out. This team was led by superstar Vida Blue, whose rise that summer was so meteoric, President Richard Nixon invited Blue and the rest of the A's for a White House visit. That year's team also featured players like Rick Monday, Chuck Dobson, Dave Duncan, and a little-used infielder named Tony La Russa. Each was a solid player. But they would eventually suffer injury or be traded away to make room for the star Oakland players who were about to forge MLB's only non-Yankees dynasty. The 1971 A's got rolled in the ALCS by the mighty Baltimore Orioles, whose stellar pitching staff swept Oakland in three games. But this A's team, led by Hall of Fame manager Dick Williams, deserves to be remembered. They won 101 regular season games and captured the first of five AL West divisional titles, from 1971-75.
24 — Rickey Henderson breaks single-season stolen-base record in 1982
: MLB's greatest leadoff hitter and future stolen-base king achieved his first major milestone when he was just 23. In 1982, Billy Martin's last year as A's manager, Rickey stole 130 bases. That demolished the single-season record of 118 bases, previously held by Hall of Famer Lou Brock. Henderson, who grew up in Oakland and graduated from Oakland Tech High School, would go on to shatter other records and become a Hall of Famer himself.
23 — Rollie Fingers named 1974 World Series MVP
: The greatest relief pitcher in MLB history was never better than in the 1974 World Series, when he appeared in all four A's victories over a span of just six days. The workhorse right-hander pitched a total of 9 innings in the 5-game series, winning Game 1 on 4-1/3 innings work and earning saves in each the series' final three games. Fingers, forever recognized for his handlebar mustache, pitched two shutout innings to close out Game 5 and capture another World Series title for the A's.
22 — Sean Manaea tosses no-hitter in 2018
: The young A's hurler tossed the franchise's 12th no-hitter in one of the team's most impressive performances in recent memory. Manaea took the hill on April 21 and shut down the Boston Red Sox, then baseball's hottest-hitting team. His masterful 108-pitch shutout is a sign of the A's' bright future, as the franchise is brimming with young talent like Manaea, Frankie Montas, Matt Olson, and Matt Chapman. After a three-year playoff drought, the A's appear to be just a key player or two away from making one of their patented multiyear playoff runs. One can dream, anyway.
21 — Dick Green's gold glove in the 1974 World Series
: With diving stops and nimble glove work, the A's' aging second baseman thwarted many a Dodgers rally during the 1974 World Series. With his stalwart defense, Green was a human highlight reel that propelled the A's to their third consecutive championship.
20 — A's win 20 consecutive games in 2002
: Those record-setting three weeks in the second half of the 2002 season is the centerpiece of the Billy Beane Era, featuring A's stars of yesteryear like Tim Hudson, Barry Zito, Miguel Tejada, Mark Mulder, Billy Koch, and Ramon Hernandez. But first baseman Scott Hatteberg will always get top billing. His walk-off home run to win the streak's 20th game was so unforgettably stunning, it served as the climax for the film version of
Moneyball
. The A's in that game blew an 11-0 lead to the Kansas City Royals, but still won 12-11 on Hatteberg's blast. The entire streak was best described by the late Bill King moments after Hatteberg rounded the bases: "Crazy! Just plain crazy!"
19 — A's win the AL West in 1975
: They lost Catfish Hunter to free agency, Dick Green to retirement, and Blue Moon Odom to injury, but the Oakland A's kept rolling. They captured the AL West for the fifth consecutive season, and their 98-64 record was actually eight wins better than their World Series winner from the previous year. The A's were rewarded with seven All-Stars at the Midsummer Classic in Milwaukee. The Oakland All-Stars included Reggie Jackson, Joe Rudi, Campy Campaneris, Gene Tenace, and pitcher Vida Blue in the starting lineup, with reliever Rollie Fingers and outfielder Claudell Washington as reserves. The A's dynasty ended in October, however, when they were swept by the Boston Red Sox.
18 — Birth of "The Big 3" in 2000
: The summer of 2000 was an especially magical time in Oakland. Led by manager Art Howe, the A's ended a seven-year playoff drought after chasing and catching the Seattle Mariners on the season's final weekend. They won the AL West on the last day of the season, when young ace Tim Hudson won his 20th game. Hudson, in his first full season in MLB, joined rookies Mark Mulder and Barry Zito in becoming franchise cornerstones. Together, the talented pitching trio became known as "The Big 3," as they led Oakland to the playoffs for four consecutive seasons, from 2000-2003.
17 — Charlie Finley discovers MC Hammer
: Charlie Finley, the mercurial A's owner, discovered MC Hammer, when he was an 11-year-old East Oakland kid known as Stanley Burrell. Stanley was dancing in the Oakland Coliseum parking lot in 1973, when Finley noticed him, took an immediate liking, and hired him as a batboy. He eventually promoted Stanley to "vice president," whose duties included taking phone calls from Finley during games and giving the owner a play-by-play account. (This was long before the days of ESPN and MLB Network, let alone streaming services.) Some A's players thought Stanley looked like Hank Aaron, so he was given Aaron's nickname: Hammer. When Stanley forged a rap career in the 1980s, with money borrowed from former A's players, he rechristened himself, "MC Hammer." He then became one of the best-selling hip-hop acts of all time.
16 — A's win 1990 American League Championship
: The A's under Tony La Russa were a veritable win factory, dispensing opponents with robot-like efficiency. This was especially true for most of 1990, when the Green and Gold won 103 games and their third consecutive AL West divisional title. The A's then swept the Boston Red Sox, holding them to a total of four runs in four games. However, the series that will always be remembered for Game 4, when Boston ace Roger Clemens became unglued and got ejected. Clemens was angry that the A's had scorched him with three early runs and he imploded, arguing with home plate umpire Terry Cooney, who kicked the hot-headed hurler out of the game. A's pitcher Dave Stewart, who grew up in Oakland, was 8-0 lifetime against Clemens. Stewart won Game 4 and was named series MVP. Oakland advanced to the 1990 World Series, which they lost to the Reds. The A's have not since returned to the Fall Classic.
*****************************
Next up will be the third and final installment, which will list great A's memories No. 15 through No. 1. In the meantime, feel free to share your favorite Oakland A's players and moments in the comments section below.
Chris De Benedetti, a co-founding member of Baseball Oakland, writes a regular sports column for the
Express.