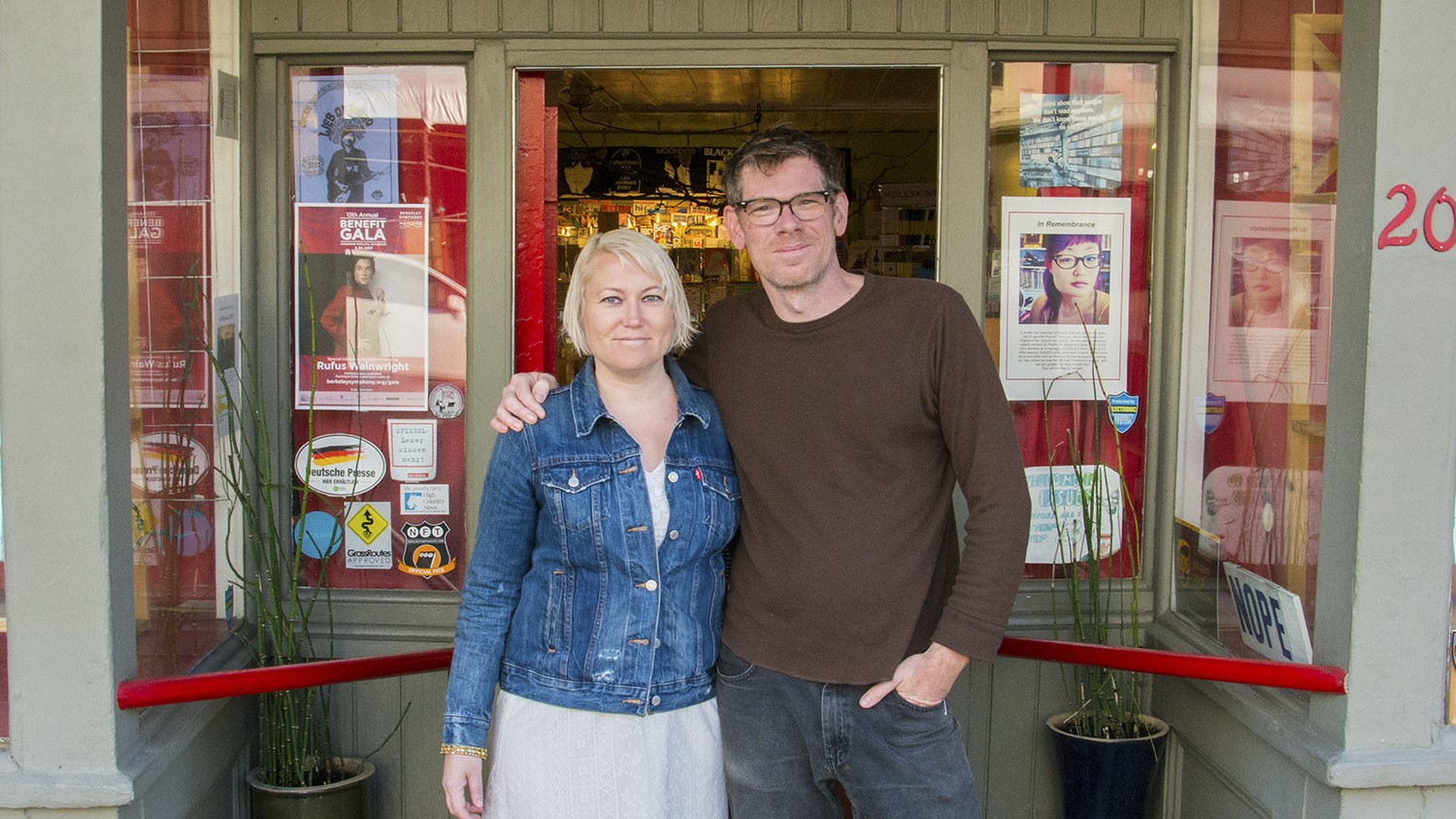 Nearly eleven years to the month after opening in a cozy storefront near Piedmont Avenue, magazine and bookshop ISSUES is relocating to nearby MacArthur Annex in what owner-operators Joe Colley and Noella Teele called a needed "shock to the system."
ISSUES, known for its exhaustive catalog and inviting atmosphere, will reopen July 1 in a shipping container with approximately half of its current space and a more focused selection. They're tentatively planning to nix daily newspapers, and to narrow their hours to noon to 7 p.m. (Currently, the shop is open from 9 a.m. to 8 p.m. most days.) Teele and Colley said their new stocking mantra is, "Nothing you can find in a grocery store," describing the new shop as one wall of books, one wall of magazines.
The news, announced recently with a crowdfunding campaign to cover moving costs, prompted regulars to speculate that ISSUES was priced out, but the owner-operators cited upheaval in the magazine distribution business and personal burnout for their decision to relocate. They said the landlord actually offered to lower their rent in order to retain their business. "I was starting to feel a little cynical," Colley said. "Once it starts running itself, you lose some of the hunger. Something smaller is closer to our original idea."
It helps, though, that their rent will drop by nearly a third. ISSUES will join Contact Records in one of three adjacent, 270-square-foot storefronts on the 40th Street side of MacArthur Annex, a complex of 27 shipping containers marketed to "artists and entrepreneurs" that launched in 2016 and also includes a beer garden and cafe. "The space opening up, talking to Contact — that made the decision really fast," Colley said.
The crowdfunding campaign's $25,000 goal, met by approximately half at time of publication, will cover the construction of custom shelves and a counter, which Colley is building with a carpenter friend. Donors receive "perks" from more than 35 local businesses and artists, including original artworks by Janelle Hessig and Rich Jacobs, a record autographed by storied cartoonist Daniel Clowes (a regular), and gift certificates to various eateries and shops — all testimony to ISSUES' close community ties.
In the past two years, three of ISSUES' six main magazine distributors went out of business, while a larger company acquired a fourth. Fewer competitors, Teele and Colley explained, mean higher wholesale rates, while the industry's instability has hurt their ability to maintain regular stock of ISSUES' more than 2,400 titles. Farley's East, similarly explaining its inconsistent magazine selection, earlier this year posted a frank note about "the traditional print magazine industry…teetering on the verge of collapse."
Teele and Colley said that, in the early days of ISSUES, big distributors used to scoff at their modest wholesale inquiries; eventually, the same ones started eagerly soliciting their business. "We thought our order with one distributor was small," Teele said. "When they folded we realized we were their biggest customer." She recalled one evening sending an email to a regular distributor about their next shipment. "The next morning they responded that it wasn't going to be filled — overnight they'd gone out of business."
To Teele and Colley, print's imminent collapse is just the same old story.
Teele, 41, grew up reading periodicals such as Sassy, which appealed to young women interested in indie rock and subculture. Colley, 46, was likewise reared on independent publishing, reading fanzines about fanzines such as Factsheet Five while working in a department fondly called "mag hell" at Tower Records' long-gone distribution center in Sacramento. They met in the early 2000s, soon moving into their current home near Piedmont Avenue. In 2007, the first-time business owners launched ISSUES down the street.
It was a time of economic recession, and already the outlook for physical media seemed dark. But ISSUES ran against the print retailer trend of niche selection and clinical minimalism, harking instead to an era of publishing abundance. The wide-ranging selection caters to any visitor, featuring scholarly quarterlies and local fanzines, tabloids and European imports. The owner-operators' personal interests color the books selection, which skews toward left-field memoirs and chronicles of underground art and culture.
At MacArthur Annex, their aim is the same, only smaller. "There's magazines we haven't sold for years," said Colley. "I love having them, but that's what we're reevaluating." With an estimated 700 to 1,000 titles stocked annually, Colley and Teele said they'll still boast the largest magazine selection in Oakland.
Contact co-owner Andrew Kerwin thinks ISSUES will complement Contact and MacArthur Annex well, and he hopes it means turnover in the neighboring storefronts will slow: previously ISSUES' unit housed a second location for downtown bookseller E.M. Wolfman, which replaced handmade goods retailer Foggy Notion. La Loba, a clothing boutique, will soon leave the third unit. "ISSUES fills that literary void," Kerwin said. "I'd like to see something that serves the community, maybe vintage, but not high end, come into the third spot."
With the proximity to MacArthur BART and neighbors such as Contact, Colley and Teele also hope to tap a new audience. "A lot of our core customers from the beginning aren't here anymore," said Teele. "They've moved away."
"We're basically unemployable at this point," Colley added, "so we gotta keep going."