In the four years since it opened, the Oasis Food Market (3045 Telegraph Ave., Oakland) has, true to its name, functioned as a home away from home for the area's Middle Eastern community — and anyone else who has an abiding love for lamb shawarma, baklava, and hard-to-find Middle Eastern spices sold in bulk.

Now, the folks who own the popular cafe/grocery store/halal butcher shop are about to open a second restaurant in Oakland, this time in the Adams Point neighborhood. Oasis Lounge (344 Grand Ave.) will be located in the same building as the Lake Merritt Supermarket convenience store, which is also owned by Oasis Food Market. And while the original Oasis is mostly known as an ethnic food market that happens to have an excellent takeout counter, Oasis Lounge will be a full-service sit-down restaurant and hookah lounge — a place where customers can have a nice dinner and, if they feel so inclined, indulge in the smoking of vaporized flavored tobacco (or shisha).

[jump]
baklava
.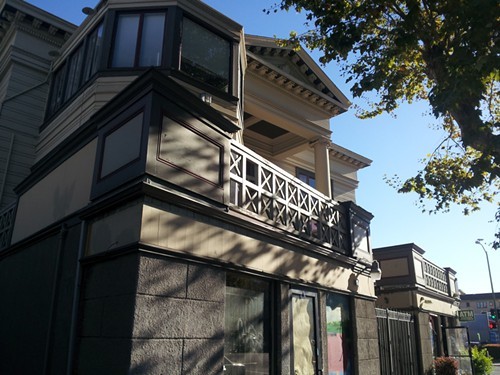 Exterior of the Oasis Lounge space.
Sharif estimated that Oasis Lounge will open by mid-October. That seems awfully ambitious — when I walked past the space last week, it didn't look much like a restaurant yet, at least from the outside. But Sharif said the project benefits from not requiring any major construction. The tentative hours will be from 11 a.m. to midnight daily.