These days it seems like every couple of weeks there's a new contender in the increasingly competitive dinner-delivery-service market in the Bay Area, as fledgling startups vie for the hearts, minds, and pocketbooks of busy office workers. There is, for instance, a company that promises to deliver a hot meal to your door less than ten minutes after you've placed the order on your smartphone. Other companies function essentially as middlemen, allowing customers to place takeout orders from a carefully curated list of restaurants, and then charge a flat rate to deliver the goods.
[jump]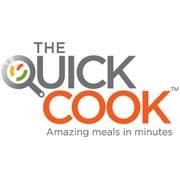 Touting itself as "your solution to the weekday dinner dash," The Quick Cook, which launched in downtown Oakland last week, takes a slightly different approach. After customers order their meals at TheQuickCook.com, the company will deliver the food straight to their office building, where it will sit inside a refrigerated delivery kiosk — something like a vending machine, except each customer will have his or her own personal digital lock box inside — until the customer picks it up. Each microwave-ready meal is cooked fresh that same day, using mostly local and organic ingredients, at a commercial kitchen in West Berkeley (the recently launched Berkeley Kitchens). And because the meals are delivered fully cooked and refrigerated, The Quick Cook is able to avoid charging sales tax — presumably because the foods are treated as groceries rather than restaurant purchases. Recent offerings include grilled glazed salmon with apricot couscous and a crusted "shells 'n cheese" dish that was served with steamed broccoli.
There are potential drawbacks to the service. For starters, Quick Cook meals are currently only available if your office has one of those proprietary delivery kiosks. Right now, that's limited to two buildings in downtown Oakland (2101 Webster St. and 2100 Franklin St.), and in general it appears to be the kind of thing that makes more sense for a big, multi-story office building that houses many different companies. Of course, The Quick Cook's business model seems predicated on adding additional kiosks, and eventually the company will offer delivery to selected kiosk-less buildings for an additional fee.
More to the point, with meals starting at about $20 each (for a two-serving portion, which is the smallest available size), you're talking about prices comparable to what you'd pay to eat at a mid-range sit-down restaurant. That's a lot for a meal that you heat in the microwave — especially since it's unclear from the website whether the two-serving portion is really enough food to serve as a complete dinner for two people.
What the Fork reached out to The Quick Cook hoping to obtain additional information, but we were told, via email, that the company policy is "to not grant interviews regarding [its] business practices."