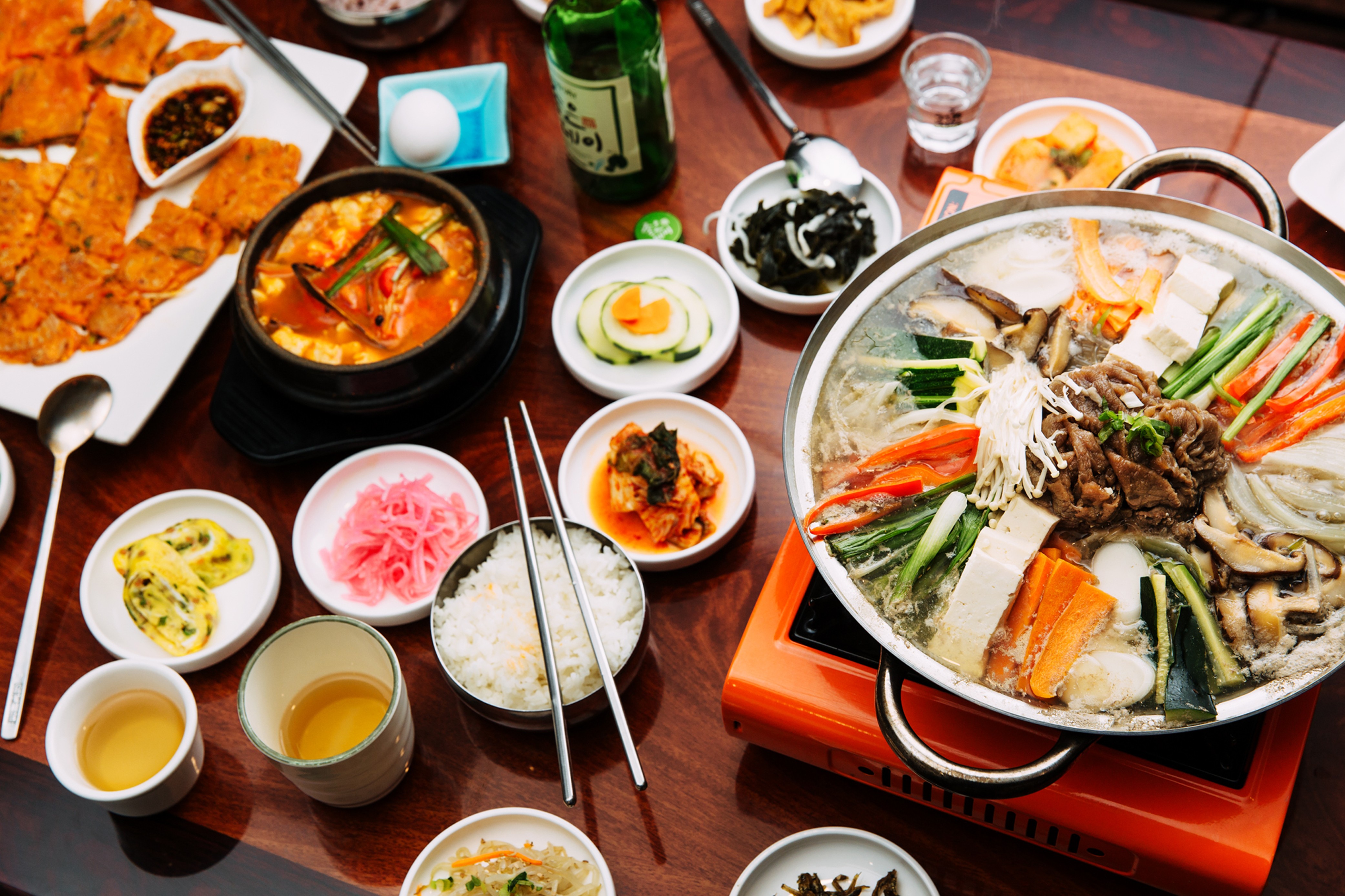 Daol Tofu is a decidedly un-hipster new Korean restaurant in Temescal's row of trendy eats on Telegraph Avenue. While "tofu" is in its name, it's not strictly a
soondubu
(soft tofu stew) place, unlike Pyeong Chang Tofu House a block away. Daol serves everything from kimchi fried rice and ramen to specialty dishes like
bo sam
and a nice-sized shareable "casserole" hot pot, too.
Daol is run by chef/owner Sunny Bae, a Korean-American woman who is friendly and attentive. Eating there is like having an Asian auntie cook for you, meaning there's a lot of love and care. The restaurant is in the former Casserole House spot, a Korean restaurant that shuttered when the owner, who was in her seventies, retired. You'll be greeted by friendly staff — and an air purifier set in the middle of the restaurant, lest you leave smelling like
kalbi.

Daol means "all things bring luck," according to Bae, and, as luck would have it, she was able to open the restaurant fairly quickly. When Casserole House closed in January, Bae turned the spot over and was open a week later in February. "I noticed that, in Berkeley, students really liked the bibimbap," Bae said through a translator, but her menu is vast, and the chef is somehow able to do it all. She previously co-owned and ran Seoul Tofu in Fremont, which remains open, and also worked as a chef at Anzu in Berkeley.
Complimentary corn and barley tea is served with every meal, alongside
banchan
, the small side dishes that open up the palate, from kimchi and spicy pickled daikon to fried Korean fish cake and some version of a potato salad. As my Korean-American friend noted, one can usually tell if a restaurant is good by their banchan, and Daol Tofu's doesn't disappoint. With a dozen side dishes, it's at once a feast for the palate and for the eyes.
The seafood soondubu is an incredibly balanced dish. The server gave us an egg, which we immediately cracked into the small pot. The stew contained the right amount of shellfish — clams, mussels, and shrimp with the shell on — adding a chewy texture to offset the melt-in-your-mouth tofu. It was lightly salted, allowing the natural seafood flavors to shine, yet not too fishy. A "healthy" rice, which looked like a mix of white and purple, combined with the stew.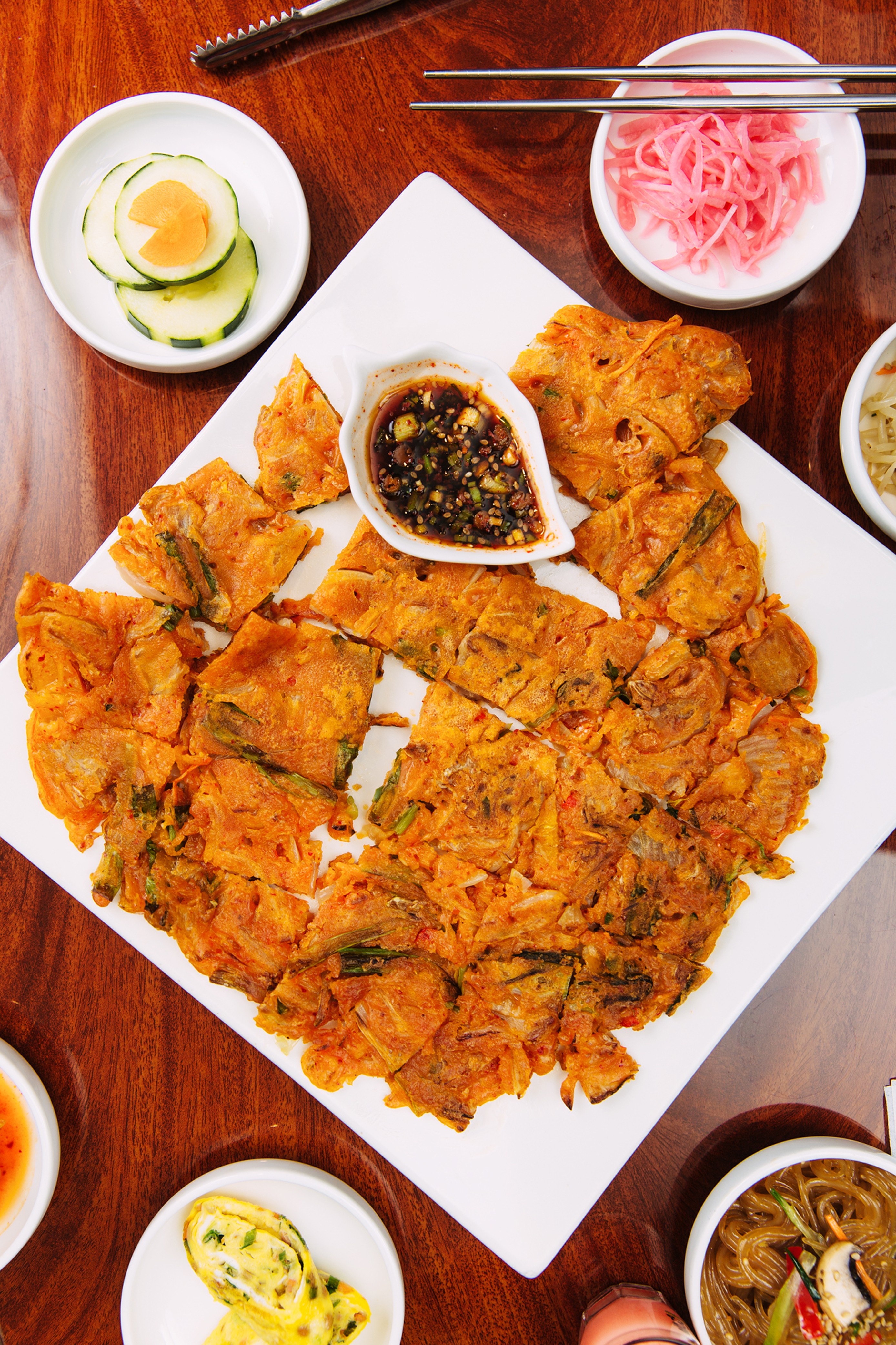 Daol also serves a variety of savory pancakes, including a kimchi pancake with soy sauce garlic dipping sauce. The orange-red hue from the kimchi belied its subtle spiciness, mild enough for my six-year-old to enjoy (between sips of water). One of the most interesting dishes is the
bu de jungol
kimchi and ham sausage casserole. I primarily chose it because it contains ramen, but the Spam, cut-up sausages, and American cheese speaks to the American military's influence on Korean cuisine. "During and after the Korean War, there were many leftovers from the U.S. military," explained manager Minki Bang. "People were so poor, so they mixed together the Spam and sausages to make a soup out of it."
Since, the "military stew" has become a part of Korean food culture, as Bang told it. It's something people eat while drinking soju.
The casseroles come in a large, stainless-steel pot atop a hot-pot burner. Chef and owner Bae came by to light ours for us, and later visited to add more clear soup broth. The casserole contains a vast amount of kimchi, sliced sausages, Spam, oval-shaped rice cake, the aforementioned instant noodles, and American sliced cheese melted on top. The cheese flavor was infused throughout each bite. I flashed back to camping in Yosemite with friends in high school, when one of our more self-sufficient pals made a delicious instant ramen. My friend likened the dish to cafeteria food that you might crave, like a chili dog, or a legit hangover cure.
Since we were two small Asian women eating what is the largest — and most expensive — dish on the menu, we had leftovers. We took what we could in to-go boxes, leaving stray pieces of Spam and kimchi. Just before leaving, Bae eyed our leftover meat and kimchi, and asked if we needed more containers. I meekly replied that we were set. In my head, she was chiding me for leaving food — and disrespecting her cooking — so I immediately felt bad. Call it the Asian auntie guilt trip, especially given the history of the dish, conceived at a time when food was scarce.
[pullquote-1]As far as spiciness, there were some inconsistencies with some of the dishes, ranging from mild to extremely hot. The
bibim naeng myeon
— cold noodles with housemade spicy sauce — for example, was fiery. The casserole dish, as well, was hot, though we asked for mild. Then there was the perfectly balanced seafood soondubu. These are things that will probably be adjusted over time — I noticed Bae visiting each table to ask how the food was, and earnestly wanting to please each patron.
Daol Tofu is no frills, like eating in someone's tidy and clean dining room. There are the regular crowd-pleasing dishes like kalbi, plus a few adventurous ones to try, including a black goat casserole. Of all the dishes, I'm sure I'll be talking about the bu de jungol kimchi and ham-sausage casserole dish for years to come — and occasionally craving it late at night.  
Daol Tofu
4301 Telegraph Ave, Oakland
510-601-6001
M-Th, 11am-10pm; F-Su, 11am-11pm
Sample Menu
Bulgogi bibimbop … $12
Bu de Jungol Kimchi and Ham Sausage Casserole … $38
Dumpling ramen … $8
Kimchi pancake … $13
Beef short rib stew … $16