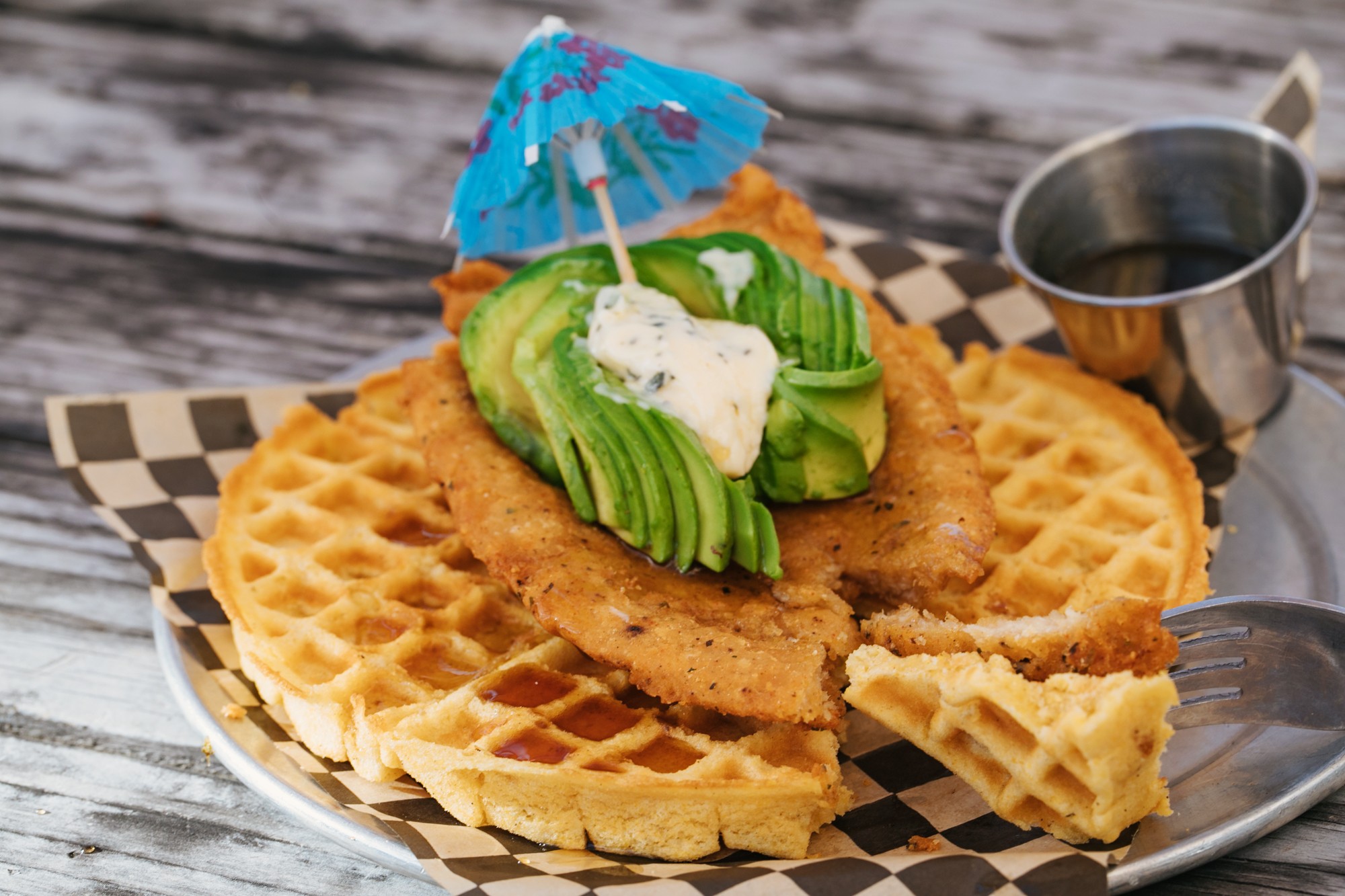 It's no secret that the Bay probably doesn't need any more beer gardens, let alone a beer garden-hybrid concept that piggybacks on yet another hot dining trend, of which veganism can now most certainly, if unexpectedly, be categorized. And yet
Hella Vegan Eats
, the year-old eatery tucked away on a sleepy lane connecting Oakland's two most prominent thoroughfares, Broadway and Telegraph Avenue, is an unequivocally welcome exception to such a rule.
In fact, the unpretentious restaurant is possibly the only place in the country that pulls off the collision of animal-free dining, automobile-culture worship, LGBTQ-plus safe space, and the ubiquitous craft beer.
Hella Vegan Eats is located inside a vintage car dealership, Classic Cars West, on 26th Street — which also doubles as a beer garden. If you visit, you might order a vegan
banh mi
taco plate and enjoy it with some suds while seated on a wooden picnic table just a few yards from a 1970s 220 SE Mercedes four-door sedan. What's more, Hella Vegan Eats also advertises itself as a safe space, complete with signs at the register urging patrons to care for Muslim, women, queer, trans, and people-of-color friends and neighbors. And, of course, its menu is entirely meat and dairy free. The cheeses and dressings are often made from cashew-nut bases, and the "bacon" on the "Champions of Breakfast" plate is actually a wheat gluten-based protein, slathered with a gently smoky maple sauce.
The eatery's neighbors may be the city's car-body shops of yore and trendy art-galleries of today, but the individuals who operate Hella Vegan Eats are, according to co-owner Silvi Esquivel, the self-proclaimed "freaks" of the city. "I feel like we're a radical business in many ways," is how Esquivel put it during a recent chat via phone.
[pullquote-1]The concept of Hella Vegan Eats dates back to the summer of 2009, when Silvi and partner/co-owner Tiff Esquivel hawked vegan tamales and artwork at the Art Murmur event — back before, Silvi says, the event was co-opted by gentrifiers. Anyway, their success prompted various food-service enterprises, from vegan-food festivals to food trucks, and culminated in Hella Vegan Eats' brick-and-mortar spot, which debuted early last year.
The restaurant is very much about supporting so-called "Old Oakland" counterculture and being a safe space. "We're super glad that we're able to employ trans people, as well as ourselves, and our freaky-deaky friends are able to live here," Silvi said. "We're able to keep that culture of what Oakland is and was."
Mercifully, there's no cruelty-free proselytizing and weighted-down messaging along with your safe-space vegan chicken and waffles. "We really don't care about trying to change people's minds. We don't share any weird vegan propaganda, or won't try to get you to join some weird thing," Silvi assured.
To that end, the fare at Hella Vegan is humble and unambitious. Silvi's childhood was in San Diego and Southern California — "a household that grew up on 29 cent hamburgers on a Tuesday" — and the ever-changing breakfast, lunch, and dinner menus at the restaurant speak to this upbringing.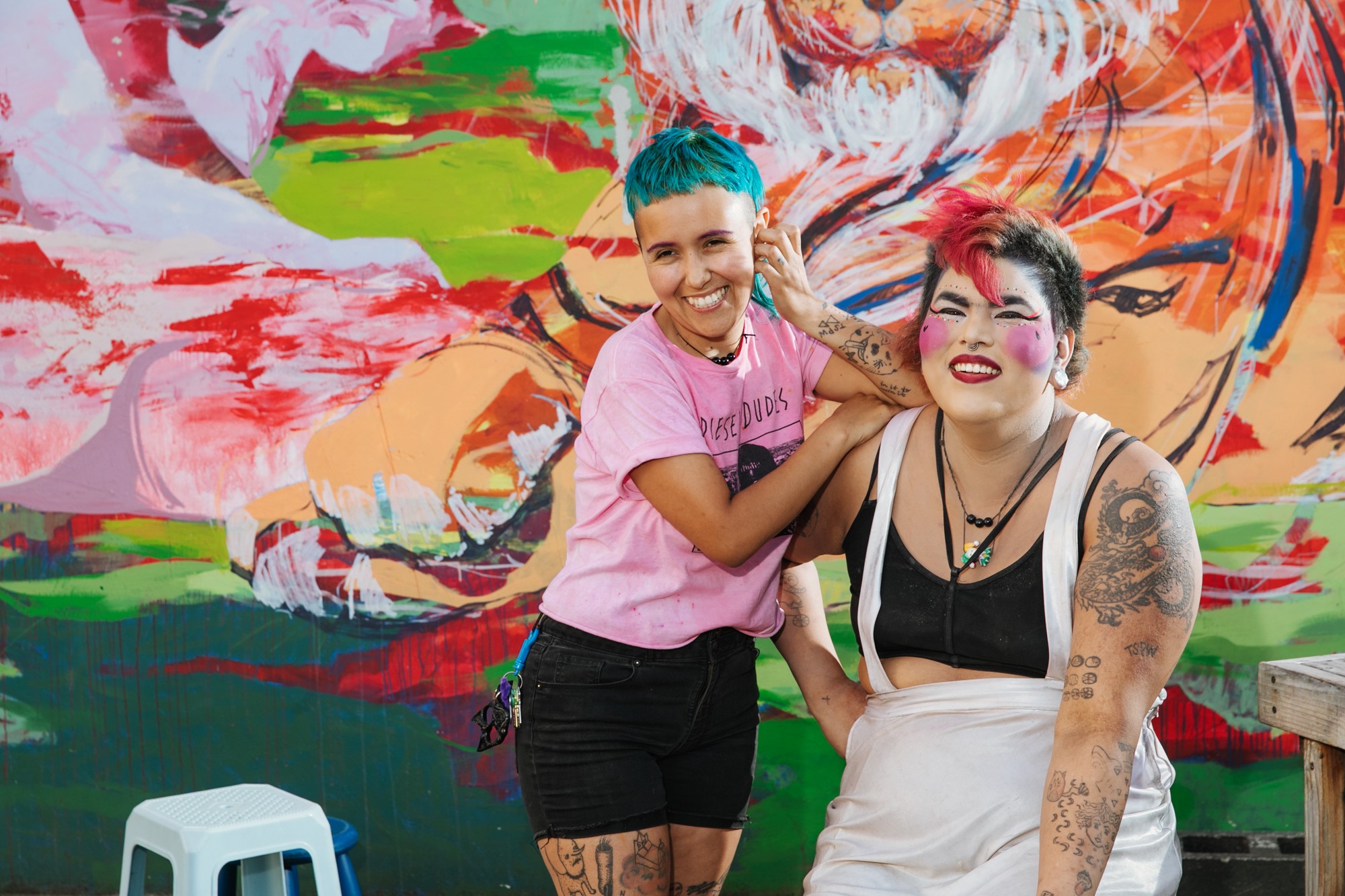 There is, for instance, the Hellafornia burrito, frequently on the lunch menu, which flies in the face of the standard Mission-style burrito: no beans, and stuffed with hand-cut French fries (perhaps over-filled), as per the San Diego way; then sauced-up with a cilantro-lime "cashew
crema
" and a "
ojo rojo
" hot sauce with a couple different types of peppers.
Silvi is unapologetic with her disapproval for the Mission-style burrito; "Burritos out here are just phony," Silvi said. The Hellafornia triumphs insofar as fulfilling a vegan's craving for the timeless oversized burrito. But its very much a starch bomb — dominated by carbs and a curious mishmash of brown sticky rice and regular brown rice — and not super thoughtful about how flavors work together. It falls short in comparison to other East Bay vegan Mexican fare, such as the glorious
al pastor
burrito at the Taqueria La Venganza pop-up.
Not that Silvi would care, as her culinary aspirations align more with the instant gratification of childhood eats. "I grew up on fast food, where everything is, like, immediately good, so that's where I think food should be," Silvi explained. "Our food is good for you, and the ingredients are made in house."
Hella Vegan Eats' many successes include the aforementioned "Champions of Breakfast" plate, which features a house-made vegan biscuit, unexpectedly fluffy and unlike so many hockey-puck, dairy-free contemporaries (Silvi says its all about the oil), and that is slathered with a gravy made out of vegetable purees and the week's leftover stocks (the gravy is constantly changing, too, a theme inside the kitchen). The side of "bacon" is devoid of crunch and inferior to that of, say, The Butcher's Son in Berkeley, yet it proffers its own charm, with a light smoke and fun barbecue tang. Ask for apricot hot sauce, for dipping the tiny, crunchy cubes of breakfast taters. As is par for the course at the restaurant, the dish is short on veggies, coming with only two orange wedges and a scoopful of a spicy tofu scramble — but bonus points for the pink cocktail umbrella sticking out of the biscuit.
Also good were the
chimichurri
verde
fries, which boasted a pleasant, tangy bite, and the bacon avocado burger, perhaps a bit too sweet, but a nice-enough rendition of the Western Bacon Double.
[pullquote-2]The vegan fried chicken harkens back to Silvi's upbringing in San Diego, at age 15, during an attempt to apply for a job at Kentucky Fried Chicken, this after previous stints at Burger King and McDonald's. "They just looked at me and, immediately, said, 'We're not hiring.'" Silvi recalled. "Now, I'm just trying to beat KFC constantly, and I think we do. It's basically taking the KFC recipe and turning it against them." And, indeed, the fried chicken — basically an unremarkable battered-and-fried soy patty — imparts a salty pop and chew that will scratch that KFC itch. My only suggestion might be to double-fry, at different temperatures, to give it a better crunch.
Service is inconsistent if a bit slow, so it's advised to order a beer or, during breakfast, bring a newspaper to read. The soundtrack blasting from the kitchen will vary from Steely Dan to rap, and everything is served on tin dishware, as if backcountry camping. Again, it's a charming, low-frills spot — vegan hangover food for the outsider contingent.
"We're the freaks, we're the artists and musicians, and we all do a million other things," Silvi said of the team. "It's great to see that there are people out here who want to eat vegan food, but we're just trying to keep it chill and keep it Oakland."
Rest assured, Nick Miller is not the
Express
' new restaurant reviewer.

Hella Vegan Eats

411 26th St, Oakland
(inside Classic Cars West)
HellaVeganEats.com
Hours: Wed-Sat 11am-10pm, Sun 11am-3pm
Sample Menu

Hellafornia Burrito … $10
Bacon Avocado Burger … $14
Banh Mi Tacos
…
$8
Pesto Chicken Mac
…
$14
Fried Chicken And Waffles
…
$12