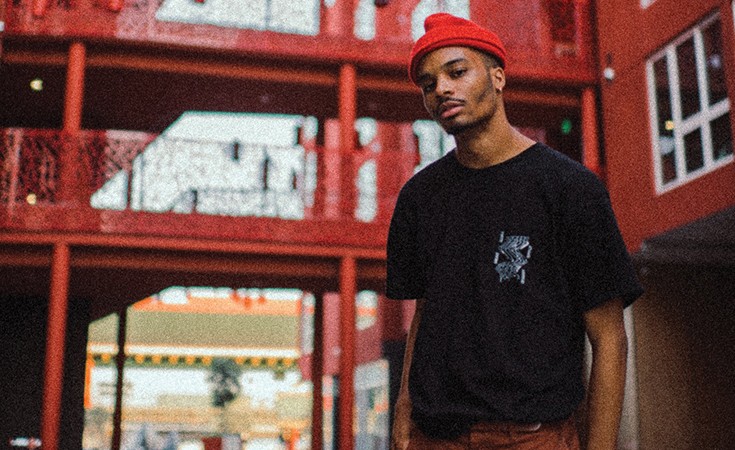 Caleon Fox is the whole package. The Oakland rapper-turned-YouTube sensation can write his own music, spit bars, and direct and edit videos, all while charming viewers with his comedic wit. "No Swag No Swag," Fox's most viral music video with more than 2 million views, contains all his trademarks: tiny Matrix-style sunglasses, a wig with blunt bangs, goofy dancing, and a few inexplicably random elements — an iguana perched on a car door, the lyric I watch anime with bae then peel potatoes for lunch. Gyrating under an Oakland freeway overpass with his homies, he ghost rides a whip and even purposely runs over a block of cheese. (Side note: Fox once wrote a screamo trap song with the lyrics, I hate cheese because it makes my stomach hurt.)
Each frame of "No Swag No Swag" is made for memery, but it's a joy to watch. And even when Fox is being funny, it's not hard to see the genuine talent lurking underneath. He's got the range to do more serious music, too — and he's starting to shift in that direction.
"I've always been somewhat of a goofy person," said Fox. "But it was never my intention to be an internet funny guy."
YouTube is a double-edged sword. On one hand, uploading a video can sometimes lead to overnight viral fame. On the other hand, once you blow up, it can be hard to distance yourself from the YouTuber label.
Music has always been Fox's first priority since he started writing his own songs at age 12, inspired by his DJ/producer uncle. He grew up in Oakland during the hyphy movement, but it wasn't really his style. It's hard to believe now, but Fox was a shy kid, and preferred to do his own thing.
"I wasn't gonna rap about the streets and my struggle, or girls and cars and money — that wasn't really me," said Fox. While others listened to Keak da Sneak and E-40, he preferred listening to hip-hop that was more "trippy and weird" like André 3000, T-Pain, OutKast, and The Neptunes.
Twelve was a ripe age for Fox. At the same time that he was getting his newborn musical juices flowing, he was also taking his first baby steps toward video production and editing. He recalls the first video he ever made: a montage of his beloved family dog after she passed away, which he pieced together on Windows Movie Maker in an attempt to cheer up his mother.
"When I showed it to my mom, she just burst out crying," said Fox. "That's what made me really want to start making videos. I was like, damn, if I can make this impact on people from a bunch of photos and videos from my Razr phone, I can only imagine what I could do."
Fox continues to edit and direct all his own videos, which look impressively professional these days. Inevitably, one of his videos eventually went viral, a riff on a meme called "Now I'm Mad." He saw the potential of YouTube as platform to promote his music, and decided to take advantage of it.

[embed-1]

Fox now works with Super Deluxe, a TBS-owned entertainment company known for its comedic shorts staring viral personalities such as Joanne the Scammer and Poppy. He's not trying to ditch the funny stuff any time soon — it's a crucial element of his personality — but he is steering toward a slightly more serious image. His newest song, "Semi-Cinematic," retains his signature sense of humor, but with a deeper message. He wrote it during a particularly tough time when he lost one of his friends in a shooting, and started getting frustrated with all the violence he saw around him.
"['Semi-Cinematic' is] basically saying, 'You guys are on that violent shit — like, fuck that, I'm gonna be on my creative shit,'" explained Fox. The song was also a message of self-love at a time when he needed to lift himself out of a negative headspace.
One of Fox's main mantras is "live healthy," a phrase he repeats in many of his songs and videos. Living healthy means more than just eating a salad, though. "To live healthy means taking care of yourself physically, emotionally, spiritually, and mentally. It's accepting who you are to the fullest extent," he said.
Fox ended up taking "Semi-Cinematic" and its accompanying music video offline due to copyright issues, but he's releasing a new version soon with his upcoming debut EP, If Only You Knew, dropping this summer. Fox insists the new music is totally different from what he's currently known for — viral songs like "No Swag No Swag" and "The Durag Song" — and that it's going to showcase that he "can really rap," he said. As he heads into uncharted territory, other people are starting to jive with his vision, too. Fox is scheduled to perform alongside SZA, Migos, and Brockhampton this weekend at Blurry Vision, the inaugural festival at Oakland's Middle Harbor Shoreline Park.
Fox is still relatively new to live shows — he only performed for the first time back in October — and he doesn't have a solid project out yet, so his invitation to the Blurry Vision lineup speaks volumes. He plans to ride the momentum he's gaining with the hope of eventually becoming as renowned for being multi-talented as superstar actor-director-producer-musician Donald Glover.
"I'm just gonna go crazy on music," said Fox. "This year and from here on out, you're going to see a lot of me."
Saturday, May 12, noon, $109 or $185 for two-day pass, Middle Harbor Shoreline Park, 2777 Middle Harbor Rd., Oakland, BlurryVisionFest.com