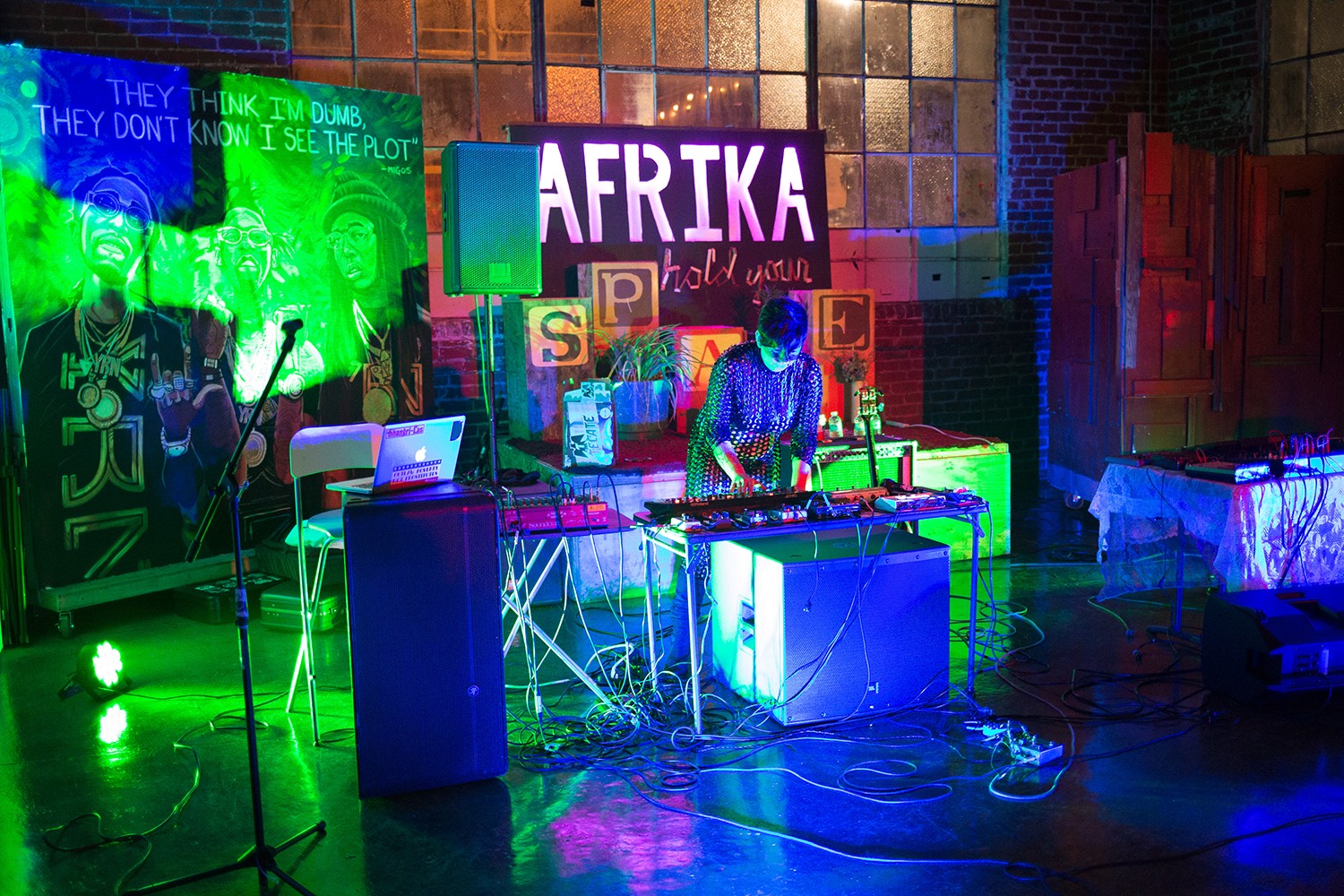 Akiko Sampson remembers sex work before the internet. It was difficult to screen prospective clients, and centralized resources were few. Rather than working independently, sex workers were more likely to link with exploitative managers. It was extremely dangerous. And, in light of recent legislation targeting online platforms used by sex workers, the 41-year-old musician says the trade was a lot like it is right now.
Sampson described her experience as a sex worker, between the ages of 17 and 21, before performing as Yama Uba last Friday in a West Oakland warehouse. The gig, featuring punk and electronic acts including reggaetón-inspired noise duo Las Sucias, benefitted Oakland-based sex worker resource Red Light Legal. It was prompted by the recent passage of the Fight Online Sex Trafficking Act (FOSTA) and the Stop Enabling Sex Traffickers Act (SESTA), a set of congressional bills that sex workers say undermines their safety. Sampson told the crowd, "I dedicate this set to the five sex workers I knew who died."
A common slogan in sex worker advocacy is, "Someone you know is a sex worker." If you're at all involved in underground music in Oakland, you likely know more than one.
The benefit, billed as "Let Us Survive," drew more than 100 attendees and raised more than $2,300 for Red Light Legal. People had their pictures taken holding a sign that read, "Sex workers rights are human rights." Raffle prizes included high-end vibrators, a vegan flog, and the self-help book Thriving in Sex Work. One table featured copies of the April edition of the Bay Area "bad date list," intended to warn sex workers about flaky or abusive clients.
"It's really queers and anarchists and sex workers and punks who fund this project — foundations won't touch us," said Kristina Dolgin, a sex worker and lawyer who founded Red Light Legal in 2014, in a brief speech between acts. "So thank you."
FOSTA, which Donald Trump signed into law in April, increases web platforms' liability for their users' actions. It erodes the so-called "safe harbor" rule, a part of the 1996 Communications Decency Act that shields web publishers from responsibility for users' speech and content, by making an exception for content related to sex work. An Electronic Frontier Foundation blog post called its passage a "dark day for the internet."
Though pitched as a way to help authorities disrupt sex trafficking, FOSTA doesn't distinguish between trafficking and consensual sex work. And high-profile websites are already running scared: Craigslist nixed its personals; Reddit removed several forums related to sex work; the sex worker social network Switter disappeared; and Twitter and Facebook updated their terms of use, the latter banning "sexual solicitation slang terms."
"We expect that a lot of online organizing, safety checking, and mutual support is going to disappear, leaving vulnerable folks even more vulnerable," wrote Dolgin in an email. She started Red Light Legal after the 2014 shutdown of Bay Area sex marketplace MyRedBook.com, which deprived many workers of income and stability overnight.
What's happening now, she said, is a larger-scale attack. "Those most impacted are those who were only marginally on the internet: people who advertised on no- or low-cost sites, the majority of whom are poor folks, people of color, and trans and queer folks."
"The internet has made sex work a lot safer," said Ida Belisle, 26, who organized Let Us Survive alongside Caitlin Enwright. Belisle, who works for San Francisco sex worker health clinic St. James Infirmary, said that she's already observed a "spike" in outdoor solicitation. "Screening tools, blacklists, registries of bad clients — all of that has granted sex workers a lot of protection and agency."
Belisle, who's also a visual artist and a DJ known as Sly Ida, said that artists in the Bay Area generally consider sex work a feminist issue. "As far as the music community, I have to say that organizing this benefit was hugely encouraging," she said. "A lot of performers went as far as voluntarily rejecting compensation."
As Yama Uba, Sampson stalked around the dance floor, uttering guttural growls atop turgid noise and slow-moving beats. Blue paint surrounded her eyes, and she wore a black, netted onesie. Sampson said that part of the reason she started the solo project (she also plays in post-punk outfit Ötzi) is to finally acknowledge her memories of sex work, which she kept secret for decades. "The rage and sadness involved in this music comes from remembering the violence we survived," she explained. "Or that we didn't survive.
"How many people in our scene are sex workers? A lot. More than we realize," she continued. "We're doing this benefit out of fear for our friends, wanting to protect them."

Editor's Note: An earlier version of this article erroneously stated that Kristina Dolgin's first name was Kristin.