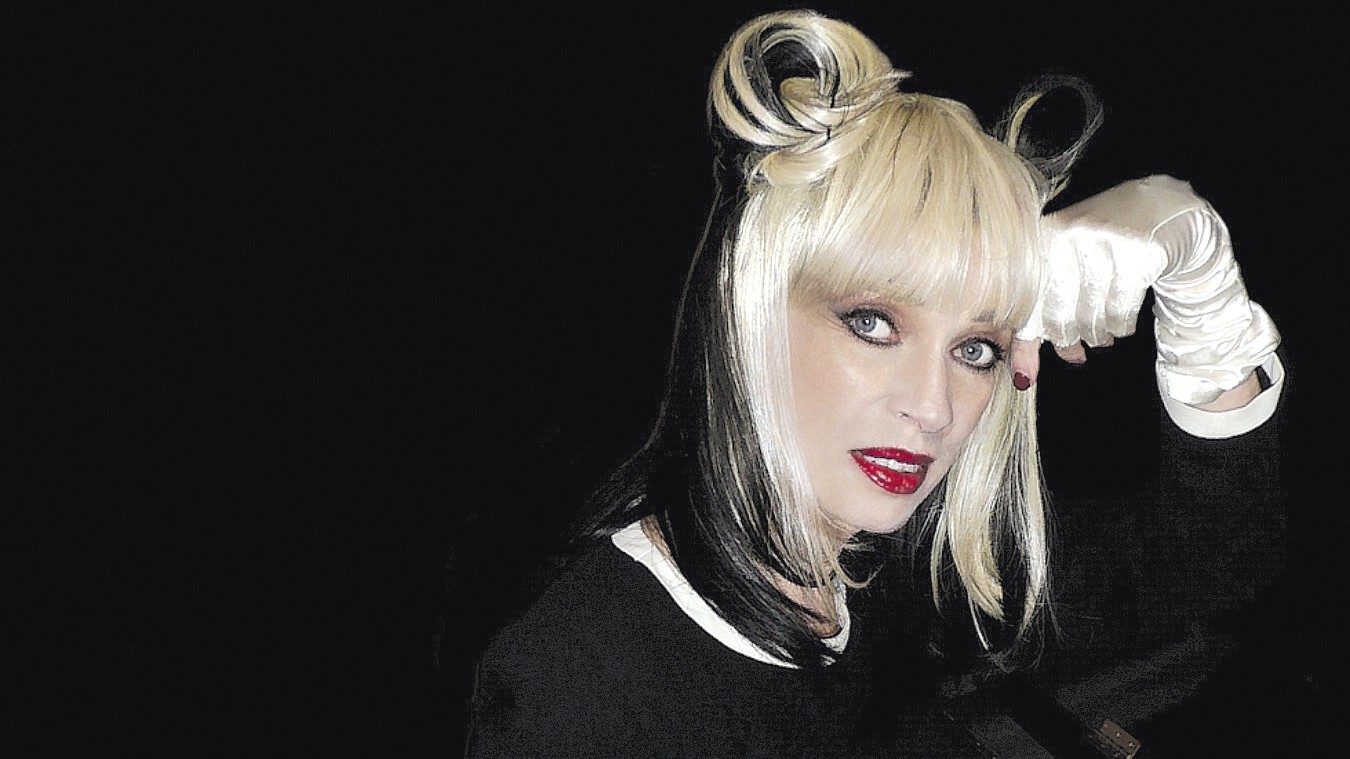 A grand piano doesn't stay silent for long when Holly Penfield is near. Inside a hotel lobby in Union Square, the accomplished cabaret singer commandeered the empty instrument on a sleepy Tuesday afternoon. Her blingy rings — as large as Elton John's — tapped against the keys as they spin out her sad but hopeful melody.
High on the hill of hope/There is a rose and a rope, she belted, her theatrical vibrato carrying an original song she wrote for her dying father-in-law. The raw emotion drew a stranger to sit near the piano. As it turned out, he's a drummer from Nashville, and he asked if he can join her act.
A surrealistic vamp, Penfield easily draws attention into her orbit. The Berkeley native is most well-known for her decades of outrageously costumed and cheeky cabaret performances in London, where she's had long residencies at the Savoy Hotel and, most recently, a Victorian gentleman's loo converted into a nightclub called CellarDoor. Some entertainers in London credit her with pushing cabaret toward its edgier sister of burlesque. Penfield has sung for Prince Charles and Princess Diana, Lionel Richie and George Michael, and even performed with Michael Jackson at the 1996 Brit Awards.
Despite all her success as an entertainer, Penfield feels she's missed out on the dream of her alter ego: the singer-songwriter. Finally, she's revealing her inner self through the one-woman show Fragile Human Monster on May 4 and 5 at the Hotel Nikko in San Francisco, where she'll play the ukulele and piano on original repertoire she's written both recently and through the years.
"It's wearing my heart on my sleeve — I'm a bit scared," Penfield admitted. "I just got the urge again to write and some of my songs in the last six months I could have never written in the Berkeley and L.A. days — they're so much more evolved and better."
During those early California years, when Penfield was in her teens and early 20s during the 1970s, she wrote her own songs and formed a rock band — much to the chagrin of her vocal coach Judy Davis, who also trained the likes of Barbara Streisand, Frank Sinatra, and Sammy Davis, Jr.
Davis had Penfield singing standards like "Raindrops Keep Falling on My Head," while Penfield wanted to follow her wild rock heroes like Janis Joplin, Elton John, and David Bowie.
"It was inevitable that I break away from Judy; she was like a second mother to me," she said. "It was an explosive time to be alive and everyone worth their salt wrote their own stuff, even if it wasn't that great."
While she was still in high school, Penfield performed at a topless nightclub in North Beach, singing "The Look of Love" as young women stripped around her. She eventually formed the Holly Penfield Band, moved to Los Angeles, signed five record deals, and wrote a song that made it to the top 100 in the American charts.
"I loved the energy and excitement that came when you got up on that stage and sang rock 'n' roll," Penfield remembered. "It appealed to the entertainer in me to go outrageously wild."
But she didn't like any of the record producers in the states. "They aren't weird enough," she explained.
Her manager encouraged her to find someone on her weirdo wavelength in London. In the end, she met a producer who would turn out to be not only her creative muse, but also her husband: Ian Ritchie, a saxophonist who would eventually produce the Roger Waters album Radio K.A.O.S. He encouraged Penfield to pursue her cabaret career in London's rollicking theatre district.
There, Penfield found an outlet for both of her personas: the American Standards singer trained by Judy Davis and the rock 'n' roll frontwoman who climbed the stage. They combined into one of the most energetic cabaret singers London had seen.
"Cabaret was more polite back then," she explained. "I was unstoppable and fearless and found that I could go into all these gay venues and crawl all over everyone."
Penfield had burned out on the singer-songwriter lifestyle; she had poured too much of her vulnerability on stage. Singing other composers' musical standards, on the other hand, freed her to embrace her inner ham and entertainer. "It unleashed the demon inside of me," Penfield said.
On a whim, Penfield donned a black wig for her performances and her "evil twin" emerged. This evolved into a recurring stage character who would drink wine out of shoes and thwack tables with a whip. "I don't beat my audience, I just scare them," she clarified. Inspired by Elsa Schiaparelli, she glued high heels onto a hat and wore outlandish costumes "before Lady Gaga."
The alter ego to her evil twin? The self-serious singer-songwriter. Sometimes, Penfield would play both as a shtick on stage, but it was more than just a gag. The singer-songwriter was truly there and longing to reappear.
In the last four years, Penfield has finally felt a calling to write her own music again. The songs channel the intimate storytelling of Joni Mitchell and the surreal theatricality of David Bowie, mixing an American Standard style with a twist of rock. She's scoured her inner life for material, dredging up intimate songs such as "Tree Woman" about coming to terms with her own "vintageness," as she calls it.
She wrote "The Last Enemy" based on a book of the same name by a burned World War II pilot. "The song had more to do with my evolution as someone who felt burned on the inside," she said. "A lot of my songs are psychological adventures to heal myself."
Through the decades, Penfield has used music to reinvent her career and keep it going despite the challenges of making a living as a performer, trading out genres with the seasons of her life. But even she doesn't understand why she's hooked on performing.
"I don't know why I have to keep doing this," she said, her eyes welling. "I'm not some shallow person who needs this recognition. Because it's so hard, and it gets harder every decade, but I have to. I just was born to entertain and maybe write music. We'll see how it goes."
In the upstairs hotel lobby, Penfield improvised a spirited ditty on the piano before switching over to her ballad "A Rose and a Rope." From beneath her fedora and "accidentally Rastafarian" hair extensions, she made eye contact and probed for connection and understanding.
She wrote the song for her now deceased father-in-law, yes, but it was also about herself.
"That song is: Don't give up in life, in society, no matter how fucked it looks, and don't give up on yourself within it," she said, "because there's nothing you can do but keep moving forward and try not to hate yourself or anyone else while you're doing it."
May 4-5, 8 p.m., $18.75-$45, Feinstein's at the Nikko, 222 Mason St., San Francisco, FeinsteinsattheNikko.com