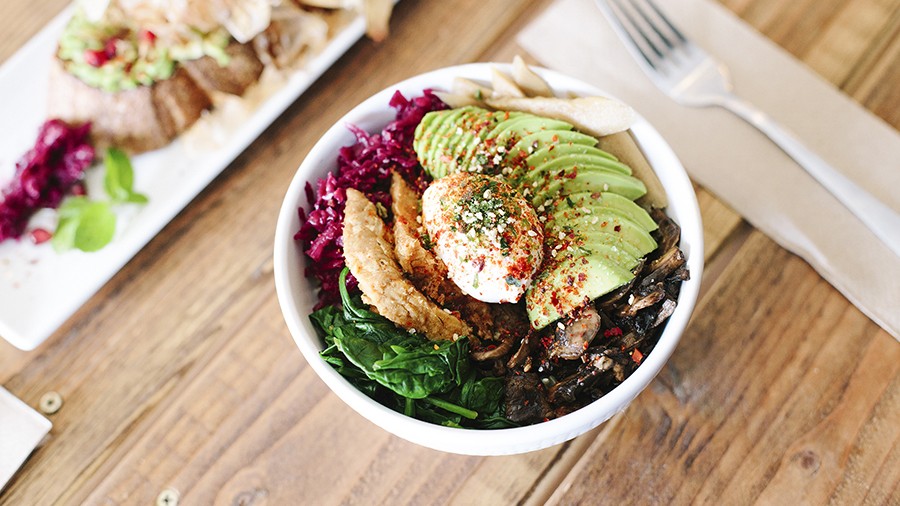 A couple of years ago, grain bowls became one of the biggest health food trends in the country.
If you are confused, I don't blame you. I've been eating rice out of bowls since I could first stomach solid food. And thanks to Berkeley's infamous Cafe Gratitude, local hippies have been all over the practice for well over a decade.
The elements of a successful grain bowl are whole grains, vegetables, maybe a lean protein, and a sauce to tie everything together. It's a balanced meal, yet most restaurant renditions are extremely predictable. More often than not, you're getting quinoa, kale, and chicken tossed in a loose, cheese-less pesto.
That's what makes Cafe Umami so refreshing. The three-month-old cafe in Oakland's Dimond district serves familiar, trendy staples — grain bowls and avocado toast — but suffused with Japanese and Korean ingredients.
It's the brainchild of Sungsoon Park, a Korean immigrant, Berkeley resident, and trained microbiologist who got laid off from his San Francisco biotech job in 2015. In an attempt to get back on his feet, he snagged a gig at Manpuku, the Berkeley Japanese restaurant. There, he met Sang Lee, a designer and his current business partner, and the pair hatched a plan to open their own place one day. Park went on to study at Bauman College, the holistic nutrition and culinary school in Berkeley, and grew to believe strongly in the importance of eating whole foods, fermented foods, and local ingredients. That ethos was further developed when he interned at The Well Cafe, the health-oriented eatery in Temescal that inspired Park's passion for grain bowls, a concept he had never heard of before.
At Cafe Umami, Park draws on all of those restaurant experiences, as well as his background and love for savory, umami flavors, to create a menu that's uniquely his own.
The cafe's most basic grain bowl features brown rice, roasted mushrooms, blanched spinach, pickled burdock root, and sauerkraut, along with a creamy ginger-tahini sauce and sprinkling of nori and sesame seeds. From there, you can add toppings such as wakame, Japanese seaweed salad; kimchi, Korean fermented cabbage; or poached chicken with kale pesto.
The bowl that most exemplifies what Cafe Umami is all about, though, is the aptly titled umami bowl, which includes cotija cheese, sardines, and shaved bonito flakes. Rich and intense, I can't recall experiencing so many forms of umami in one dish before.
I also liked the power bowl, which includes a molten poached egg and sausage patties fragrant with sage and ginger. Park buys whole pork shoulder and grinds the meat in-house, and the results are soft and moist. On a cold day, the substantial broth bowl hits the spot — Park uses a mix of grass-fed, pasture-raised beef bone broth from Broth Baby and his own, Korean-style broth, which results in a bowl that feels light and clean.  
Most importantly, though, half of the cafe's bowls are vegan, dairy-free, or gluten-free, making this an excellent spot for anyone with dietary restrictions. The star is the veggie version of the power bowl, served with tempeh instead of sausage and an intricate fan of avocado.
The toast side of the menu is a little less diet-friendly. The simplest avocado toast comes with a thick, springy slice of Acme sourdough as a base, and from there, you can add goodies like miso-brown butter, mushrooms, or bonito flakes. I enjoyed the version with kimchi, which is one of the rare toppings Park doesn't make himself. It's a bright, fresh kimchi but not terribly funky if that's what you're craving. Pass on the poached chicken toast — while the chicken works in a saucy bowl, it's just too dry here. While I appreciated the thickness of the bread, I wished there was more avocado loaded on top to keep the proportions in line.
In keeping with the Japanese influences, Cafe Umami ditches the usual assortment of croissants and scones in favor of two treats from Berkeley's Third Culture Bakery: chewy, sesame seed-topped mochi muffins and squishy, vividly green custard cakes infused with matcha tea. With no retail bakery of its own, it's always a delight to stumble upon Third Culture.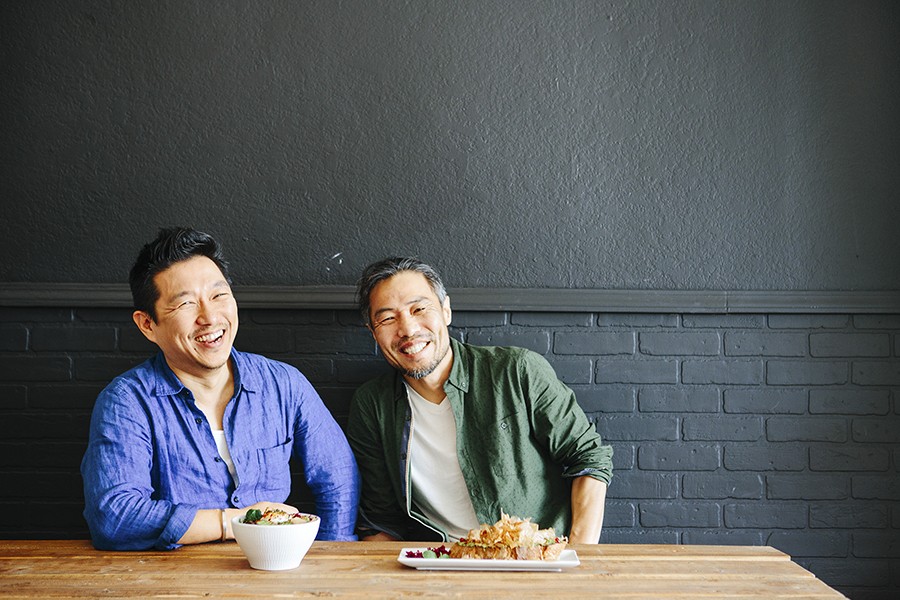 And being a cafe, Umami's drinks are arguably equally important. Emeryville's Highwire Coffee Roasters supplies the beans, and Park's crew prepares espresso drinks very well. Even more delicious, though, is the miso latte, something I had never seen before and can't wait to drink again. It's the equivalent of sipping a creamy, sweet-savory miso soup, topped with seaweed, sesame seeds, and togarashi. Cafe Umami also makes beverages popular with the health movement, including an expertly prepared turmeric latte and mushroom coffee. For the latter, Park distills six different mushrooms into extracts and mixes them with drip coffee — a homemade version of the prevailing powdered packages.
Looking ahead, Park plans to continue slowly growing his menu. This month, he's adding about 10 hot tea blends sourced from Southern California's Art of Tea. In the summer, he plans to add a series of cold beverages, such as iced teas and artisanal sodas. And acknowledging the mildness of his grain bowls, he discussed adding a spicy version soon — potentially a twist on bibimbap.
What really makes Cafe Umami such a joy to support, though, are Park and Lee, who work around the clock to make it feel like a welcoming space. On one visit, Lee passed out sliced oranges dusted with togarashi for guests after the lunch rush. On another, he brought a toddler a free slice of honey toast, sensing that a fondness for umami and grain bowls grows with age.
Cafe Umami
2224 MacArthur Blvd., Oakland
(510) 646-2394
CafeUmami.com
Hours: Mon.–Fri. 8:30 a.m.–5 p.m., Sat.–Sun. 9 a.m.–3 p.m.
Cash, all major credit cards
Sample Menu
Grain bowl $8
Umami bowl $13
Kimchi toast $9
Miso latte $4