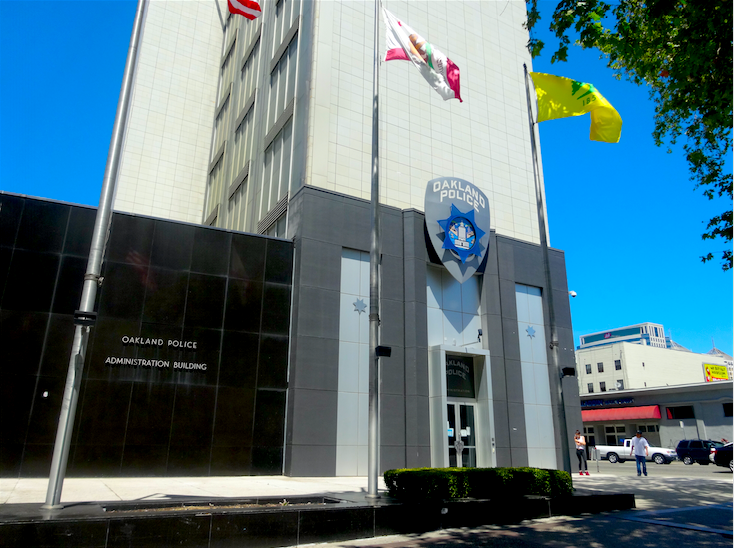 The city of Oakland
is expected to settle a police brutality lawsuit
 next week brought by a 14-year-old girl and her family for $60,000.
In November 2016, Oakland police were investigating a shooting at a home in East Oakland. A suspect, Shaun Williams, Sr. was reportedly inside the house. However, before officers could enter and arrest Williams, his wife, Miesha Singleton, pulled up in a car and proceeded to go into the house.
According to court records, Singleton told officers at the scene that she was married to Shaun Williams, Sr. Shortly after, the police arrested Williams.
But Singleton's 14-year-old daughter was still inside the car looking after her infant brother.
According to attorneys for the girl's family, a female police officer had told the girl she could remain in the car with her little brother while police arrested Williams and secured the area.
But then officer Anthony Martinelli approached the car and ordered the girl to get out. The girl refused the order. In response, Martinelli grabbed her and pulled her out of the vehicle. Then, according to the girl's attorneys, "while an unidentified officer handcuffed [p]laintiff, [the girl] questioned [Martinelli's] actions. Due to [p]laintiff's questions and in violation of the First Amendment, [d]efendant Martinelli brutally punched [p]laintiff in the face."
The City of Oakland doesn't dispute that Martinelli pulled the girl out of the vehicle and struck her, but the city's version of events differs in that Martinelli allegedly hit her with an open hand only to grab her attention, not to injure her.
"[The girl] refused to comply with orders to exit the car and leave the area," Oakland's city attorney wrote in a court brief. "Officer Martinelli attempted to pull [her] out of the car but [the girl] physically resisted. Officer Martinelli struck [the girl] with an open hand to distract and detain [her]."
Williams was tried for attempted murder, but in October, a jury found him completely innocent, according to court records.
The Oakland City Council is expected to pay a $60,000 settlement to Williams and Singleton's family in order to "avoid the risk of an adverse jury verdict," according to a resolution that will be voted on by the council at a meeting on Dec. 11.
Martinelli, who graduated from the police academy in 2013, was involved in
another controversial incident in 2014
when he detained an off-duty firefighter at a fire station that had been accidentally left unlocked.
Martinelli was honored as Rookie of the Year by OPD in 2015. He was also awarded the department's Top Gun honor for the highest score on firearms tests during the 166th Academy.
The latest lawsuit settlement will be the fifth payout for Oakland this year related to allegations of police misconduct and vehicle accidents.
In July, Oakland settled a case for $50,000 alleging that several police officers
wrongfully accused a man of drug dealing and arrested him
. In June, Oakland paid $12 million as the result of
an officer who ran a red light in his SUV and struck a motorcyclist
and then lied about the crash. In March, the city paid $35,000 to a woman who was
attacked by an drunk, off-duty officer who tried to enter her Oakland hills home
. And also in March, the city paid $92,230 to settle a lawsuit over another vehicle collision involving an officer.
Correction: the original version of this story stated that Miesha Singleton was arrested by the police. She was not arrested. This story has also been updated to note that Williams was found innocent of the charges OPD arrested him for.