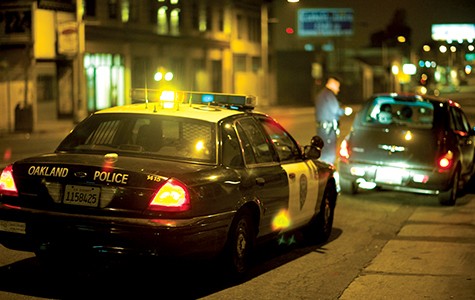 California Attorney General Kamala Harris
announced today
the results of a ninety-day internal review of the Department of Justice's trainings on racial bias and use of force. The review included eight findings, one of which is the announcement that the Department of Justice will establish the first certified "implicit bias" training for law enforcement officers. The training will be made available to all California police officers later this year. Helping develop this training is the Oakland Police Department.
That last part might come as a surprise to anyone familiar with the Oakland Police Department's recent history. OPD has struggled for years to address evidence of racial profiling by its own officers.
See also:
OPD Still Appears to be Targeting Blacks
See also:
Oakland's 'Unacceptable' Stop Data, By the Numbers
See also:
OPD Struggles to Recruit Non-White Officers, Especially African Americans
[jump] Since 2003, the Oakland Police Department has been under a federal court order to reform itself due to systemic civil rights violations committed mostly against Blacks. According to the city and civil rights attorneys, OPD has made considerable progress under the Negotiated Settlement Agreement, meeting most of the goals set by the court. But just yesterday, in a major blow to OPD,
a court-appointed investigator found numerous problems
with the department's internal investigations and officer discipline system.
Other incidents revealing potential race bias by OPD have continued to flare up. In 2012 Oakland
settled a civil rights lawsuit
alleging the police conducted illegal strip searches of 39 men, most of them Black. The plaintiffs were stopped and strip searched in public in humiliating fashion, without probably cause, the lawsuit alleged.
Recent stop data
released by the Oakland Police Department shows that a disproportionate number of Blacks are still being stopped, searched, and arrested compared to other racial groups.
Unlike many other police agencies, OPD is actively analyzing this data along with a team of social scientists from Stanford University. Senior OPD staff have also already undergone implicit bias training. Senior OPD command staff have repeatedly committed themselves to addressing racial bias that affects the department. During a
special City Council meeting
held last January, Oakland Police Chief Sean Whent listened to community members vent frustration with the police.
Even behind the blue line, the Oakland police are grappling with issues of racial justice. OPD's sworn officers do not reflect the population they police.
Only 18 percent of cops in Oakland are Black, while 28 percent of the city's population is Black.
And Blacks are eliminated from Oakland's police academies at higher rates than any other racial group. Through OPD's four most recent police academies (excluding the 170th for which complete data is not yet available) 1.5 percent of all applicants eventually graduated, whereas only 0.8 percent of African American applicants made it through to graduation.