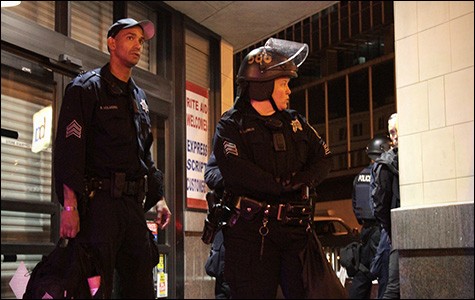 A little good news to start 2015 off: Oakland homicide rates have declined for the second year in a row — there were 86 homicides in 2014, a slight decline from 2013 (92), but a considerable decline from 2012's 131 killings. While it's not the dramatic reduction that city officials and Oakland PD were hoping for going into 2014, it's still an encouraging sign. 
See Also:
Crime and Wealth and FBI Stats
Violent Crime Plummets in Oakland
[jump] According to the
San Jose Mercury News
, Police Chief Sean Whent was pleased to note that gang and group-related homicides went down. "In the long term, that will lead to a very serious homicide reduction," Whent
said
. "We realize we have much work to do, and we are going to keep at it."
Crime is also down generally in the city (total crimes in 2014 fell 6 percent). Serious crimes saw a drop of 9 percent in 2014, as well as substantial declines in nonfatal shootings, which dropped 13 percent, and robberies, which fell 31 percent.
Here's the breakdown of Alameda county homicides in 2014, via the
Mercury News
:
Alameda County (unincorporated): 2
Alameda (city): 1
Berkeley: 4
Dublin: 0
Emeryville: 0
Fremont: 1
Hayward: 9
Livermore: 0
Newark: 2
Oakland: 86
Piedmont: 0
Pleasanton: 0
San Leandro: 1
Union City: 0
Whent also said in a statement that, while the drop is encouraging, "We have much more work to do. Crime statistics tell one piece of our story but every act of violence impacts the lives of many." He also noted that reaching out to younger people and establishing greater community trust were vital in reducing violent crime.
"Policing is most effective when the police and communities work collaboratively, with trust and mutual respect," Whent
said
.
Here's hoping that in 2015 we continue to see the numbers drop.