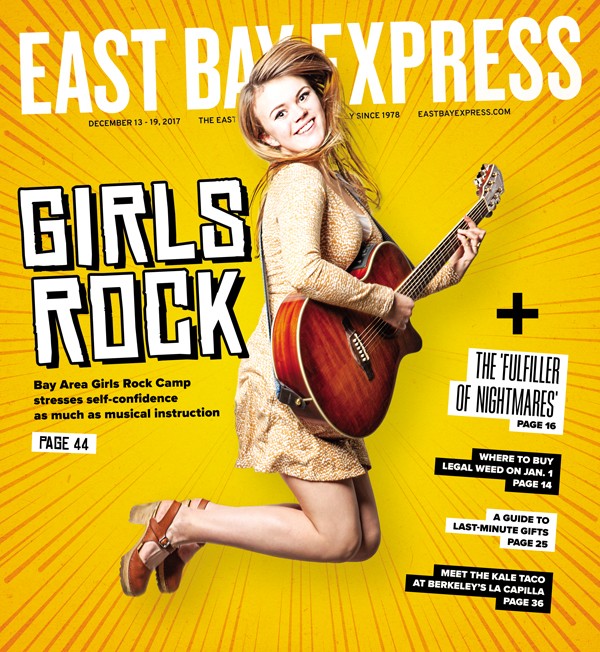 "The 'Fulfiller of Nightmares," Feature, 12/13
Thanks for Not Calling It a Cult
As a former Interchange student (2014-15) with many friends from that experience, I would like to thank you for what you did not do in the article. I am referring to details about Interchange that didn't relate to Steve Bearman or his conduct but could have reflected badly on those who made the investment of time and money to go through the training.
Some IC graduates were concerned that when the inevitable article came out, it would be sensationalized, describing IC as a cult (which I don't believe it was) and trying to smear the poly community with the actions of this one man.
You are to be commended for staying focused and minimizing the collateral harm for the innocent bystanders.
Alan Waltner
It's About Boundaries
There should never be sex between therapist and client, and not between supervisor and intern/student. Period. Very clear line. Because there is an inherent power differential in those relationships.
Both student/intern and client depend and rely on the therapist/supervisor to know better, as the professional and teacher. If the person who is supposed to know better doesn't know to respect the boundaries, how can you expect those asking assistance will know where those boundaries may be?
I am a therapist. I will never ever, ever have sex or even friendships with my clients. I may hang out with my interns but will never ever cross the line to intimacy.
It's not because I'm not open or liberal minded or sex positive. I've worked with many who live alternative lifestyles with their sexuality and understand everyone has a right to prescribe their own comfort level and how they relate to their bodies. But I will never, ever cross that line because then it's not about them anymore once I've become involved. And as clients or interns/students, it should be about them when the therapist is working with them.
What this guy did is absolutely wrong, especially because he did this with a vulnerable group of people. People trusted him. He should never take that lightly and abuse it. There is no "I didn't know." As an ethical professional, it is his duty to check and consult before ever proceeding with any interventions to make sure it not only helps but also does not harm the other parties. I'm appalled by what he did and saddened for those who had to experience it all.
Su Su Maung
Bearman Helped Me
I know Steve Bearman to be a caring and compassionate human who helped me heal and grow a tremendous amount. He helped many people I know do the same. Interchange changed my life for the better.
This news is confusing. I am still processing but want to say at this time that nobody deserves to rot in jail. I hope we can talk about this in a way that helps us all move forward and evolve.
Florie Wild
A Shame
It's a travesty that he was allowed to call himself a "counselor" or claim he was teaching "counseling." Professional mental health counselors, and all psychotherapists, get tarred with the "quack/rapist" brush when creepy assholes like this claim to be doing our job. Psychotherapy never includes sex, ever.
Sheila Marie, via Facebook
He Deserves Prison Time
This is so sad and maddening. I feel for all the women who were violated and feel righteous indignation. May charming creeps in positions of power be held accountable. He deserves life in prison.
Fairley De Cunha Parson
He's No Guru
First, I want to say thank you for the article on Steve Bearman. I lost my best friend psychologically, emotionally to his insanity. Reading the details helps.
I also want to express concern about the online title of the article ["Oakland Counseling Guru Accused of Sexual Assault"]. The definition of a guru is: a spiritual teacher, especially one who imparts initiation. Steve Bearman is a predator, manipulator, everything the suits claims.
If anything, guru should be in quotes: Oakland Counseling 'Guru' — something other than calling him that which he called himself to gain power/money and abuse women.
Margaret Quigley
'"Black Homes Matter,'" News, 12/13
Racist and Classist
Measure JJ didn't go far enough to amend just cause in 2016. Hopefully, we can get a ballot measure together in 2018 to close the loopholes, most notably this one.
Natalia Morphy and her family are assailants in the current class war raging in our neighborhoods, primarily against low-income Black and Brown folks. While this case is high-profile, hundreds of others have been perpetrated silently in North Oakland. With the current tenants' rights framework, tenants are at an extreme disadvantage against landlords.
The heart of the matter is deeper than gentrification; one must look at the not-so-subtle racism in Oakland's ordinances and the structures that allow for ongoing oppression and removal of poor folks from their homes and the communities that support them.
By utilizing the racist and classist tools available to them, Morphy and family become, in practice, racist and classist. Regardless of whether they succeed in these two unethical evictions, that should be their cross to bear in Oakland moving forward.
Jonah Strauss
Wrong Protest
Why would protesting in front of a bakeshop who employs a landlord make sense? Jennifer, the owner of Sweet Adeline Bakeshop, is a pillar of the south Berkeley community.
Jeff Diamond
Housing Is Expensive
Sounds like what the new property owner is doing is legal. Whether or not it is ethical depends on your perspective. But keep in mind that if she really did pay over $700k, she has high overhead and may not be able to afford to be a mini-welfare state for her renter. The cost of housing is very high. Oakland's property taxes took a jump this year, and EBMUD just raised their rates almost 10 percent and will raise again next year. Compare that to the annual allowable rent raise which rose this year to a generous 2.3 percent.
Housing is expensive and someone has to pay one way or another.
Ilona Clark
We Need More Housing
There doesn't seem to be an easy solution to gentrification. Both tenants and landlords are between a rock and a hard place. The fast-paced rising cost of living in the Bay Area has left working-class citizens unable to keep up. At the same time, it's unfair to demand that a mom-and-pop landlord subsidize the cost of living for a tenant for the rest of their life.
The only solution to this problem is to build high rises in places with high demand. The Bay Area needs to move away from single-family homes and three-story buildings just like New York. However, some NIMBY folks oppose this type of development.
Sergio Maciel
"Plan to Ship Coal Through Oakland Was Years in the Making," News 12/13
Let's Skip the Coal Dust
Thank you for clarifying the city's main argument that it has the legal right to protect the health and safety of Oakland's residents. Asthma rates are high enough in West Oakland without adding coal dust.
Judy Belcher
What's Up, Phil?
Thank you for this article. This record appears to confirm a longtime plot to stick us with coal dust. Hard to understand, since Mr. Tagami's children live here, too, albeit higher up the hill than do those most seriously affected.
Naomi Schiff
"Why Derick Almena Deserves the Most Scorn," Seven Days-Online Only, 11/29
The Antithesis of the Arts Community
This article is spot on. I can't understand how some people see otherwise. This greedy manipulator narcissist was the antithesis of someone supportive of the arts community. In fact, this creep almost single-handedly destroyed the work/live options for artists throughout the country with his arrogant disinterest in the safety and well-being of his subtenants and music performance attendees. I hope he does serious time when this is resolved.
Kevin Carr