The newest addition to the Korean food scene on Oakland's Telegraph Ave. is Copan (4869 Telegraph Ave., Oakland), which quietly opened this past Friday. As previously reported, the restaurant, owned by Ohgane's Micha Oh, specializes in Korean rice bowls and Korean-Japanese fusion cuisine. The kitchen is helmed by 24-year-old Eddie Chu, who cooked previously at New York City's Momofuku Ssam Bar.
[jump]
I snagged a copy of Copan's takeout menu (see below), which bears some similarity — in its graphic layout and overall sensibility — to the menus at Albany's Bowl'd and Berkeley's Spoon, two restaurants that excel at demystifying traditional Korean dishes for the Western dining public. (The connection makes sense: Bowl'd and Spoon are co-owned by the Copan owner's daughter, Jessica Oh.)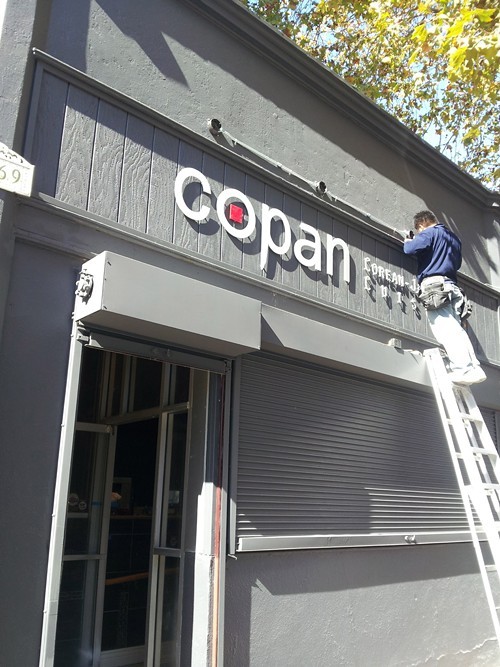 Exterior of Copan, a few days before opening.
At first glance the menu features a fairly standard mix of Korean barbecue items, bibimbops, and tofu stews, but a few dishes in particular caught my eye: One section of the menu dedicated to raw meat and seafood dishes (including what appears to be a Korean version of beef tartare), plus a couple of rice dishes — one featuring soy-braised pork belly and another with katsu (deep-fried pork or chicken) — that seem representative of the restaurant's Korean-Japanese fusion angle.
Copan replaces the Korean restaurant that previously occupied the space, Sura, which closed recently. The restaurant is currently open for lunch and dinner, from 11 a.m. to 10 p.m. daily. As of this posting, Copan's website doesn't appear to have been set up yet.
In the meantime, check out the link below for a scan of the full menu.
CORRECTION: A previous version of this story misspelled chef Eddie Chu's last name as "Joo" and incorrectly stated his age (he's 24, not 25) and previous place of employment (Momofuku Ssam Bar, not Momofuku Noodle Bar).