Just when you thought adding bacon to everything was passé, Baron's Eats, the newly opened sandwich-shop offshoot of the Baron's Meat & Poultry butcher shop inside the Alameda Marketplace (1650 Park St.), is offering a new bacon-studded contender to the local burger game.
The "5150" Bacon Burger is 50 percent BN Ranch grass-fed ground beef and 50 percent Niman Ranch uncured maple bacon ground right into the patty itself. The result is one extremely rich, fatty burger — tasty enough to merit a special trip over to Alameda.
[jump]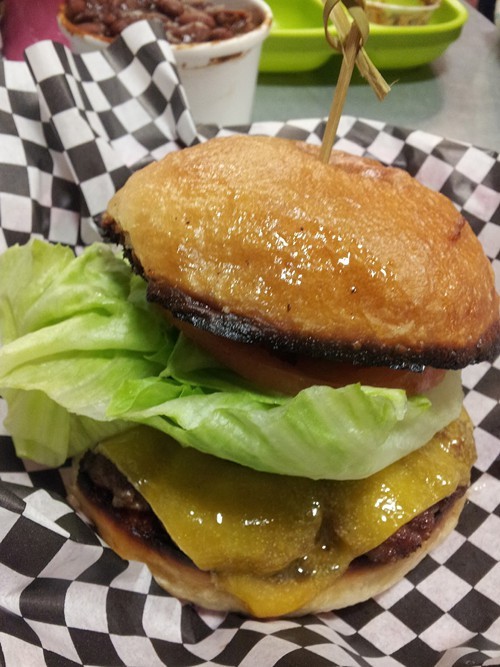 The Baron's 5150 Bacon Burger with cheddar cheese
Owner Dave Samiljan and chef John Coucaud aren't the first meat alchemists to mix bacon into a beef burger patty — Southern California has an entire restaurant chain dedicated to that 50/50 mix (Slater's 50/50), and the Oakland sausage-and-beer garden Telegraph also serves a version. But the half-bacon burger sold at Baron's is especially well executed. All of the shop's burgers, including the 5150, are cooked using the "smash-and-griddle" method, popularized by places like New York City's Shake Shack and the Denver-based chain Smashburger. The technique involves taking raw meat that's shaped into a big meatball and smashing it onto the hot flat-top, which results in a strikingly thin, but still juicy, burger patty with a nicely charred exterior.
Of course, the bacon fat — which Samiljan guessed might push the patty's overall fat content up to around 35 percent — assures that, if anything, this burger has a surfeit of meaty juices.
The other burger components — a well-griddled Feel Good Bakery bun, crisp cold lettuce, tomato, and mayo — were simple but uniformly excellent.
According to Samiljan, the idea for the 5150 came about as a matter of happy coincidence. He had some bacon ends at the butcher shop that he needed to use up, and customers had been pestering him for a bacon add-on option for the regular burger. The problem, Samiljan said, was that the sliced bacon he sells is so expensive that it would tack an extra $4 onto the price of the burger, and he felt that was too steep. Instead, he and Coucaud came up with the idea of grinding the bacon ends and other oddly shaped pieces into the patty, infusing the bacon flavor into the burger itself — at a much lower cost. (The 5150 is quite reasonably priced at $8; cheese costs an extra buck.)
Though the bacon burger was conceived as an occasional special, Samiljan said it's been so popular that he's decided to add it to the regular menu: "Put bacon on the menu, and people will buy it."
Baron's Eats is open from 11:30 a.m. to 8 p.m. Monday through Friday, and from 11:30 a.m. to 7 p.m. on Saturdays and Sundays.