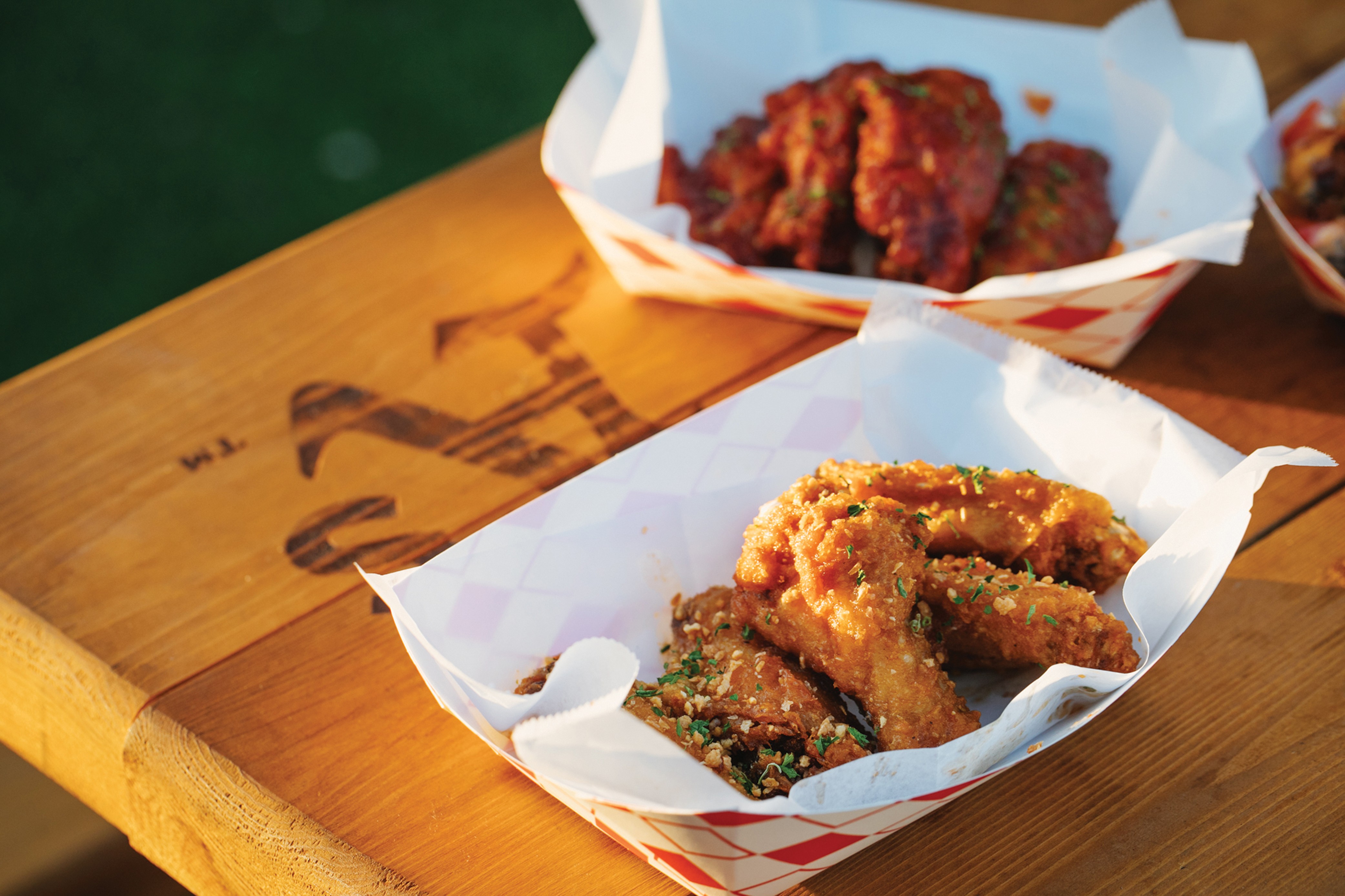 With talks of a new Oakland stadium, the A's have been bringing their "A" game when it comes to an upgraded customer experience. "Rooted in Oakland" is the team's new slogan, and beginning this season a fleet of food trucks are available at every game.
Ticketholders can walk up a ramp to "Championship Plaza" as soon as gates open — usually an hour-and-a-half before start time — to enjoy tasty bites from a variety of food trucks, which remain open throughout most of the game.
The idea came from the new A's president Dave Kaval, who brought the food-truck experience to Avaya Stadium in San Jose when he was president of the Earthquakes. "It's a place where people can gather and hang out," explained Catherine Aker, A's vice president of communications and community relations. "Giving local entrepreneurs a platform is also a win-win for us."
Enter Fremont-based Food Truck Mafia, which rotates a fleet of 40 to 50 food trucks at the games. Generally, there are eight — the night I went, there were six — and up to 16 trucks on weekend and during bigger games. (To see each game's food lineup, check the A's website and social media accounts.)
First, on how to find Championship Plaza: You walk to entrance C, now renamed after the legendary hall of fame pitcher Jim "Catfish" Hunter, and head up the ramp across from section 113.
Food trucks line the perimeter of a large Astroturf field, where there is a giant Jenga game, A's branded wooden picnic tables, a ping-pong table, and cornhole bean-bag tosses. Trucks with fun names offering fried food, barbecue, desserts, frozen treats, tacos, and gluten-free and vegetarian options abound.
There is also a beer stand in the middle with a decent selection of canned and bottled beers, which are all about $9 each. There's also a large screen TV that live broadcasts the game.
I'm a fiend for the A's garlic fries and other traditional, delicious junk food concessionaire options, but the addition of the food trucks definitely gives Bay Area's game-goers more diverse and slightly elevated option.
There's no way to review all 40-plus trucks — from No Worries Filipino vegan food to Rita's of Hayward, dishing Italian ice — but here's a sampling:
Husband and wife co-owners Aris and Michele Necesito of Yummi BBQ are just one story of many small family businesses that represent the diversity of the Bay Area's food truck scene. They started Yummi BBQ, which offers pan-Asian food, five years ago, after both working for large corporations. Aris' father, who lived in Hawaii and is of Filipino descent, started bringing a similar barbecue short rib dish to every family potluck. They adapted that dish, using a sweet and spicy marinade that includes gluten-free soy sauce and oyster sauce (this particular dish itself isn't gluten free, but they do offer several gluten-free options). The sweet and spicy beef short ribs ($10) comes with six pieces over rice and a side salad. The salad was sweet and not that memorable, but the ribs were juicy, chewy, slightly sweet and spicy, and are definitely the star item from their truck.
One of the best dishes were two simple tacos from El Gran Taco Loco. They mentioned that they had run out of beans and red sauce, so they added pico de gallo on the tacos, instead. The pared-down options — grilled chicken and al pastor — were tasty with surprisingly complex spicy, oniony, citrusy flavors, and were very affordable at just under $3 each.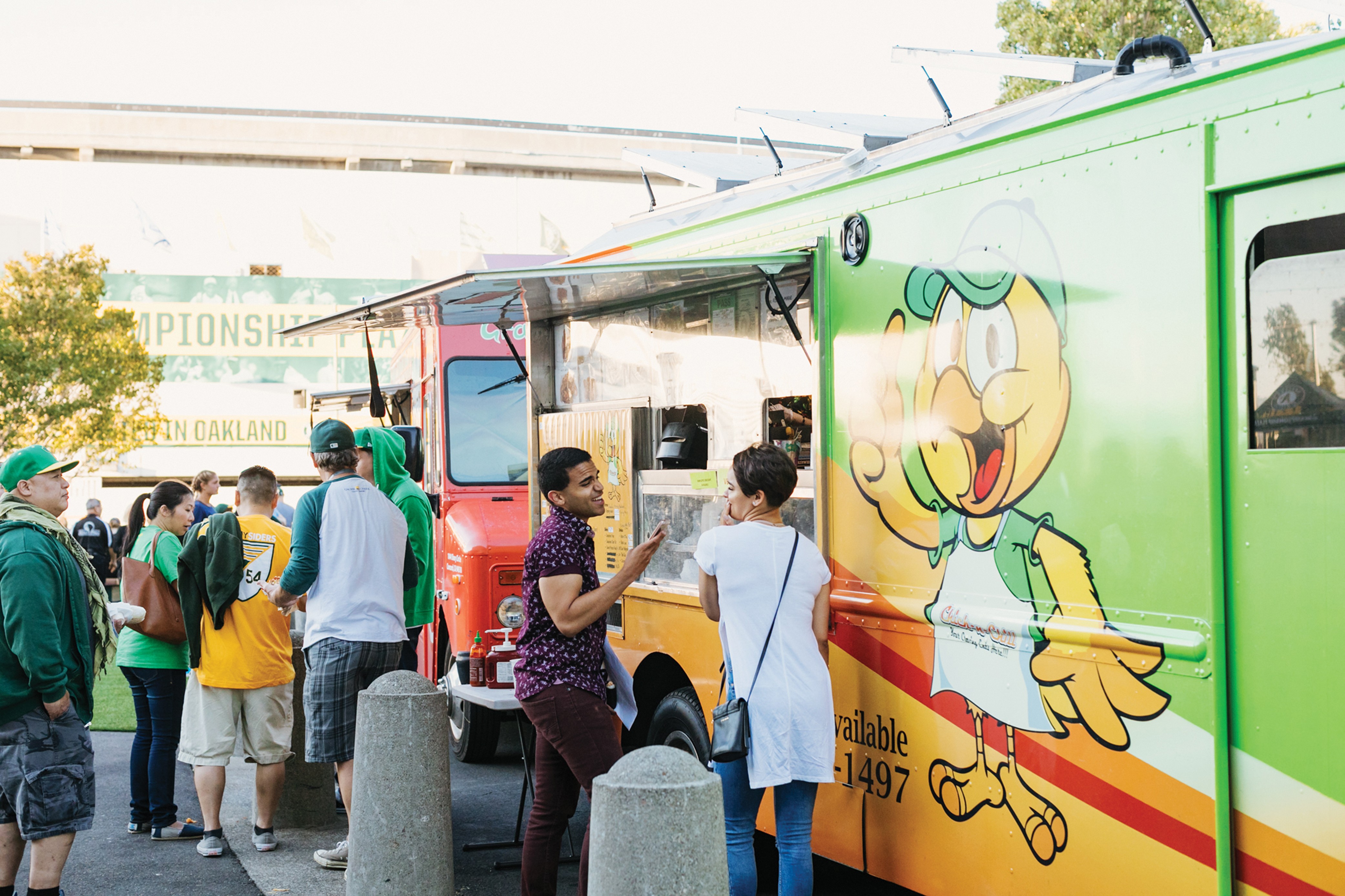 At Big City Country Boy, the popcorn shrimp ($10) comes with a side of homemade potato chips and cocktail sauce for dipping. The shrimps were larger than the tiny-size popcorn shrimp at many chain establishments, and were juicy on the inside. The fried shrimp and chips were slightly under-seasoned, but were elevated with a squeeze of lime and the addition of the cocktail sauce. It's a large basket of fried food, perfect for sharing at a ball game, and a dish that is still reminiscent of ballpark eats.
All trucks will note if they have gluten-free options, and also accept credit cards.
During the first event, a pre-season game between the A's and Giants, not many game-goers knew about the food trucks, according to the Necesitos. Every game since, however, more and more people have been lining up at the trucks. On average, 18,000 people attend a game, Aker said, which means there are a lot of hungry mouths to feed.
During a recent game, the stands had pretty short lines an hour prior to the game, but by 30 minutes before the first pitch, they were rather long, so expect a wait.
Aker noted that, in addition to the food trucks, they've also expanded their concession stand dishes through Spectra concessionaire by adding 40 new items and opening up more concession stands.
While food truck fare is rarely mind-blowing, the extra options gives an overall elevated experience that continues in the tradition of a family-friendly event.
Sample Menu:
Championship Plaza Food Trucks
Visit Oakland.Athletics.MLB.com and click on "Oakland Coliseum," then "Food Trucks" for hours and vendor schedules.

Sample Menu
Popcorn shrimp $10
Tacos $3
Spicy beef short ribs $10