In 1964, the San Francisco Tape Music Center staged the world premiere of Terry Riley's In C. A seminal piece in the genesis of minimalist composition, the performance featured a host of Bay Area avant-garde luminaries, including Riley, the composer Steve Reich, and core Tape Music Center members Pauline Oliveros, Morton Subotnick, and Ramon Sender. The premiere anticipated two trajectories of minimalism, containing elements of both the heady, amorphous drone work that Riley would pursue, as well as the austere suites pioneered by Reich. A subsequent recorded version of In C, which was issued in 1968 by Columbia Records, became one of the most widely available avant-garde recordings of its time.
Riley's score doesn't specify instrumentation or the total size of the ensemble performing it. It comprises 57 different musical phrases, which each performer cycles through at his or her leisure, as long as no individual is more than three patterns ahead of another. The phrases are written to remain in key, and the entire piece is anchored by a steady pulse of the C note, usually played on piano or marimba. In C lends itself to creative reinterpretation and has been performed countless times since its premiere.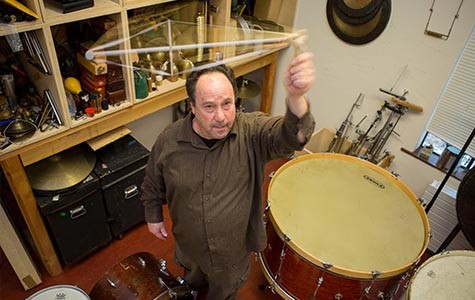 In 1967, the Tape Music Center assimilated into the Mills Center for Contemporary Music at Mills College in Oakland, and took Oliveros as its first director. As a small, homespun organization, the Tape Music Center advanced early synthesizer design, fostered a fervent counter-cultural arts milieu, and launched successful careers for several composers. The dominant narrative of minimalism and twentieth-century classical music is typically set in New York, but the Bay Area owns many pivotal moments. Moreover, the maverick spirit of the Tape Music Center remains ingrained in the local avant-garde community today. Innovative composition still merges with technology in brilliant ways, enticing academic musicians toward autonomous spaces where classical divisions of high and low dissolve.
In July, Oakland's Active Music Series and sfSound, an organization founded by Matt Ingalls, staged their own performance of Riley's In C to commemorate the piece's fiftieth anniversary. Performers included the local composer Lisa Mezzacappa (bass), who has drawn attention from national critic polls at The Village Voice and Downbeat; and composers and players including Dominique Leone (keyboard), Aaron Novick (clarinet), Kyle Bruckmann (oboe), and Henry Warwick, who played an iPad. At the show, Warwick and Ingalls premiered an app, designed for the iPad, which allows a single person to perform In C as a full ensemble on the touch screen.
Technologists and musicians often cross-pollinate today, as reflected in the Tape Music Center's commission of the construction of Donald Buchla's innovative synthesizer. Buchla's son, Ezra, is even set to perform at this year's San Francisco Electronic Music Festival, which takes place September 11-14 at the Brava Theater (2781 24th St., San Francisco). Electronic pioneer Dave Smith creates analog synthesizers and Keith McMillen designs hyper-sensitive MIDI controllers in Berkeley; music students at Mills interact with digital technologies as part of its standard curriculum; and Ingalls adapts the works of influential composers for new gadgetry. "It's now a given that technology is involved in everything," Ingalls said. "[It's] influenced some musicians to produce interesting things."
The venue for sfSound's recent presentation of In C attested to the curiously marginal status of twentieth-century classical music in the Bay Area. The fiftieth anniversary performance of a piece that stamped an indelible mark upon the development of American classical music occurred at The Uptown night club — which is a fine venue, but seemingly at odds with the material's historic prestige. Still, that's typical. Just as the Tape Music Center deliberately distanced itself from conservatory and institutional associations, avant-garde composers in Oakland continue to operate around the fringes — and prefer it.
"The most interesting concerts going on are at do-it-yourself venues and small clubs," said William Winant, composer, percussionist, and Mills faculty member. Last month, Winant led his ensemble through the first section of Steve Reich's Drumming in an underground Oakland venue. A small crowd gathered, the scheduled start was casually pushed back an hour, and then Winant and three others assembled, mallets in hand, around a row of eight congas and began pounding out a series of dynamic patterns that veered in and out of unison, reached feverish intensity, and eventually calmed. Winant — whose ensemble will perform as part of the Berkeley Art Museum's [email protected] series on September 26 — was nominated for a Grammy this year, but he still relishes the young audiences, accessibility, and scrappy charm of unconventional venues.
The Bay Area cradles a fervent, clandestine milieu of challenging experimental music, which often mingles with legitimate organizations such as sfSound and Mills associates such as Winant. The San Francisco Electronic Music Festival flouts the division between highbrow and underground experimentation every year. The enigmatic harsh-noise act Malocclusion Proto opened for In C and Ingalls remarked later that the pairing seemed natural to the crowd. Indeed, Ingalls said that sfSound sprang from earlier booking endeavors in warehouses and storefronts. "The idea was to take some of this music happening in the underground and present it as classical ensembles," he said. "There's all of this interesting music, so why is it only underground?"