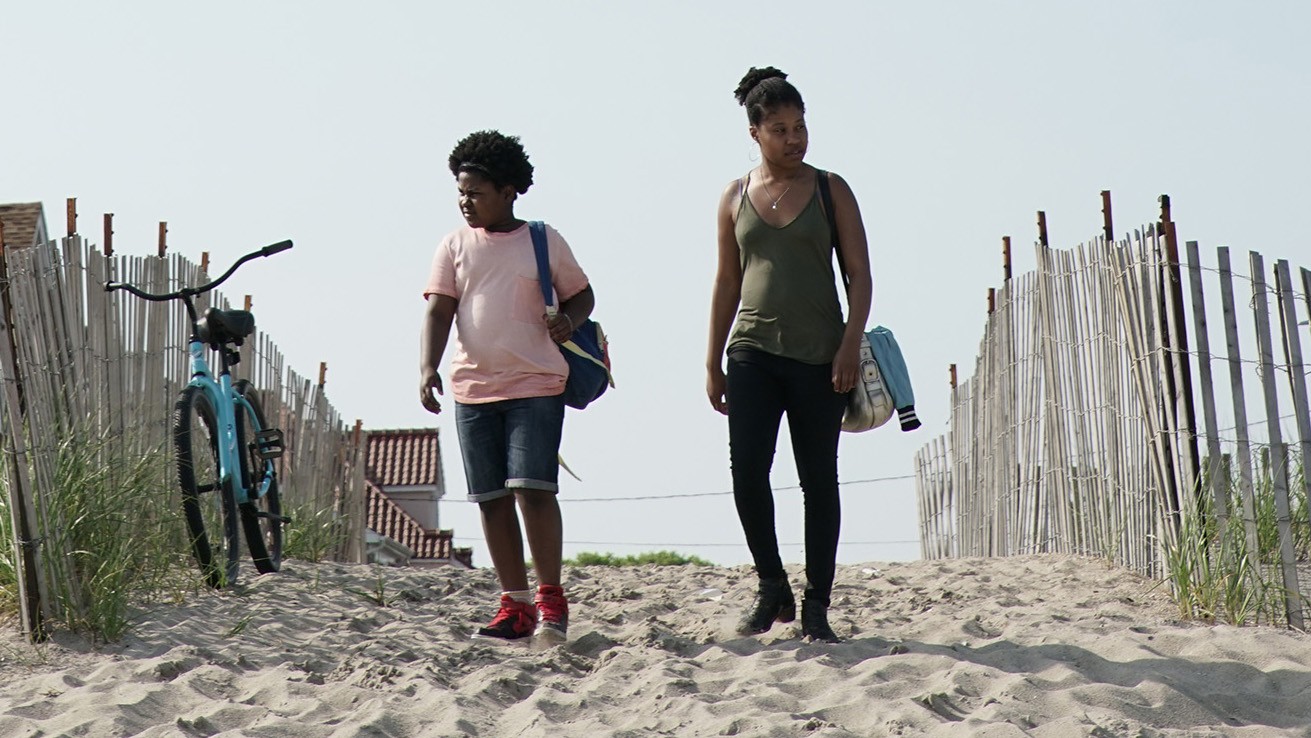 From the first moment we meet her, we're worried about Angel LaMere. After 16-year-old Angel (played at a sustained simmer by TV actor Dominique Fishback) is hustled through the ice-cold release process at a youth detention center and passes out the front gate, she walks into the open air alone. No one is there to greet her.
Her first stop back in Philadelphia is the home of a creep named Mark (Max Casella), a friend of Angel's former cellmate. Mark's main business is selling guns to people who shouldn't have them, but his hobby is extorting sexual favors from people like Angel, when they can't quite come up with the money for the item they'd like. What Angel really wants is an Uzi, but she's willing to settle for a revolver. She's knowledgeable about weapons, having served time on a "possession of firearm" conviction. Furthermore, in her first-person voiceover narration/confession, we learn that the turning point in her young life was the night her father murdered her mother. The father was released on a technicality, but Angel — at her age a veteran of foster homes, abuse, and violent family problems — is the one who got locked up. And now she's back with a gun in her hand.
In setting and overall tone, director Jordana Spiro's gratifying two-day chronicle of a young woman making major life decisions under stress and despite circumstances — co-written with Angelica Nwandu, the Nigerian-American creator of the Black-culture-centric Instagram account known as the Shade Room — sets itself up as a straight-out crime story. But just below the surface, Night Comes On is a careful, layered portrait of a person navigating her uncertain way through a sea of trouble, and we come to care about her and admire her spirit.
Angel, newly reunited with her younger sister Abby (newcomer Tatum Marilyn Hall), comes from the hard-scrabble side of life. Both girls are used to hearing a lot of "No." But where 10-year-old Abby is chatty and social, taciturn Angel is eaten up with the idea of vengeance. If she has a cold stare for a group of teenage girls laughing and having fun on the street, it's because she's hunting and has no time for frivolity. She gets nervous when people she meets ask questions and make too many connections. From experience with the foster care life, Angel and Abby know all about playing the angles. At first they even try to "play" each other, but a moment of tenderness always comes peeking through. They're sisters, after all. Filmmakers Spiro and Nwandu sketch in the forlorn details of the two sisters' existence with economy and precision but also with a lingering melancholy, reinforced by Matthew Robert Cooper's music score.
One short scene in particular stands out: Angel and Abby meet three giggly teenage girls on their bus ride to the beach, and end up in the home of one of the girls, a comfortable residence with a fridge full of goodies, neat furnishings, family photos on the wall, and a friendly mom (Antu Yacob) who offers to drive them to the beach after they miss the bus. Little Abby joins right in with her new friends but Angel hangs back, perhaps calculating what this could mean to her, but maybe just drinking it all in.
In a routine youth-market summer movie, the little party might be the occasion for carefree laughs. But Night Comes On is no safe middle-class story, not even when the middle-class girls they meet are Black. Like the young women Angel sees in a rowing scull on the river, early one morning after she wakes up in the car of a man who has picked her up for sex, the carefree ones live in another world that seems unobtainable. Whether it could ever be is ultimately up to her. Despite its forbidding title, Night Comes On carries a nugget of hope for Angel, Abby, their friends, and us.
[embed-1]