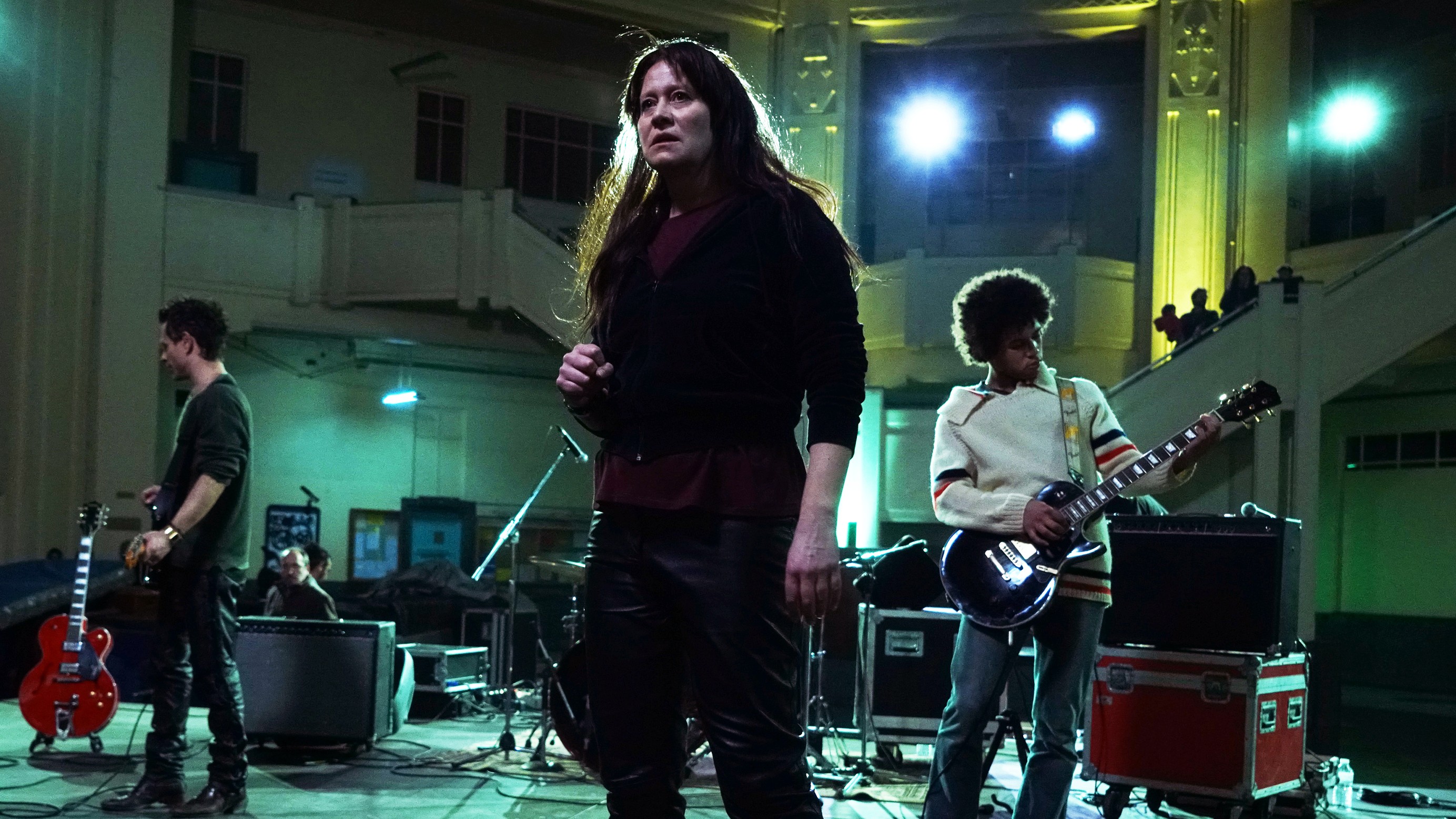 Greatest hits requests are the bane of popular musicians' existence — everybody wants to hear the hits in concert, except the artists who have to play them, over and over again, everywhere they go. This certainly was the case with Nico, the cool blond chanteuse with the limited vocal range who made her name in the '60s with the Velvet Underground. True, she didn't exactly have a greatest hit, unless we count the Lou Reed-penned "Femme Fatale."
But, as we see in Nico, 1988, writer-director Susanna Nicchiarelli's idiosyncratic thumbnail portrait of the singer (birth name: Christa Päffgen) in her final years did indeed get tired of talking about Andy Warhol, and especially about her days in New York as a singer whose main job was to strike a pose in front of one of rock's most influential groups. She developed her own musical cult, performing her trademark dirges with a "band of amateur junkies," and that was apparently enough for her.
Danish character actor Trine Dyrholm portrays the fortysomething Nico as a dark-haired, surly, yet oddly compelling vocalist, cobbling together underfunded European tours with the help of her Manchester, England-based manager (John Gordon Sinclair). As she and her entourage meander through dancehalls in Czechoslovakia, Poland, and Germany (shot on location in the latter as well as in Italy and Belgium), what emerges is far more than just an unflattering portrait of a "superstar" in her declining years. Nicchiarelli's biodoc is based on real events, with some characters and events altered. But its true power is the serendipitous spell of the road, the picaresque peeling back of the layers of new surroundings, as seen through the eyes of a woman who never got over the night when she stood with her mother and watched Berlin burning in the distance. Nico evidently went through life in shellshock. Doomed romanticism fit her like a pair of well-worn shoes.
Dyrholm performs an array of Nico standards, including "All Tomorrow's Parties," "My Heart Is Empty," "Nibelungen," and "Nature Boy," with much the same flat, throaty delivery as the original. Dyrholm's impression of the woman is dry and bitter, a series of snapshots of the eternal outsider, slugging down alcohol, reading a volume of William Wordsworth poetry, self-medicating with heroin, and forever pining for Ari, her long-lost son, played by Sandor Funtek.
As if by magic, the self-destructive gloominess turns her fans on, and the mood has its effect on us, too. This cultish, rather ingrown, yet subtly enchanting biopic proceeds at the pace of narcotic life. The story of Nico would be intriguing even without references to the Velvet Underground and Warhol, but with that ever-present backdrop, bolstered by Dyrholm's presence and her mesmerizing performances with the band, the effect is irresistible.

[embed-1]