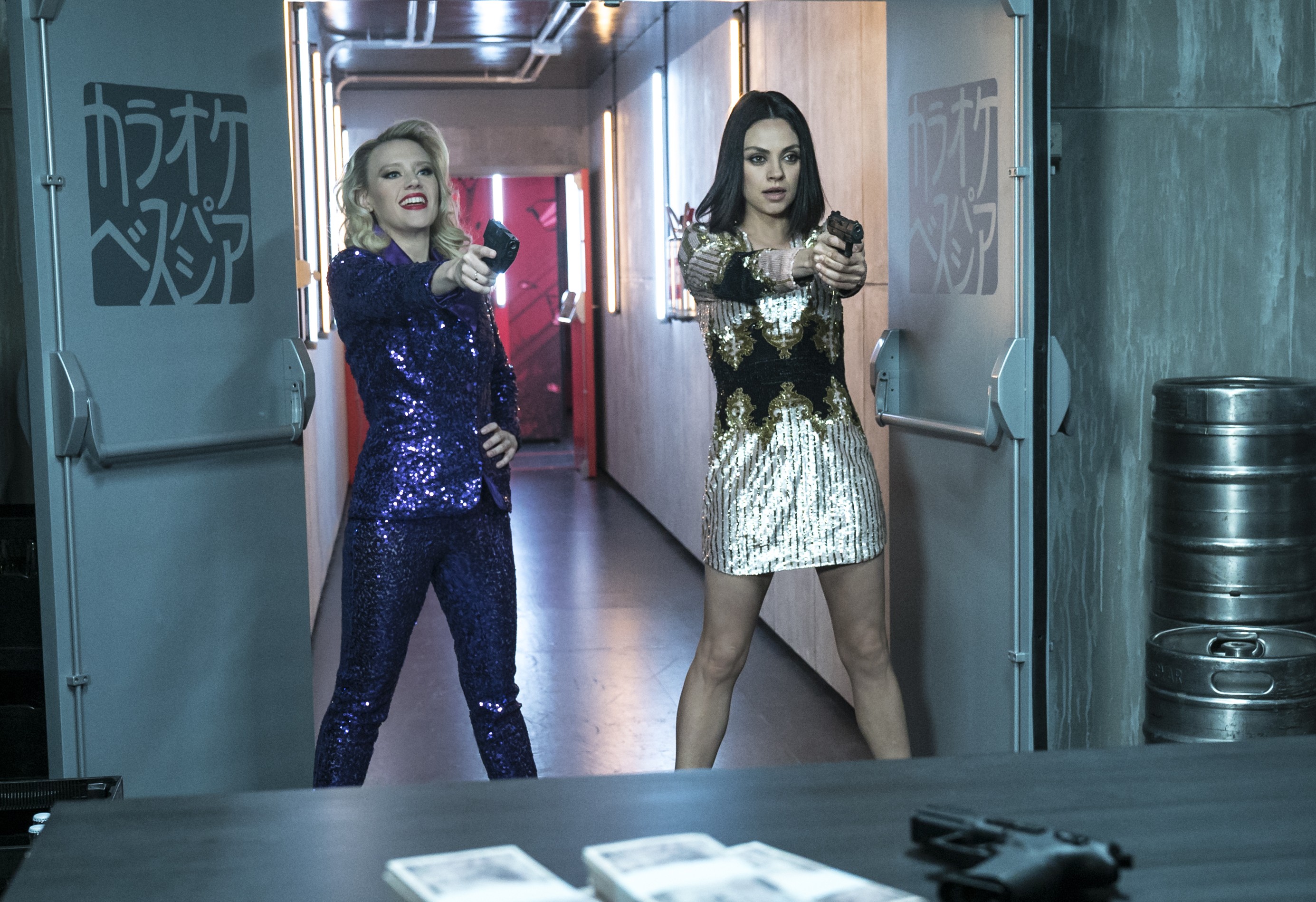 In The Spy Who Dumped Me, people are always trying to kill Mila Kunis and Kate McKinnon, but it never works. Something always intervenes — assassins bumping into each other, plaster falling off the ceiling, a cell phone joke, etc. It's frustrating. Not that we necessarily wish any harm on Audrey (the Kunis character) or Morgan (McKinnon's exhaustingly daffy motormouth). It's just that after sitting there with this C-list spy farce we get the overwhelming desire to make someone pay. And Kunis and McKinnon are so handy.
Kunis has appeared in dopey comedies before (the Bad Moms series) and her Jim Beam whiskey commercials effortlessly scale the height of ridiculousness, but the Ukrainian native actor seldom gets the chance to take pratfalls in such lush locales as Vienna, Prague, and Berlin while being simultaneously chased by Russian gangsters and the CIA. Is it their fault they're such bad shots? As for Saturday Night Live regular McKinnon, her persona is neatly summed up when designated bad date Drew (Justin Theroux) turns to Morgan and asks: "Anyone ever tell you you're a little much?" Runner-up for the dialogue booby prize goes to Kunis: "The drive is in my vagina."
The screenplay by director Susanna Fogel and David Iserson (both TV vets) contains mountains of flab. The 117-minute running time could stand to lose the needless flashbacks, the slapstick stuff at the youth hostel, about half the Cirque du Soleil filler, and all the cutaways to Morgan's clueless parents in New Jersey. Fogel and Iserson might have ended up with a workable 88-minute timewaster, with plenty of room for evil gymnastic gremlin Nadedja (Ukrainian transplant Ivanna Sakhno) and James Bond facsimile Sebastian (Sam Heughan). And what's all this about hiring an actor to portray Edward Snowden? Are we supposed to believe they couldn't get the real Snowden for a few bucks more?
It's not a total loss. Fred Melamed is fine as a horny middle-aged man, as is Hasan Minhaj as a nefarious secret agent. Otherwise, far too many foreigner-shaming gags for a movie that shot so much establishing footage overseas. Maybe they should have had Kunis and McKinnon play Liam Neeson's daughters-in-law who get caught diving for quarters in the Trevi Fountain. Alternate title: Rhinestones Are Forever.
[embed-1]