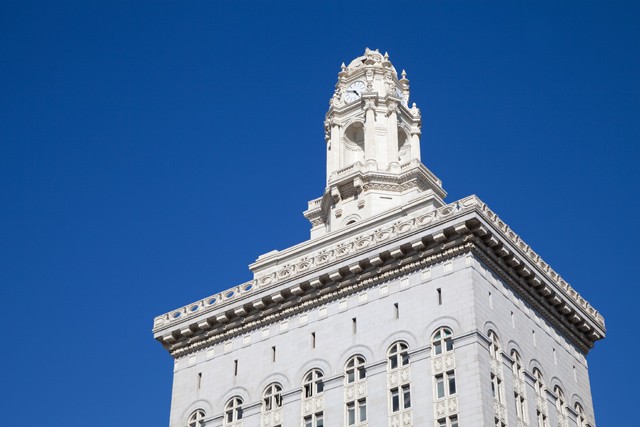 Stories you shouldn't miss for Feb. 7, 2018:
1. The Oakland City Council voted 5-2-1 to approve a plan that gives council President Larry Reid
the authority to remove Councilmember Desley Brooks from her position as chair of the Public Safety Committee
, reports David DeBolt of the
East Bay Times
$. The move by the council follows $4.3 million in legal judgments lodged against the city and Brooks for her 2015 assault of ex-Black Panther Elaine Brown. Brooks and Councilmember Noel Gallo, who is one of her closest allies, voted against the plan, while Councilmember Rebecca Kaplan, another Brooks ally, abstained.
2. The Alameda City Council
voted unanimously to delay approval of a controversial plan by Police Chief Paul Rolleri to install license plate readers on all of the city's borders with Oakland
, reports Jill Tucker of the
San Francisco Chronicle
. The council approved $500,000 in funding for the cameras, but said that before the city actually purchases them, it must adopt a policy for who will have access to the information. Privacy and immigration activists expressed concerns that ICE will be able to access the license plate reader data.
3. The likelihood that California
will have a March Miracle – enough rain to avoid a drought – is very low
, reports Paul Rogers of the
Mercury News
$, citing historical data. "A review of more than 100 years of rainfall records of major cities in California – including San Jose, Los Angeles, San Diego, Santa Rosa, Redding, and Fresno – shows that none have ever finished the rainy season with normal rainfall totals after ending January with the amount of rain they've had so far this winter."
4. California's solar power industry
shed 13 percent of its workforce in 2017 and the future outlook isn't bright
, reports David R. Baker of the
San Francisco Chronicle
$. Analysts attributed last year's job losses to the wet 2017 winter and to changes in state regulations that made rooftop solar less financially feasible for homeowners. In addition, President Trump's decision to slap a huge tariff on solar panels made in China this year is expected to further damage the industry.
5. Seventy-five students, alumni, and supporters have signed a petition demanding the "
immediate removal of [professor] Nezar AlSayyad from all positions at UC Berkeley,
" following allegations of sexual harassment, the
San Francisco Chronicle$
reports.
6. Biotech billionaire
Patrick Soon-Shiong has purchased the Los Angeles Times from its parent company Tronc for $500 million
, the
LA Times
$ reports. Soon-Shiong also acquired the
San Diego Union-Tribune
in the deal.
7. And House Democratic Leader Nancy Pelosi said
she opposes a budget deal in Congress because it includes no promises of talks on fixing DACA
– the federal immigration program that protects young undocumented immigrants, reports Lisa Mascaro of the
LA Times
$. The lack of a budget deal could cause another government shutdown this week.
$ = news stories that may require payment to read.