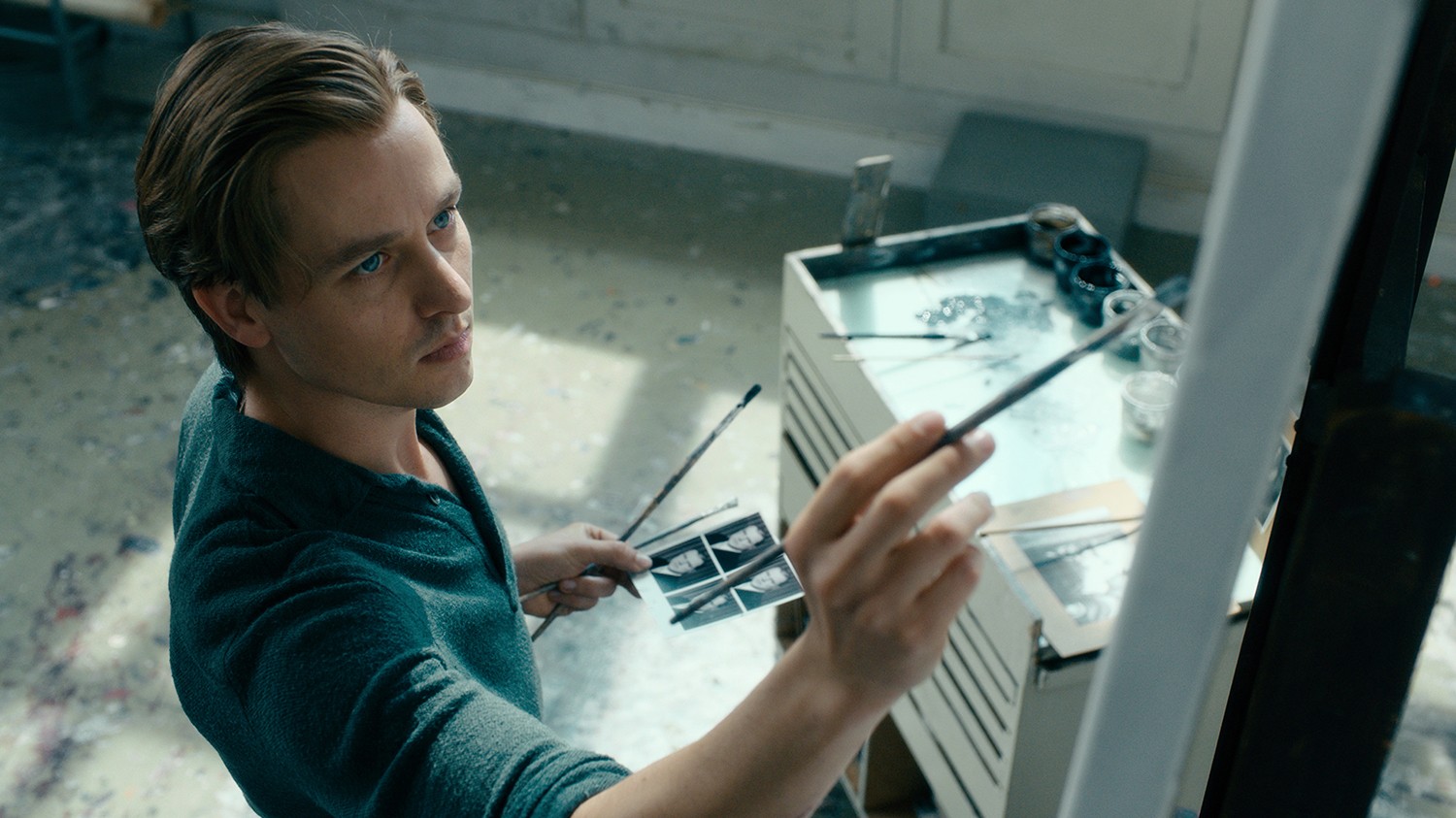 Never Look Away opens with a scene that vividly sets the stage for its compelling combination of political drama and character study. We're in Dresden, Germany in 1937, four years after Hitler has come to power. Young Kurt Barnert (Cai Cors) and his aunt Elisabeth May (Saskia Rosendahl) are at the "Degenerate Art" exhibition, in which the Nazi party displays visual art it abhors — modern works by Wassily Kandinsky, Georg Grosz, Paul Klee, and other artists, that in the eyes of the fascists glorify "mental illness" and "criminal activity." As the uniformed Nazi museum guide drones on, Elisabeth winks and smiles at her nephew, whispering to him that she really likes these paintings and sculptures — but don't tell anyone.
Kurt never blows the whistle on Elisabeth. The beautiful, free-spirited young woman acts out in her own way, and pays the price. But Kurt (played as an adult by Tom Schilling) never forgets her, nor that afternoon in which his artistic awakening butts up against the hideous anti-intellectualism of the Third Reich. The Nazis' barbaric policies have an effect on Kurt's memories, and on his life as an ambitious fine-art painter as well.
Never Look Away, written and directed by Florian Henckel von Donnersmarck (The Lives of Others) and reportedly based on the life of artist Gerhard Richter, is tricky to review without spoiling the plot. Let's just say that there's a meaningful connection between Aunt Elisabeth and Kurt's sweetheart, Ellie (Paula Beer), and that a plot twist proves problematic.
Ellie is the cherished daughter of a gynecologist named Carl Seeband (Sebastian Koch). The elder Seeband, who demands to be addressed as "Herr Professor," is a particularly loathsome Nazi doctor. His adherence to the Hippocratic Oath is shown to be secondary to his role as the SS official in charge of the Nazis' eugenics program. Meaning forced sterilization, usually followed by euthanasia.
With a father-in-law like that, we'd think Kurt has enough to worry about. But while he and Ellie are maneuvering around the professor, Kurt also is struggling to make a living as a painter. In Soviet-controlled East Germany the required artistic style is Socialist Realism, which he easily masters. But when they move to modern West Germany, he learns that painting is passé. So our hero is haunted by the Soviet present as well as the Nazi past.
The filmmaker is guilty of congratulating himself a bit too much with his busy screenplay. In loading all Germany's woes on poor Kurt, he tries to balance the often-amusing discrepancies between the hypocritical East and the hipster-ish West, with the horrors of Nazism just beneath the surface. That in itself shouldn't detract from the core story — although the question of exactly what Kurt knows about Seeband, and when he knows it, threatens the film's continuity, or worse.
Instead of worrying about Donnersmarck's awkwardly over-eventful scenario, we're better off admiring the play-acting. Actor Schilling (Generation War) turns in a believable performance as the bewildered (we could almost say enchanted) artist, with Rosendahl's Elisabeth and Beer's Ellie both ideal as his unwitting muses. Meanwhile the linchpin role of Seeband, a dapper, tailored murderer of innocents, is yet another triumph for veteran character lead Koch, although a nightmarish one — just imagine a government filled with people like this. Small roles are cast with equal care, notably Oliver Masucci as the glib art academy director, with his Joseph Beuys-style hat and his fondness for animal fat.
Despite its scenario hiccups, Never Look Away is strongest when it paints Kurt's life as a whirlwind of conflicting lifestyles and philosophies, reconciled at last in the artist's dreamy, melancholy canvases. His paintings channel Germany's past almost as if Kurt were an idiot savant instead of an ordinary, diligent art student trying to make his way through the hurt. Take Donnersmarck's thumbnail psychological history with its faults, but by all means take it.