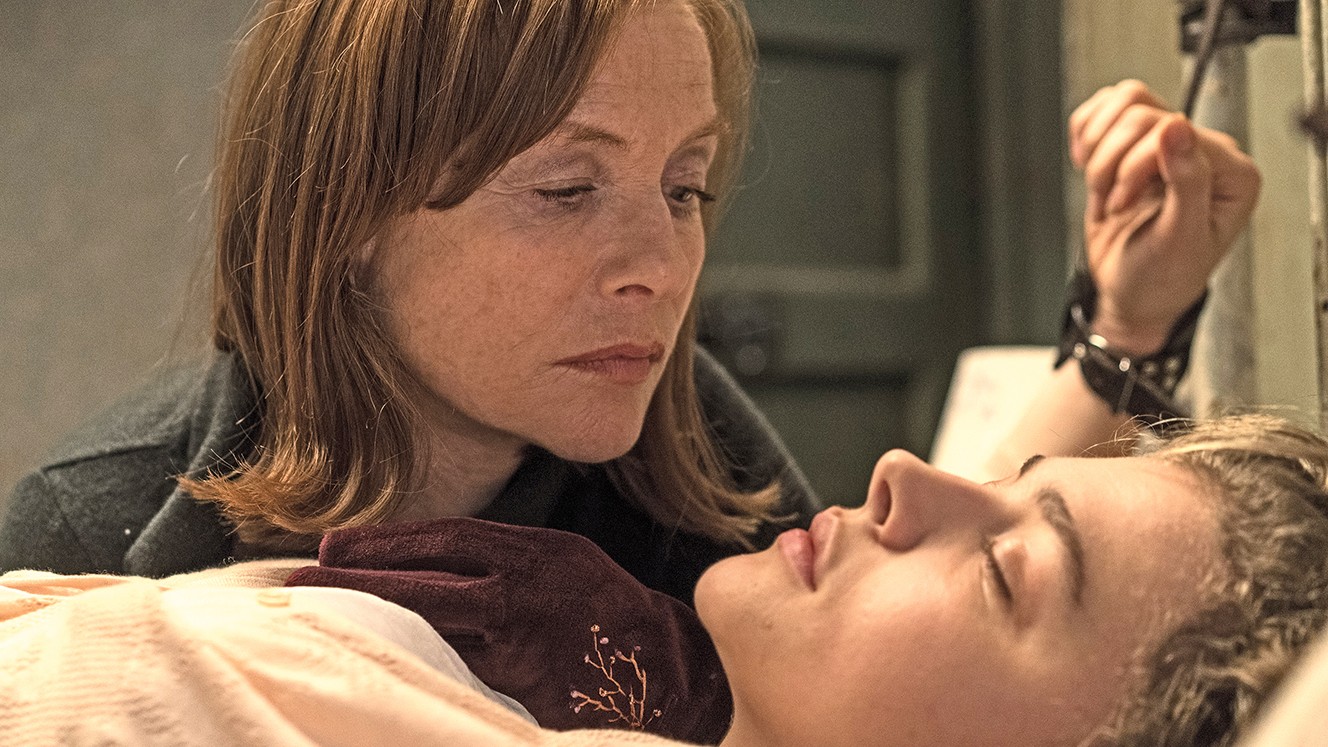 Isabelle Huppert as a serial kidnapper/killer? Sounds about right. We can picture her stalking her prey in the streets of Manhattan. The director and co-writer of Huppert's new movie Greta is another known quantity, veteran Irish international filmmaker Neil Jordan, who's certainly no stranger to stressful tales of bizarre mayhem (The Butcher Boy; Interview with the Vampire; The Company of Wolves). And then consider Chloë Grace Moretz, of the fearful face, in the role of designated victim. Her parts in The 5th Wave and the latest version of Suspiria have to count for something.
Very little about Greta comes as a surprise, initially. In fact, the most unexpected thing about Jordan's urban shocker — screenplay by Jordan and Ray Wright from a story by Wright (The Crazies) — is that its familiarity doesn't detract from it a bit. We've seen a hundred thrillers in which a maniac hunts down a trembling innocent in a big city, but this is Huppert and Moretz here, under the direction of the man who gave us The Crying Game and Breakfast on Pluto. It's the singer, not necessarily the song.
Frances (Moretz), a restaurant server, finds an expensive-looking purse on the subway and takes it home. Her natural instinct is to look up the owner, but her street-smart roommate (Maika Monroe) argues for splitting up the money. Frances decides to follow through with her original impulse. First mistake. She goes to the address, a garden apartment with a European-looking porte-cochère in an old New York neighborhood. When Greta (Huppert) comes to the door, expresses her gratitude, and acts hospitably to Frances, the younger woman is charmed by this Old World eccentric who plays Liszt piano music and shares details of her life. Frances' reservations melt. Second mistake.
We notice that Greta studies her new acquaintance carefully. The camera close-ups have a strange claustrophobic quality we're not used to. Greta invites Frances to socialize further, and won't take no for an answer. Frances, slightly nervous yet intrigued, succumbs to Greta's suggestions. Third mistake. Is Frances being set up for a lonely-hearts tryst with a needy older woman, à la Rooney Mara-Cate Blanchett in Carol? Or is it something more sinister?
Actor Huppert is a skilled portrayer of characters with, um, special needs. Watching Greta spinning her fanciful back story and playing Liszt's sickly-sweet "Liebestraum" reminds us of a spider sitting patiently in her web, waiting for the fly to make that one, critical wrong move. We know what Huppert is capable of. She is arguably the finest female film actor in the world, and her taste for playing compromised individuals in extreme circumstances is legendary. No matter what happens to poor Frances, can it ever be more sordid and frightening than Jeanne the postal clerk's bitter scheme — alongside Sandrine Bonnaire's Sophie the housekeeper — in La Cérémonie? Or the misadventures of Marie the abortionist, in Story of Women, yet another of Huppert's brilliant roles for director Claude Chabrol? Or the ghastly affections of the Mother Superior in The Nun? Or, heaven help us, the pathetic plight of The Piano Teacher, a woman every bit as lonely and desperate as Greta?
The Piano Teacher was directed by Michael Haneke, one of Huppert's favorite handlers. Filmmaker Jordan, whose filmography reflects his own predilection for the gothic and the perverse, is a humanitarian by comparison. Recent history has not been kind to the native of Sligo, who first thrilled overseas audiences with Mona Lisa (1986) and The Crying Game (1992), before being caught on the shoals of Michael Collins, The Brave One, and Byzantium. But he has never let go of the mysterious.
With Greta, Jordan returns to his roots — fragile sweetness threatened by predatory corruption. (Plus the presence of Jordan perennial Stephen Rea, as a private investigator.) It's a fairy tale set in a haunted cottage deep in the urban forest, a cautionary lesson for people who love their parents and cute little dogs. Return that lost purse at your own risk. Never accept a glass of milk from someone you barely know in a basement flat. We know this story by heart before the first image flashes on screen, and yet it embraces us in a combination of morbid desire and the terror of childhood ghost stories. It's somehow comforting to become ensnared in their madness.