Selecting a sex product for someone is no easy task. With the vast variety of toys, accessories, books, and pop culture collectables — not to mention personal preferences that may or may not be shared openly — it can be easy to unintentionally offend. It's even more difficult in the East Bay, where conscientious consumers are more likely to expect products to align with their political ideals — vegan materials, for example, or knowing whether it would be okay to introduce an anatomically correct-looking dildo into couple's play. To add to that, Nenna Joiner, owner of Feelmore (1703 Telegraph Ave., Oakland), said it's important not to think of certain toys as being for certain people: "There is no 'Pink is for girls, blue is for boys.'" (And, in that vein, I'll be using the gender-neutral, though grammatically incorrect pronoun "they.") So to help you, we'll begin with a short "How to Buy" guide, and then set you up with some sexy suggestions for everyone in your life.
How to Buy
The first thing to consider, Joiner said, is your recipient's needs. Ask yourself: What does this person want to do with their body? What is your relationship to the person? Have you had detailed conversations about sex with them? Will they be using the gift alone or with a partner? Are you that partner? If not, Joiner said some extra thought should be taken to consider that third person and how comfortable they would feel with that device in the bedroom.
Next, consider where that person will be opening said gift, Joiner said. Will grandma be in the room? And where will that person be using the gift — in a house with thin walls and new roommates close by, with close friends in the apartment, or all alone? Some products, namely vibrators, are louder than others.
Third, consider whether the product conforms to that person's attitudes toward the materials used and how the product reflects their own gender, sexual, and social identities. There are lots of ways to use products other than what manufacturers put on the packaging label, Joiner said.
Lastly, consider your own budget and whether the product needs specialized batteries or AA's, if there are interchangeable parts that can be replaced, and if a warranty is included.
If You're Unsure
Consider this suggestion from Yvette Haughney, store manager of Good Vibrations (3219 Lakeshore Ave., Oakland): a book-toy-lube combo. Released in August, The Sex & Pleasure Book: Good Vibrations Guide to Great Sex for Everyone ($24.95) by sexologist Carol Queen and sex-positive porn producer and director Shar Rednour encompasses all genders and sexualities. It walks readers through exploring their own bodies, even as they change with age, pregnancies, and other life events. It's a good place to start for beginners and progresses to more advanced topics with illustrations that depict a wide range of body shapes, sizes, and colors. Pair the book with a bottle of Please Cream Lubricant ($8 for 2 ounces), which is vegan, paraben-free, water soluble, and has little taste or smell, Haughney said. "It feels like lotion."
If you want to add in a toy, Haughney suggested the Gyrating Pleasing Flutter Vibe ($28), which she said works well for folks who "need a lot of stimulation." The external device gyrates on four different intensity levels and has a soft, flexible tip suited for stimulating the clitoris, vulva, penis, or really, anywhere else. It's also waterproof and takes AA batteries.
Haughney also recommended The Ultimate Guide to Prostate Pleasure ($17.95) by Charlie Glickman and Aislinn Emirzian. This incredibly earnest book explores prostate play for both men and women, explaining things like what to do when "shit happens" (it's actually quite rare, they say), and debunks myths about whether it's a "gay" or "effeminate" type of play. As the authors write in the introduction, "The prostate is part of your sex equipment and can be a source of great pleasure — whether you're doing this with a woman, with a man, or by yourself." To help you out, Haughney endorsed the MGX Prostate Massager by Aneros ($50). Made of medical grade plastic, the slender device is little wider than a finger's-width and sports a sleek, frictionless design in its girthiest sections while handles at the base make for easy insertion and extraction. Just make sure to use plenty of lube, Haughney said.
If you're having trouble deciding, Feelmore's grab-bag may be the option for you. The $20 box is pre-stuffed with staff picks. On a recent visit to the store, one of the boxes included a Marc Dorcel Mini Lover vibrator, an Eco Femme washable cloth pad, and a bumper sticker.

Looking for Something New?
Released in July this year, The Womanizer ($189) — I know, terrible name — is already outselling the Magic Wand Personal Massager ($124 for the cordless version), which Haughney said has been the store's staple and bestseller for thirty years. Think about that for a minute — thirty years. The Womanizer is not really a vibrator — it's a "rechargeable clitoral stimulator" with a small circular suction tip. It's pretty gaudy: The intensity levels are controlled by a large plastic gem in the middle (like, really?) and yes, it is pricey. But where it fails in cost and appearance, it compensates in effectiveness. Both Haughney and Joiner swear by it.
For folks who wear their genitals on the outside, Tenga makes a variety of products at a range of price points — from the $11 Egg to the $113 Tenga Flip — all of which essentially use spongy, ribbed material on the inside for extra stimulation. Unlike Fleshlights, which are designed to look like a person's mouth, anus, or vagina, Tenga's look a bit like hair or body wash products. The Egg, which is literally egg-shaped, looks completely innocuous to those not in the know. Though small in size, it stretches a full ten inches and can be used alone or with a partner.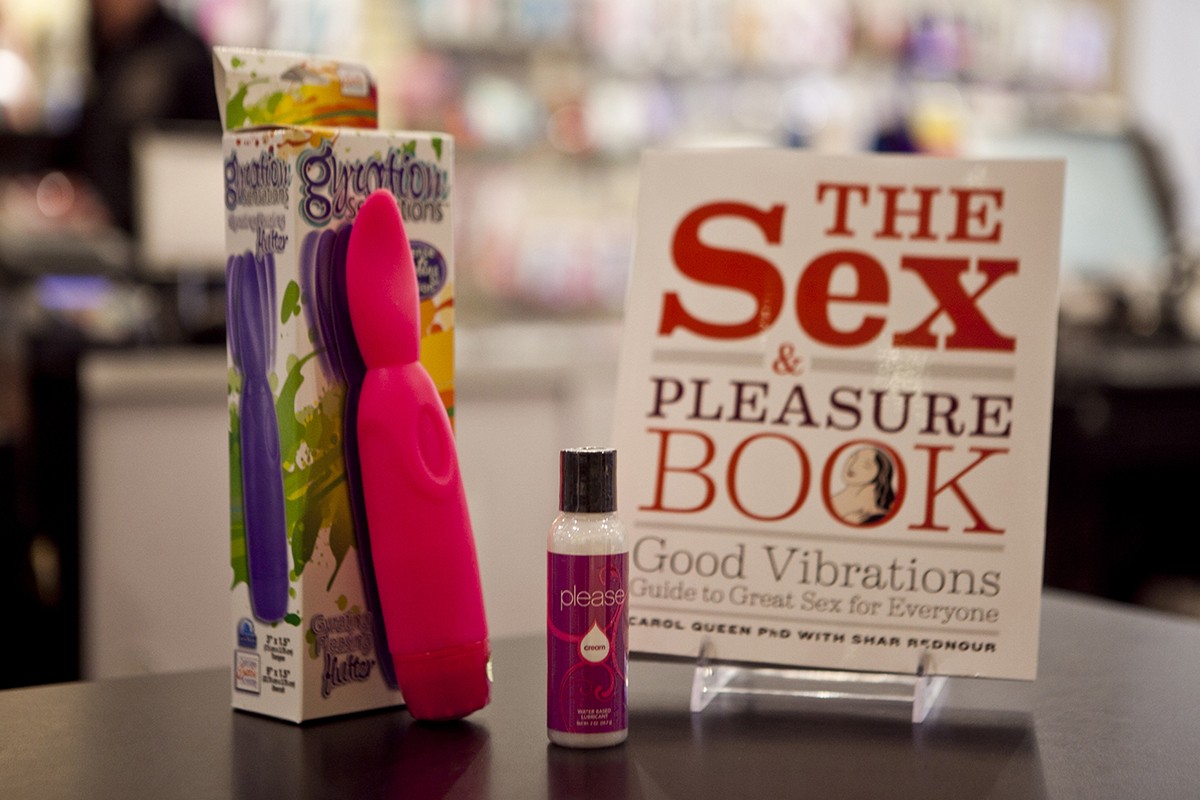 For Submission, Domination, and Rougher Play
If you're looking for handcuffs, there's perhaps nothing more appropriately themed for the East Bay than the OPD Special ($16.29). That's right. Joiner said these plastic zip ties are the very same model Oakland police officers use to strap down protestors. But at least in this way, they're being put to a more constructive use. Haughney also recommended Sportsheets' Sports Cuffs Restraint Set ($24), which are flexible, soft, and fastened with Velcro, making for a quick and easy release in this earthquake-prone area.
The same company makes the Edge Hard Limits Crop, a rather long and somewhat unwieldy spanking device that looks more intimidating than it feels, which can be great for extended role playing. Haughney said it produces more of a "thud" sensation than a stinging one.
And if you want your submissive or slave to move about the room, apartment, or house, Joiner suggested the Story of O PVC Collar ($55). Forming a U-shape, the one-and-a-quarter-inch wide, soft PVC material makes for comfortable control, and the collar can be adjusted to fit a range of neck sizes.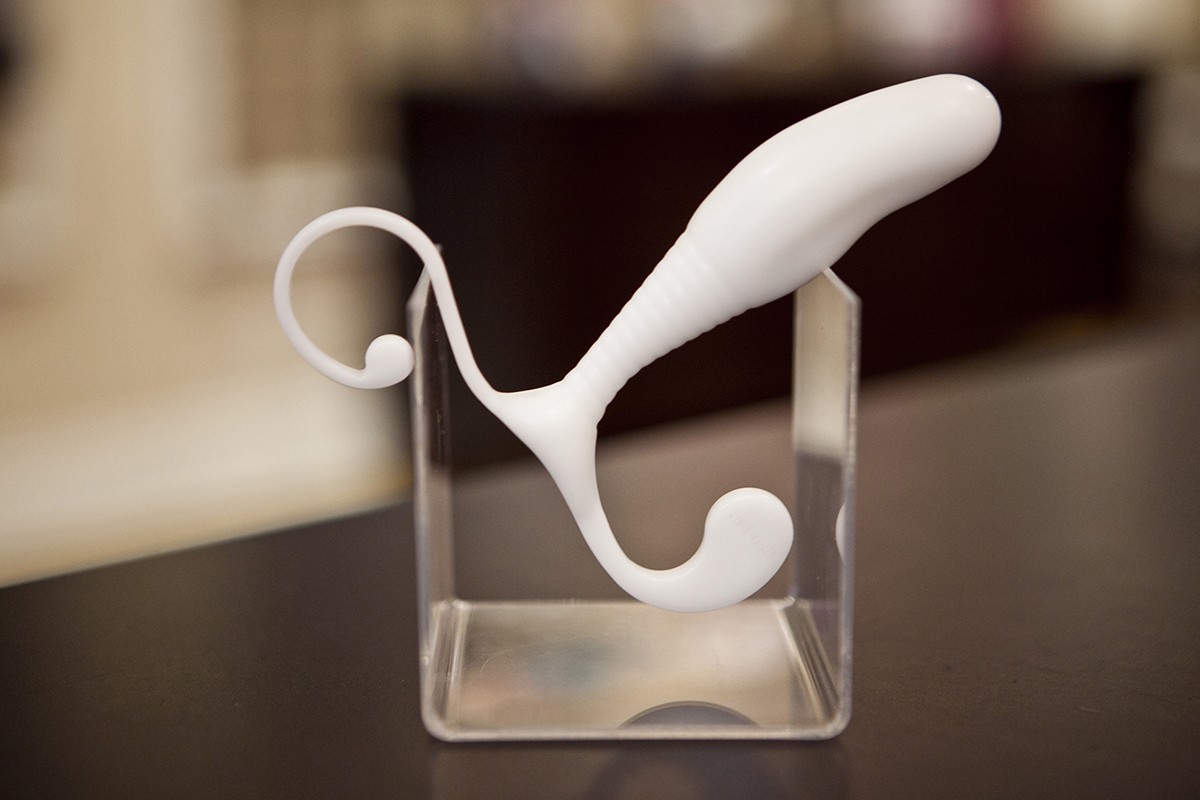 For the Collector
Feelmore offers a wide array of vintage Playboy magazines, pulp fiction classics, anti-STD propaganda posters from WWII, and more. Joiner showed off some 1950s era Physique Pictorial "hand books" (aka handjob books) complete with ripped men flashing bulging muscles and bare chests on the front covers. Joiner also has a collection of Bodyguard and Leather & Lace erotic comic books to flesh out your collector's library.
For all of those items, plus answers to your questions and more suggestions, visit Feelmore at 1703 Telegraph Ave. , Oakland, or Good Vibes at 3219 Lakeshore Ave., Oakland or 2504 San Pablo Ave., Berkeley.